Transportation matriarch Phyllis Frias dies, leaves legacy of community support
November 5, 2016 - 2:54 pm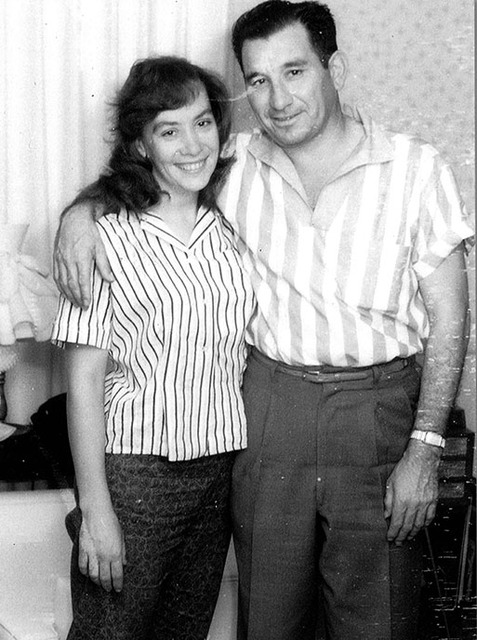 Phyllis Frias, the matriarch who helped build Nevada's largest transportation company, died Monday after a long cancer battle. She was 80.
Phyllis Covert was born on Nov. 3, 1935, on a farm in Ohio. She was the youngest daughter of 13 siblings.
In 1954, she enlisted in the U.S. Air Force in Ohio but was later stationed in San Antonio, Texas, where she met her future husband Charles "Charlie" Frias, whom she married in 1956.
A brief trip to visit her sister in Las Vegas in early 1958 led to a five-decade stay and 50-year marriage to Charlie Frias.
In May 1958, Charlie came to Las Vegas to bring Phyllis back home to Texas, but something about Las Vegas intrigued him. So the couple tossed a coin — heads they go, tails they stay — and it landed tails up, according to her attorney, John Mowbray, who wrote a tribute about her.
Charlie quickly landed a job at Nellis Air Force Base, but he sought additional income and joined a union, according to Mowbray. On Oct. 31, 1961, he began working as a taxi driver for Union Cab, a small company with just five cabs and fewer than 20 employees.
Four years later, Charlie purchased the company. Over the next five decades, the couple built it into the largest transportation company in the state — Frias Transportation Management. The company includes five taxicab companies, a limousine company and an airport shuttle company, and employs more than 2,500 employees, Mowbray said.
Phyllis Frias and her husband had no children, but they left a legacy of community support and a host of family and friends.
Her nephew, John Kleem, 69, of Las Vegas, said he watched the couple grow their business "from nothing" to what it is today. "She was an amazing person who helped numerous people whom we will never know," Kleem said of his aunt. "My mother and our family will sincerely miss her."
Randy Garcia, a former Nevada Taxicab Authority chairman, said he was privileged to have known her and her husband. "They have been humble benefactors of our community who derived great joy from quietly helping our community" in myriad ways, he said.
Together, the couple supported many charities and community programs, according to Mowbray. They were generous with many entities, among them The Smith Center, The Shade Tree, Opportunity Village, the Metropolitan Police Department and the Clark County Fire Department.
"They truly loved Las Vegas and were committed to making its future better for us all," Garcia said. "With Phyllis' passing, our community has lost a benevolent and caring individual, but her spirit and passion for our city will carry on due to the enduring legacy ensured by Phyllis and Charlie's extraordinary philanthropy."
In 2003, an elementary school was named after the couple to honor their philanthropy: Charles and Phyllis Frias Elementary School, located at 5800 W. Broken Top Ave., near South Jones Boulevard and West Cactus Avenue.
"She exemplifies what every school dreams of having in a namesake. I'm proud to be the principal of a school named after such a great person," said Reece Oswalt, the school's principal.
Phyllis Frias provided unprecedented support to the school, attending events and financially supporting technological purchases, Oswalt said.
Charlie Frias died in 2006. In October 2012, Clark County honored his memory by naming a local park after him — Charlie Frias Park, located at 4801 S. Decatur Blvd., near West Tropicana Avenue.
"I remember how happy she was on that day and seeing the smile on her face with tears in her eyes, as she watched kids play in the splash pad, knowing she was a part of providing them with joy," Clark County Commission Chairman Steve Sisolak said. "She will sadly be missed."
To ensure the Frias legacy would continue well into the 21st century, the couple took strategic action, Mowbray said. With both Charles and Phyllis deceased, the company is left in the Phyllis M. Frias Management Trust, for which Mowbray is the trustee.
"They dedicated their lives to helping people, helping people believe in themselves. They wanted people to get back up on their feet and lead good, productive lives," Mowbray said.
A Mass celebrating Frias' life will be held at 1 p.m. Nov. 18 at Guardian Angel Cathedral, 336 Cathedral Way.
Contact Raven Jackson at rjackson@reviewjournal.com or 702-383-0381. Follow @ravenmjackson on Twitter.