Trash fire burns near Lake Las Vegas, no structures threatened
October 28, 2016 - 8:24 pm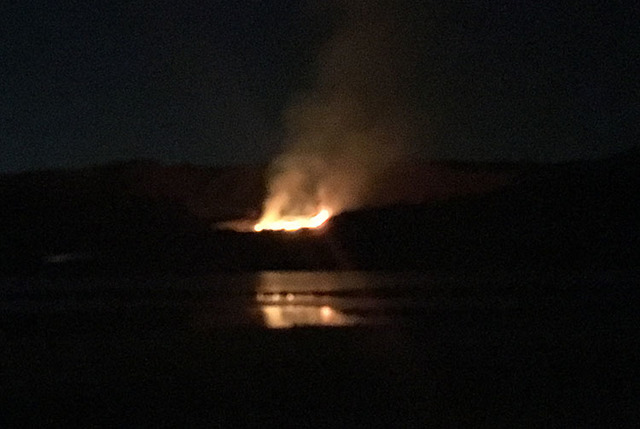 A large trash fire that began in a ravine near Lake Las Vegas sometime Friday afternoon is being allowed to burn itself out, a Henderson fire official said.
It's unclear when the blaze started, but Henderson fire was called to the scene about 5:30 p.m., Henderson Fire Department spokeswoman Kathleen Richards said. Flames could still be seen shooting skyward as of about 9 p.m.
Richards couldn't give an exact location of the ravine, but said crews decided to let the blaze burn itself out because it was determined that "no structures were threatened."
She added that it's "difficult to get water out there."
An engine is on the scene to monitor the blaze, and the crew will remain near the ravine until the fire burns out, Richards said.
It was unclear what started the fire, but Richards said crews will try to determine the cause once the flames subside.
Contact Rachel Crosby at rcrosby@reviewjournal.com or 702-387-5290. Follow @rachelacrosby on Twitter.