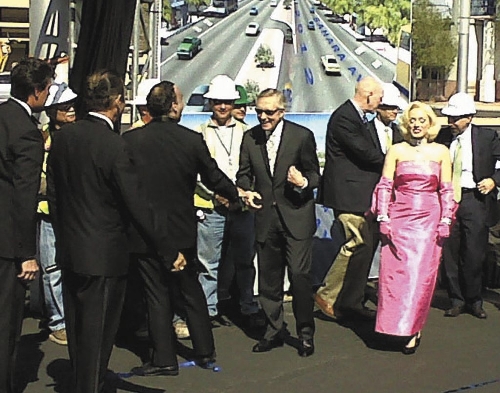 Early next year, the bland sea of filthy concrete known as the Sahara Avenue corridor will be lined with attractive walkways and adorned with green, landscaped medians.
More important, residents who live on one end of Sahara no longer will have to walk or change buses to make their way to the other.
The Sahara Express bus route, the latest project unveiled by the Regional Transportation Commission, will swiftly shuttle passengers between Hualapai Way to the west and Boulder Highway to the east. Even residents with personal cars will benefit from the beautification project that comes along with the $40 million transit venture.
"Sahara Express will truly revitalize one of the valley's busiest and most important corridors," said Clark County Commissioner Larry Brown, who is chairman of the Regional Transportation Commission board.
The Sahara line will join the Westcliff Airport Express, the Centennial Hills Express and the Boulder Highway Express, which is scheduled to be available later this year.
In typical Las Vegas style, Thursday's celebration to commence construction kicked off with Rat Pack impersonators waving from a classic convertible Cadillac. Federal Transit Administrator Peter Rogoff apparently is getting accustomed to Las Vegas. The Rat Pack hardly fazed him compared to the live python and gaggle of roller girls who entertained at the opening of the Bonneville Transit Center in October.
Rogoff appeared more impressed with Nevada's aggressive pursuit of federal funding for transportation projects.
The federal government had to choose between 1,400 applicants when doling out Transportation Infrastructure Generating Economic Recovery grants.
Rogoff said it was the most "rigorous competition" for funding that he has seen.
"We knew Nevada very much needed the jobs," Rogoff said, commending Senate Majority Leader Harry Reid for landing the money.
The project will create 500 construction jobs, none of which are government positions, said Jacob Snow, general manager of the Regional Transportation Commission.
"When we have the resources, the RTC can be a job-creating machine," Snow said.
The Sahara Express is expected to fill a void in the bus rapid transit system in the Las Vegas Valley. Residents on the west side of town can take the bus to Boulder Highway, which will link into a network of lines that include rides to Henderson.
Traffic signals along Sahara will be adjusted to allow the buses to hit green lights all the way down the corridor.
Snow said five-foot sidewalks will be widened to 10 feet, not only so they can accommodate trees, lighting and shrubs, but also so pedestrians will enjoy their walk.
The Nevada Division of Forestry agreed to donate more than 50 trees, Snow said.
Reid said the project also will improve property values along the aged corridor that is home to older businesses.
"It will increase property values, and we know property values need to be increased," Reid said.
He said he intends to continue to fight for federal grants, not only to improve transportation but also create jobs.
"We're going to get as many as we can as fast as we can," he said.
Contact reporter Adrienne Packer at apacker@reviewjournal.com or 702-387-2904.