Tropicana drops Rouven's magic show after child pornography arrest
March 20, 2016 - 12:15 pm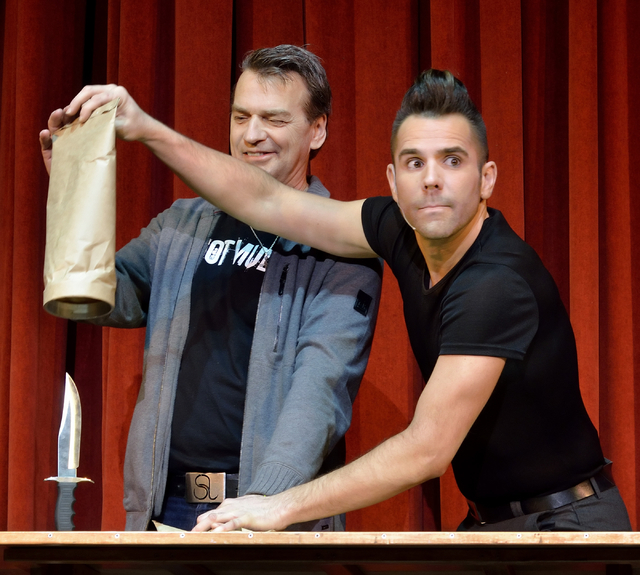 The Tropicana moved quickly to "sever all ties" to its headliner magician Jan Rouven after his arrest on child pornography charges, closing the "New Illusions" show and removing advertising from the property and casino's website by Thursday.
Rouven, 38, is being held without bail after being charged on a felony count of receipt or distribution of child pornography. The charge was revealed Wednesday in a Las Vegas Review-Journal story.
"We are deeply disturbed by the very serious charges that have been filed against Mr. Rouven," said the statement attributed to Philippe Khouri, the Tropicana's general manager.
"Following the news of his arrest we took immediate steps to sever all ties to him and his production company," continued the statement, which termed Rouven "an outside contractor" and said "all future shows have been canceled."
Rouven and his attorney, Jess Marchese, denied the allegations in court. On Thursday, Marchese said it was "unfortunate" that the Tropicana had moved so swiftly and, apparently, permanently.
"He's innocent until proven guilty," Marchese said.
"We feel for all these employees who have now lost their jobs because Jan was detained and unable to perform the show every night. These are just average ordinary Las Vegans," he added.
Marchese said about 40 employees have been affected by Rouven's detention.
"On Monday they went in and had a job, and now they're unemployed," Marchese said. "I wish they (the Tropicana) would have had all the facts before they made the decision."
Johanna Williams, a magician's assistant in Rouven's show since it opened in 2011, posted on Facebook Wednesday, "Yes, the show is cancelled permanently from the Tropicana hotel… Yes, 10 of us lost our jobs today… Yes, we are still in shock… No, we don't know if the accusations are true or false."
Rouven's show actually employed seven full-time and five part-time "swings," a cast member said Thursday. Some of them considered Rouven's show a part-time job, while others had no other employment beyond "New Illusions." "There are lots of jobs in Vegas but it takes a while to get one and find a long-term one," the cast member said.
The sudden closure also may have implications for the Tropicana's companion show, "Raiding the Rock Vault." The two productions shared stagehand costs, and "Rock Vault" will have to cover all production costs until another show moves into the early time slot, the "Illusions" cast member said.
The cast member had communicated Thursday with Rouven's producer, Frank Alfter. He told the cast member the Tropicana was expecting reimbursement for tickets and stagehand costs, and was holding the production's magic props until it received the payment.
The Tropicana did not return multiple voicemails and an email Thursday.
Alfter, who could not be reached directly, also told the cast member that the Tropicana wouldn't even talk to him about continuing "Illusions" with another magician. Former "America's Got Talent" contestant Spencer Horsman substituted for Rouven at the Riviera when he was on vacation. However, the cast member said Alfter understood the likely reason why: He and Rouven share a residence.
The Facebook page for Rouven's show was still up on Thursday, complete with photos of youngsters posing with Rouven after the show.
Rouven's show had been at the Tropicana more than 15 months, since November of 2014. At the time of the move, Rouven said the hotel's chief executive, Alex Yemenidjian and its then-chief marketing officer, Fred Harmon, bought their own tickets to see him at the Riviera, then called to talk about moving to their property.
Review-Journal reporter Jeff German contributed to this story. Read more from Mike Weatherford at reviewjournal.com. Contact him at mweatherford@reviewjournal.com. Follow him @Mikeweatherford