Two men arrested Monday in connection with northeast valley shooting death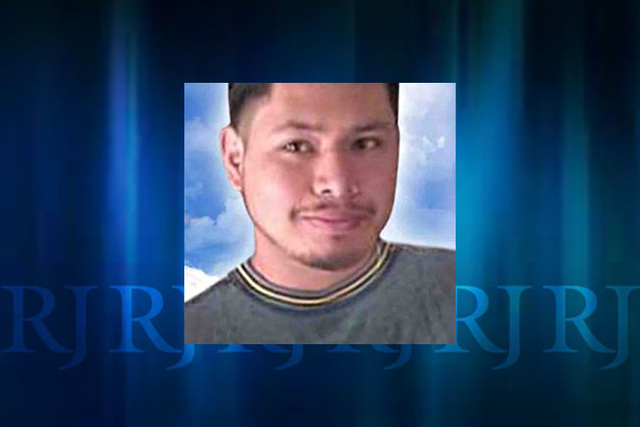 Two men were arrested Monday in connection with the shooting death of a 22-year-old man that morning in the northeast valley.
No one reported the shooting, which police said happened about 8 a.m. But minutes later, at least one woman driving with her child in the car called 911 after spotting the bloody body of the man who died, Angel Guzman, in the driveway of a home on Jackie Drive, near Nellis and Lake Mead boulevards.
Police said Guzman was shot in the head. A few witnesses had seen Guzman and at least two other men chatting and drinking as early as midnight Sunday, according to an arrest report. Two trucks were parked next to each other — one of them Guzman's.
Just before the woman called 911 that morning, another witness saw two men walking quickly away from the scene but did not realize someone had been shot.
Rodrigo Rodriguez, 25, and Kelly Byron Lemus-Leyva, 19, were taken into custody shortly after the shooting near an apartment complex close to the scene. Both had blood on their clothes, and Rodriguez was armed.
Police were called to the apartment complex because the pair were walking around the complex suspiciously. A handful of residents spotted the men, along with at least two complex employees who knew the Rodriguez and Lemus-Leyva did not live at the complex, according to an arrest report.
At one point, Rodriguez tried to enter one man's apartment to "hide from police." The man answered the door but did not let the pair in, and because of that, Rodriguez threatened the man with his gun, the man told police.
The two were arrested minutes later. In interviews with police that afternoon, Rodriguez said little to police and requested a lawyer, according to the report.
"Rodriguez did ask, unsolicited, if Angel (Angel Guzman) was OK," the report read. When a detective told Rodriguez that Guzman was dead, "Rodriguez started to cry and sob." It's unclear how they knew each other.
Lemus-Leyva talked to detectives but provided little background on what led to the shooting, with detectives noting in the report that he was "clearly being evasive during the interview and seemed to be withholding information from police."
Lemus-Leyva did say that Rodiguez and Guzman were talking before the shooting — out of Lemus-Leyva's view — but clarified that he did "not know what the two men were talking about," adding that he "did not hear the men fighting or arguing."
Both men were booked at the Clark County Detention Center on first-degree murder charges, and both are being held without bail.
Guzman leaves behind a 3-year-old son named Noah, according to a GoFundMe page set up for Guzman's family, which had raised nearly $6,000 as of 4:30 p.m. Thursday.
Guzman "was tragically and unfairly taken from this world," the page reads. "Words cannot begin to describe the pain our family is feeling."
Contact Rachel Crosby at rcrosby@reviewjournal.com or 702-387-5290. Find @rachelacrosby on Twitter.