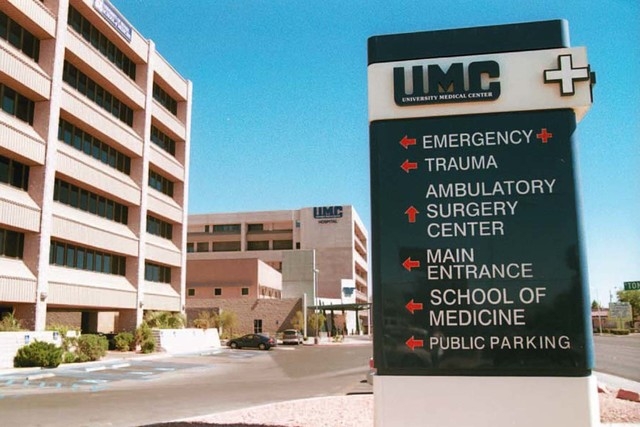 University Medical Center is laying off 224 employees, a move the public hospital is making to save $21.2 million, Clark County officials said Wednesday.
The action entails eliminating services that include outpatient oncology, outpatient pharmacy, and Lied Clinics, officials said.
It demonstrates that the county hospital is facing steep competition from private-sector healthcare providers, as some patients have a newfound ability to seek out alternatives to UMC under the federal Affordable Care Act and other changes. The public hospital serves indigent patients who cannot afford healthcare and cannot turn anyone away.
UMC also is facing increasing financial pressures. The county's subsidy of the public hospital has grown from $41 million to $71 million. The county has also given $45 million in loans to the cash-strapped hospital this year.
The hospital also relocated its outpatient rehabilitation back to the hospital's main campus and reorganized the Family Resource Center, officials said. In all it is eliminating 285 jobs, which includes 61 vacant positions that will be kept open. That represents about 8.4 percent of its workforce of roughly 3,400.
"We have two responsibilities," UMC Chief Executive Officer Lawrence Barnard said in a prepared statement. "First, to ensure our organization has the resources needed to provide the unmatched care and quality outcomes. Second, UMC has significant financial challenges in the coming years ahead, and we have to move aggressively to reduce the taxpayer subsidy."
Barnard said the decisions came after evaluating all services to determine where patients have other options and what services can only come from the public hospital.
He noted that patients who previously relied solely on UMC for care now have other options with the federal Affordable Care Act and the expansion of Medicaid. The hospital said its staff will work closely with patients to educate them about options for accessing medical care.
The labor union that represents UMC staff is still waiting for more specifics about the layoffs, and met Wednesday with hospital management, said Martin Bassick, president of the Service Employees International Union Local 1107.
The union is still awaiting specific timeline dates for when employees leave, though movement is anticipated sometime in September, Bassick said.
"My concern is what is going to happen to the community when we close these clinics down," Bassick said. "Where do the people go if they're not going to UMC, because UMC covers the most vulnerable of our community, so where do they go from here?"
Bassick said that nobody, including within UMC management and the union, wanted to do layoffs.
Specific clinic closure dates were unavailable.
The changes will be compete by Sept. 30, said UMC spokeswoman Danita Cohen in an email.
Barnard was unavailable Wednesday for further comment beyond his written statement. A press conference is scheduled for Thursday.
County Commissioner Lawrence Weekly expressed disappointment about the layoffs and said he's concerned about the employees who will be impacted.
"It's painful.You've got folks who are trying to pay mortgages," he said. "You've got single parents."
Weekly said the number of layoffs surprised him.
"I didn't know it was going to be that drastic," he said.
It's the second round of layoffs this year at UMC. In April, the hospital eliminated 105 positions as part of closing four care centers and an outpatient pharmacy.
Contact Ben Botkin at bbotkin@reviewjournal.com or 702-405-9781. Find him on Twitter: @BenBotkin1.