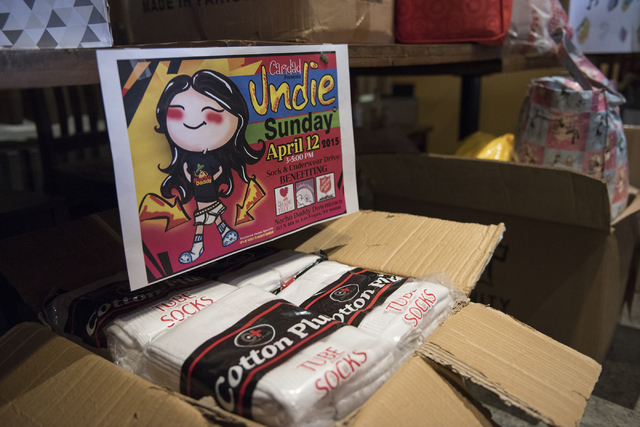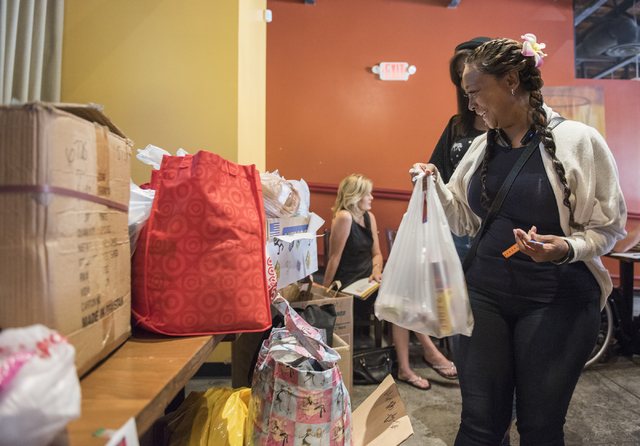 The Caridad charity organization mixed services for the homeless with happy hour fun Sunday afternoon.
"Undie Sunday" organizers and volunteers met at the Nacho Daddy restaurant in Downtown Las Vegas to try to engage the community with bar food and drink specials, shaken with a socks-and-underwear chaser.
The group partnered with local agencies to host the sock and underwear drive benefiting nonprofits including Catholic Charities, Shade Tree and Salvation Army. Area churches dropped off boxes filled with new undergarments. A table in the back of the restaurant was mostly covered in donations when the event began, thanks to Reformation Lutheran, Casa de Luz and Sought Church.
After dropping off a few fresh pairs, people were given wristbands so they could enjoy happy hour-priced beverages throughout the event, and the restaurant offered Caridad 10 percent of the proceeds. The group's official mascot, a superhero named Mighty Tighty, elicited chuckles from passersby, his red cape billowing in the wind as he buzzed down 4th Street on a three-wheeled electric scooter.
Merideth Spriggs, president and CEO of Caridad, said a big part of her mission is to help people see that helping the homeless can be enjoyable, but the 37-year-old Las Vegas woman takes her duties very seriously. She was homeless herself once, which led her to starting Caridad — Spanish for charity — in 2010.
She often struggles to contain her passion when she's dealing with government officials, who she tries to keep in a good mood by giving out novelty sunglasses and noisemakers during meetings. Keeping a light tone helps with efforts to engage the community, she said. Another important part of her mission is to foster an environment of cooperation between all of the agencies in the valley that help the homeless.
"So help me, I'll stand on my head and be a goofball if that's what it takes," she said of her efforts to raise awareness.
Clean socks and underwear are basic necessities that most homeless people don't have.
"I saw that that was a need on the streets," she said.
Catholic Charities spokeswoman Leslie Carmine said she was eager to partner with Caridad, because the need for socks and underwear is so great. She said she sees people who have worn-down shoes with holes in them all the time, and something as simple as fresh socks can make a big difference on their health and well-being.
"We take that for granted," she said of having clean undergarments. "This is definitely something they need all the time."
Carmine said Catholic Charities accepts donations of socks and underwear, as well as new and gently used bras, at its main campus, at 1501 Las Vegas Blvd. North. An employee out front will assist you so you don't even have to get out of your car, she said.
Spriggs said her organization will not benefit from any of the money raised at the event. All of the funds will go to purchasing new bras for women who are in need.
"A new bra, for a lot of them, is a big deal, because they have nothing," she said.
Caridad will continue Undie Sunday as a semi-annual event, and Spriggs hopes to expand into other fun events to raise awareness about homelessness and collect socks and underwear. She said she wants to throw a lingerie party at an area nightclub next.
Contact Wesley Juhl at wjuhl@reviewjournal.com and 702-383-0391. Find him on Twitter: @WesJuhl.