US 95 'Big Squeeze' near downtown Las Vegas starts Monday
March 15, 2017 - 10:06 am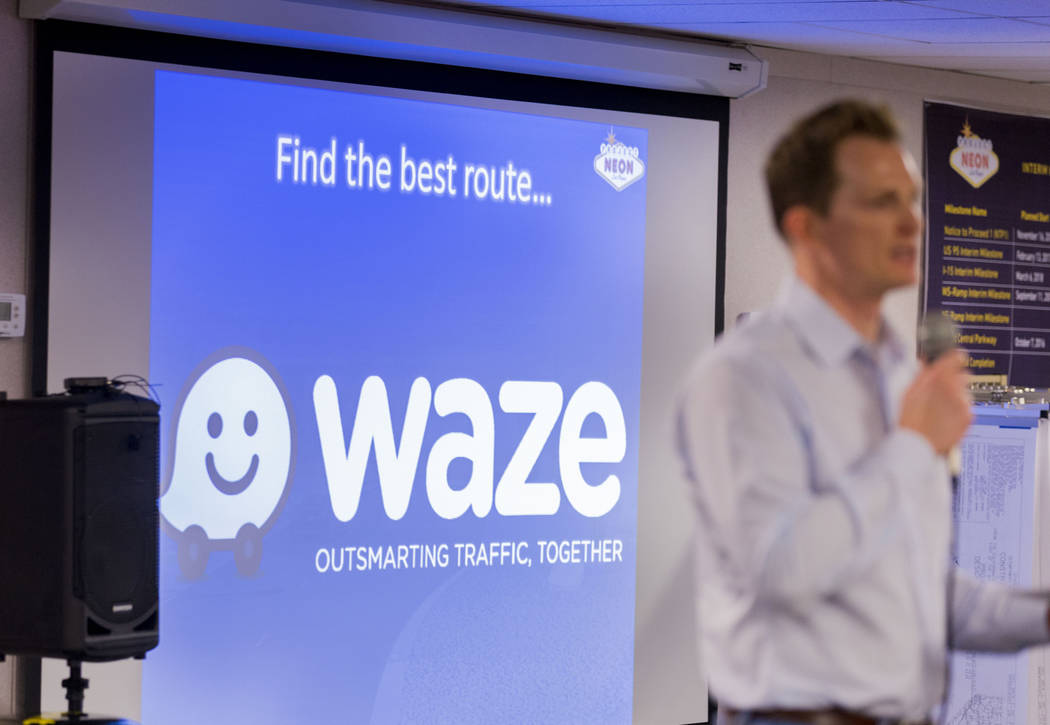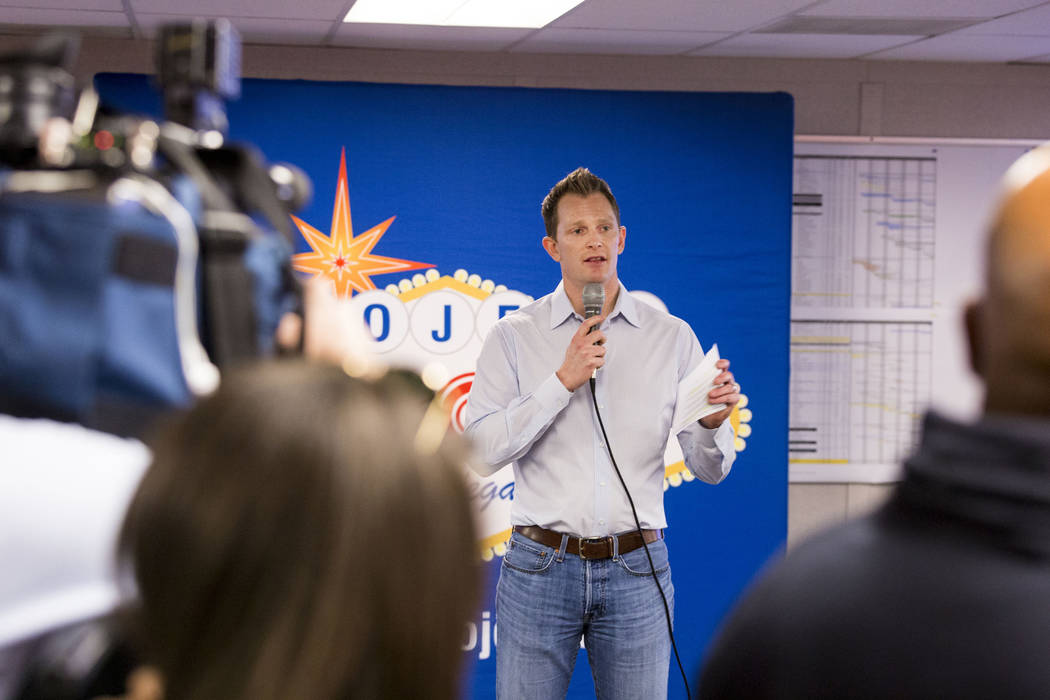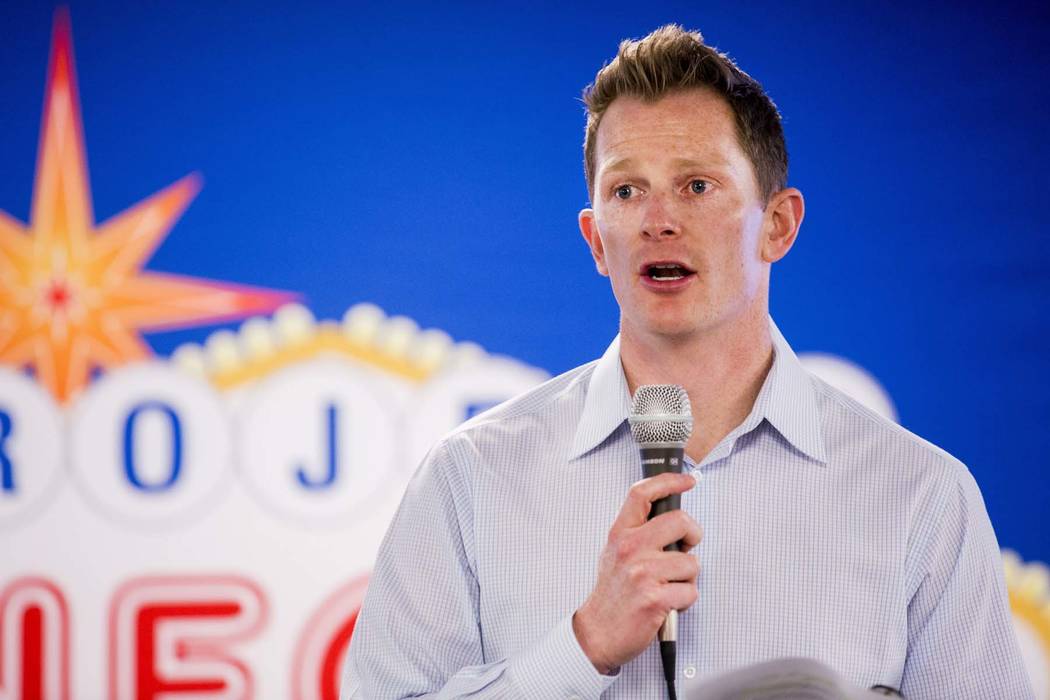 Thousands of downtown Las Vegas commuters have until 9 p.m. Monday to brace for a long, painful pinch known as "The Big Squeeze."
That's when U.S. Highway 95 will lose a traffic lane in each direction between Interstate 15 and Rancho Drive, a narrowing that will last through the end of January 2018, the Nevada Department of Transportation announced Wednesday morning.
"So 300 days is going to feel like a long time for commuters," said Dale Keller, project manager for Project Neon. "This is a very fast-paced project and we're looking to minimize disruptions."
The heavily used highway will be narrowed to two lanes so that crews can split the northbound and southbound lanes by roughly 70 feet. That will create enough room to build a new, 81-foot-tall flyover ramp for high-occupancy vehicles. The carpool ramp will have one lane for drivers headed from southbound U.S. 95 to southbound I-15 and another connecting northbound I-15 to northbound U.S. 95.
The two-way concrete ramp will be accessible from the center lane of both freeways. It will be 2,606 feet long and supported by 19 columns. Crews will also repave one mile of U.S. Highway 95 that was last resurfaced 25 years ago.
Lane closures along U.S. 95 will shift during various phases of construction over the next 10 months, affecting the roughly 219,000 vehicles using the impacted stretch of highway daily.
FAREWELL 'CAR-NADO'
"The Big Squeeze," named for the narrowing lanes and heavy merging associated with the project, comes on the heels of "Car-nado," a four-month closure of the I-15 southbound and northbound ramps connecting to northbound U.S. 95. The final piece of Car-nado is expected to end by early May with the reopening of a ramp linking southbound I-15 to northbound U.S. 95.
Both of those themed closures fall under the larger umbrella of Project Neon, a $1 billion effort to redesign and add traffic lanes along I-15 from the U.S. 95 interchange to Sahara Avenue by fall 2019 — a few months after the summertime deadline originally announced by NDOT. A third, yet-to-be-named closure is anticipated in 2018.
Access to downtown area exits will not be affected by the construction, but Keller said that state transportation officials and the Las Vegas Convention and Visitors Authority will coordinate access during special events that draw big crowds, including the Big League Weekend set for March 25-26 at Cashman Field.
Not only will The Big Squeeze last longer than Car-nado, it will also impact five times the number of vehicles during peak morning and evening commuting times.
Every hour, up to 10,000 vehicles drive through the soon-to-be restricted area on U.S. 95 compared to the roughly 2,000 vehicles every hour that were impacted by Car-nado, Keller said.
"Even though the impact on U.S 95 is for 10 months, the overall duration of (Project Neon) will last for three or four years," Keller said. "We're all trying to do a lot of work in a short amount of time to minimize that disruption on traffic."
RAMPS, STREETS ALSO WILL CLOSE
Motorists can expect to see periodic closures along nearby freeway ramps and surface streets, starting with the northbound U.S. 95 exit ramp to Rancho Drive from March 23 to June 21.
Additionally, the onramp and offramp connecting Martin Luther King Boulevard and northbound U.S. 95 will close from 10 p.m. March 24 to 5 a.m. March 27. During that same time, Martin Luther King Boulevard will be closed in both directions between Bonanza Road and U.S. 95 for bridge demolition.
To help keep traffic moving on U.S. 95, NDOT is asking drivers to practice "zipper merging" rather than merging early. The practice encourages motorists to use both lanes up to the point where they converge, then alternate turns.
The aim is to keep drivers from slowing down and merging too early, which leaves a long strip of unused pavement. Instead, NDOT wants drivers to use all the available space on the road for as long as possible.
Other states have successfully used zipper merging in road construction zones because it is considered to be safer and about 40 percent faster than early merging, Keller said. Signs will be posted through the construction zone, asking drivers to "Zip It, Take Turns, Move Faster."
"It does require a lot of courtesy from your fellow drivers sitting in the next lane," Transportation Department Director Rudy Malfabon said at the agency's board meeting Monday. "Our driving behavior tells us that it's rude to do that, but we have to rethink that, I think."
SURFACE STREET MONITORING
Officials with NDOT and the Regional Transportation Commission of Southern Nevada will monitor 118 signals on 14 major roadways as drivers seek alternate routes: Bonanza Road, Charleston Boulevard, Decatur Boulevard, Grand Central Parkway, Jones Boulevard, Las Vegas Boulevard, Maryland Parkway, Martin Luther King Boulevard, Rancho Drive, Sahara Avenue, Stewart Avenue, Valley View Boulevard, Washington Avenue and Alta Drive/ Bonneville Avenue.
Fifty-four cameras mounted on traffic signals will be focused on those streets, with live footage beamed to the RTC's traffic management center. From there, RTC and NDOT workers will make real-time adjustments to signals, depending on the ebb and flow of traffic, RTC spokeswoman Angela Castro said.
NDOT on Wednesday also launched a new Project Neon cell phone app, which will provide real-time information about closures and accidents within the construction zone.
"It's a great tool to have at your fingertips and we're looking forward to utilizing this as we go through these major restrictions in 2017," Keller said.
Contact Art Marroquin at amarroquin@reviewjournal.com or 702-383-0336. Follow @AMarroquin_LV on Twitter.
ALTERNATE STREET ROUTES
Southbound traffic: Valley View Boulevard, Decatur Boulevard and Rancho Drive
Northbound traffic: Las Vegas Boulevard and Eastern Avenue