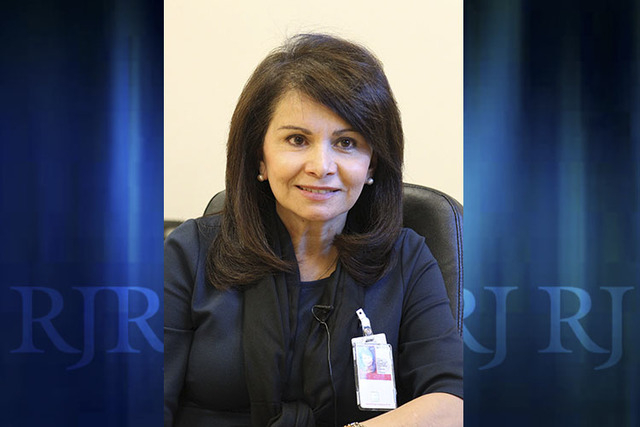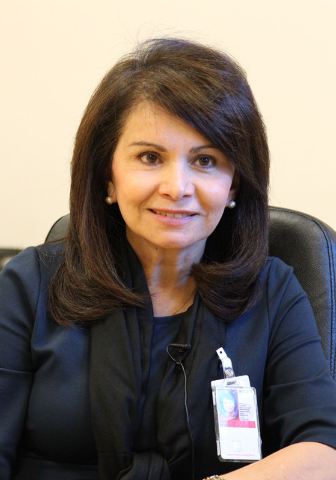 The top official of the VA Medical Center in North Las Vegas was one of hundreds of Veterans Affairs executives who received bonuses while veterans endured long waits for health care at their facilities.
Documents released Monday by the House Veterans Affairs Committee said Medical Center Director Isabel Duff received an $8,680 bonus in February for service performed in 2013. Dr. Kurt Schlegelmilch, director of the Sierra Nevada Health Care System in Reno, also received a bonus of $8,680.
They are among 292 VA senior executives and directors who were given performance awards for 2013 in addition to their salaries, according to a list released by the committee's chairman, Rep. Jeff Miller, R-Fla.
VA employees nationwide received nearly $278 million in bonuses, in addition to $2.7 million in extra pay for top officials in the beleaguered agency.
Richard Beam, a regional spokesman for the VA, said in an email that Duff "has not received any bonus for her work at the Southern Nevada Healthcare System." She joined the Southern Nevada unit in May 2013 as acting director after working the first part of the year as director of the VA Long Beach Healthcare System in Southern California.
Duff became director of the Southern Nevada unit in September, inheriting management of a $1 billion medical center in North Las Vegas and satellite clinics that have received mixed reviews. VA officials have not answered a query regarding the amount of Duff's salary.
The $2.7 million in bonuses for top ranking VA officials included more than $380,000 for executives at 38 VA hospitals – including the one in North Las Vegas — being probed for lengthy wait times for veterans seeking appointments and questionable practices on reporting those wait times.
The Southern Nevada facility in June was flagged for further review after a preliminary audit uncovered evidence that a clerk may have been directed by a supervisor to alter patient scheduling to mask long wait times, a practice that investigators found was widespread in the VA system.
Duff has told Nevada members of Congress the supervisor in question left the hospital six months ago and the current practice for scheduling patients was consistent with the policy of accurately recording their appointments.
A recent audit of scheduling practices at VA facilities found that a shortage of doctors increases wait times for veterans to receive health care. Rep. Dina Titus, D-Nev., has proposed a bill with two colleagues to create 2,000 residency programs at VA facilities in Las Vegas and elsewhere to alleviate the shortage of doctors.
The Southern Nevada medical center also was audited following allegations of shoddy emergency room care for Sandi Niccum, a 78-year old blind Navy veteran who waited almost five hours in severe abdominal pain to see a doctor on Oct. 22.
Auditors found emergency room personnel did not follow procedure to periodically check on the patient during her long wait, although the investigation was limited because video of the emergency room for that night already had been erased.
In addition to the executive bonuses, 283,890 VA employees received a total of almost $278 million for a variety of bonuses ranging from group cash awards and travel savings incentives to foreign language and exemplary job performance awards. It could not be determined what if any of those bonus payments were directed to Nevada personnel.
"I would like to say I was shocked by these bonuses, but unfortunately this is par for the course at the Department of Veterans Affairs," Miller said in a statement.
"VA's sordid bonus culture is a symptom of a much bigger organizational problem: The department's extreme reluctance to hold employees and executives accountable for mismanagement that harms veterans," Miller said.
Titus declined to comment specifically about Duff. But Titus, who sits on the House Veterans Affairs Committee, said it was important for the agency to "increase accountability and install best practices to ensure performance awards are given only to VA employees who earn them through meritorious service to our veterans."
Sen. Dean Heller, R-Nev., said he does not support bonuses for VA employees "when there is a dire need to improve access and timeliness of care to local veterans."
The amount of bonuses paid to workers in the massive VA bureaucracy — an average of $979 apiece with some likely receiving multiple awards — "makes me furious," said Dee Redwine, who accompanied her friend Niccum to the hospital that night. Niccum, suffering from a colon disorder, died in a hospice less than a month later.
"What a disgrace and insult to our veterans that are sick, dying and too proud to ask for help with food and housing," Redwine wrote of the bonus payments in an email. "I am so ashamed of our government."
Contact Keith Rogers at krogers@reviewjournal.com or 702-383-0308. Find him on Twitter: @KeithRogers2.Contact Steve Tetreault at stetreault@stephensmedia.com or 202-783-1760. Find him on Twitter: @STetreaultDC.