VA to host town hall Thursday in North Las Vegas
December 16, 2014 - 5:31 pm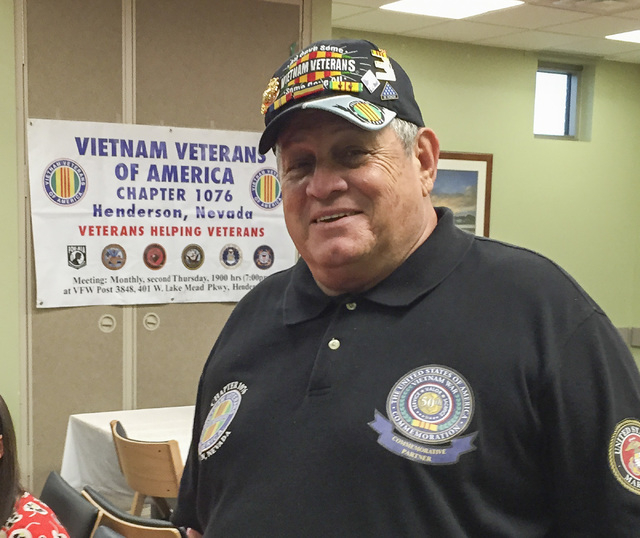 Las Vegas Valley VA officials will hold the second in a series of town hall meetings Thursday to air veterans' concerns with health care and services offered by the Department of Veterans Affairs.
The public forum, scheduled for 4 to 5:30 p.m., will be in the auditorium of the VA Medical Center, 6900 N. Pecos Road, North Las Vegas. The town hall meeting stands to echo many issues raised by 200 veterans and family members who attended the first one in September.
Marine veteran John Scaduto, president of Vietnam Veterans of America Chapter 1076 in Henderson, urges Southern Nevada veterans of all eras to attend to voice their concerns and learn about benefits that are available from the VA Southern Nevada Healthcare System and the Veterans Benefits Administration.
"My concerns right now are they (VA officials) are not communicating. There are a lot of things that can be done and benefits veterans can receive," he said Tuesday. He noted that many veterans probably don't realize that the satellite office for veterans benefits is open on Saturdays at the North Las Vegas VA Medical Center.
"What I'm trying to do is be the link between the VA and my veterans. We're Vietnam vets and we're trying to help other veterans, like the kids coming home from Afghanistan and Iraq, and make sure they're taken care of," he said.
Since Chapter 1076 was formed in 2012, it has grown to 76 members who reside in Henderson and the Boulder City area. Vietnam vets interested in joining can call (702) 769-3541, or send emails to 1076vvahnv@gmail.com.
On Dec. 3, the chapter hosted a luncheon for the staff of the VA's Southeast clinic to show their appreciation for care the staff has delivered amid personnel shortages.
"They needed a pat on the back. They're trying. I think its the big administration that's causing most of the problems," said Scaduto, 70, who served in the first major U.S. offensive of the Vietnam War, Operation Starlite, which began Aug. 18, 1965 and involved 5,500 Marines.
VA Secretary Robert McDonald promised to hold town hall forums at VA facilities across the nation to build trust in the Department of Veterans Affairs in the wake of scandals that surfaced this year about long waits for health care and scheduling appointments at VA facilities in Phoenix and elsewhere.