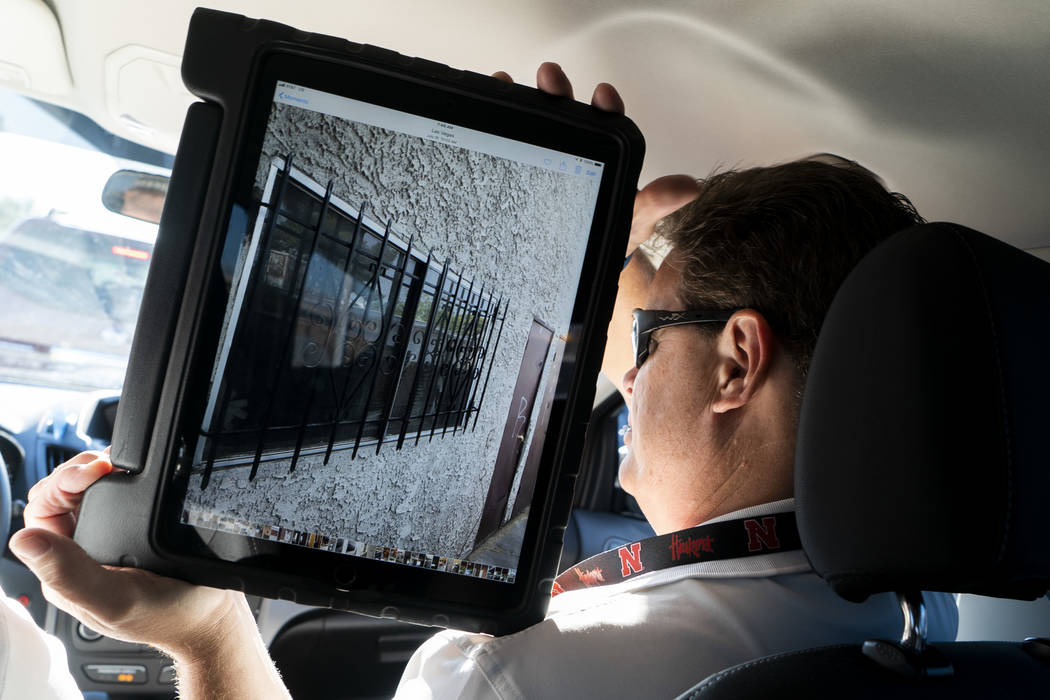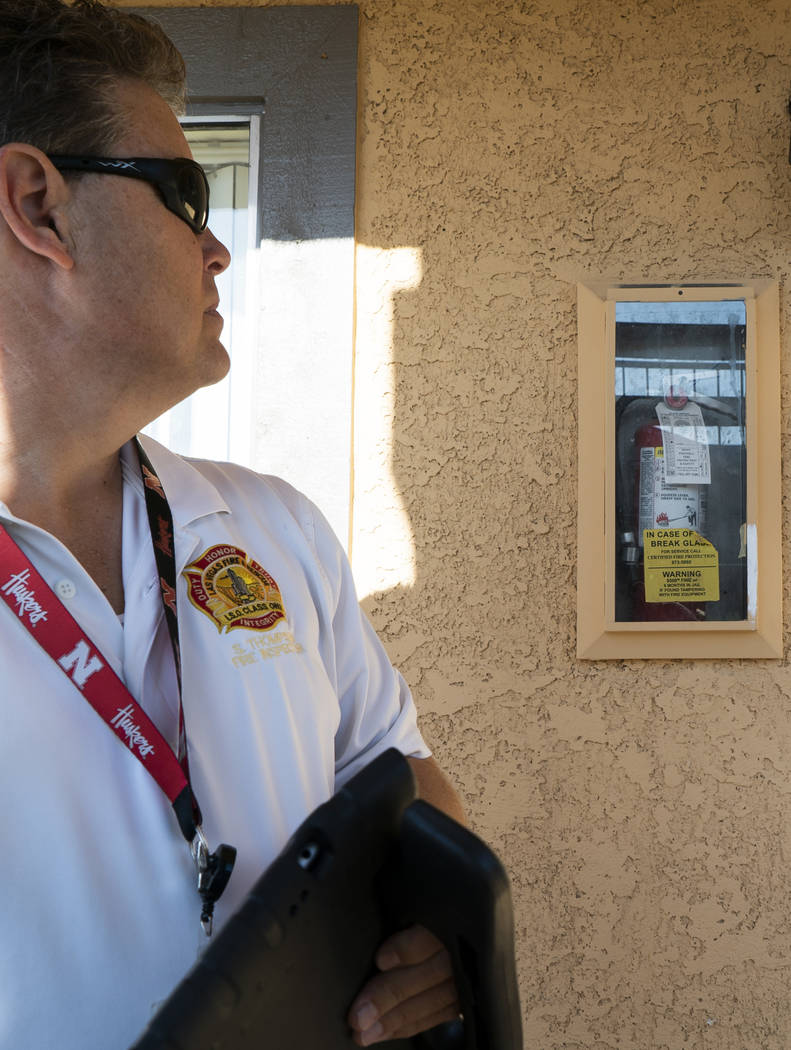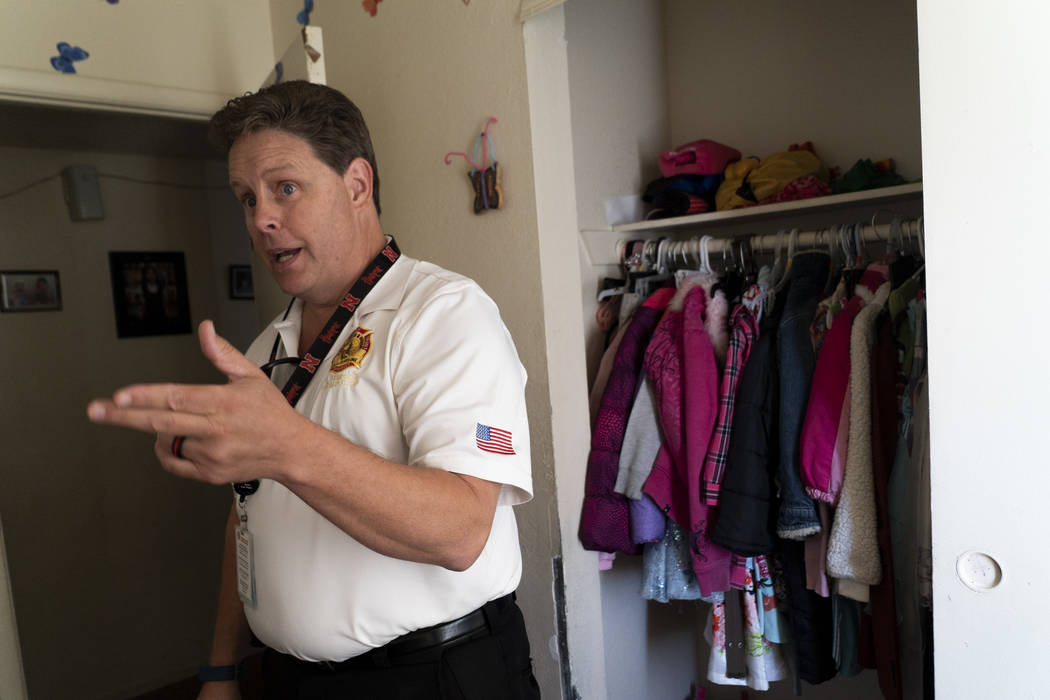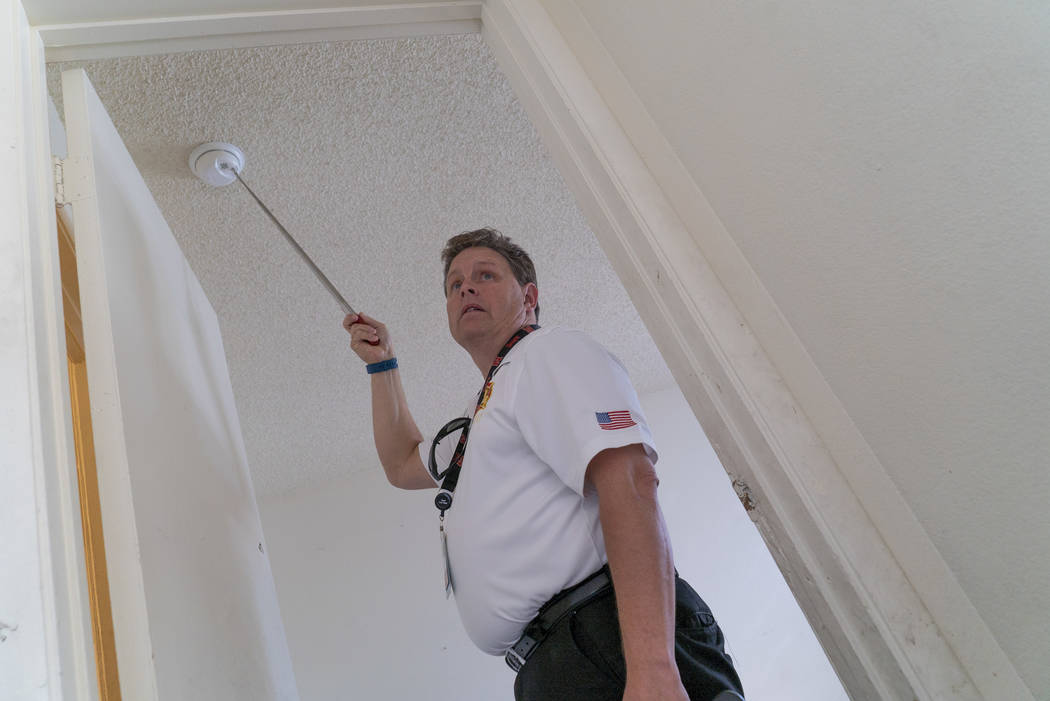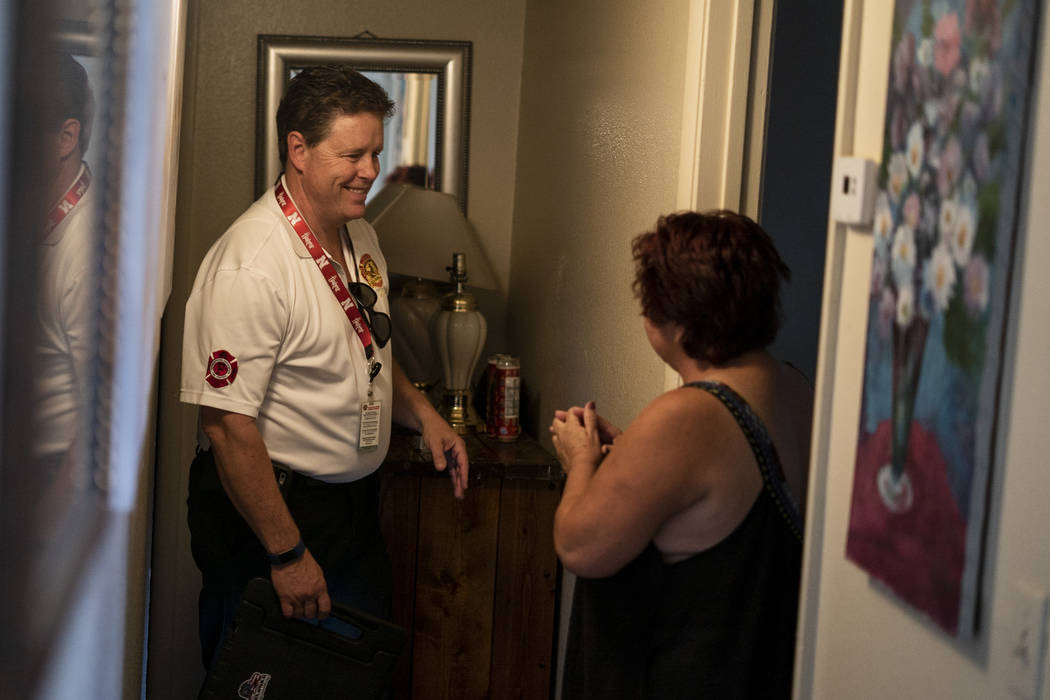 WHEN A FIRE broke out at a Las Vegas apartment building in the middle of an August night, the timing was fortuitous for the people inside.
Though the blaze threatened the tenants and their neighbors, all nine people inside the two units escaped with their lives.
Two months earlier, they might not have. Back then, the apartments lacked functioning smoke detectors, and the windows were blocked with burglar bars that wouldn't release.
A June 23 inspection prompted the owner of the building to fix the problems. It marked the first documented save by a team of Las Vegas fire inspectors who are scrutinizing apartments in the city's oldest and most urban neighborhoods — places with the highest loss of life, the highest need and the highest call volume.
"Unfortunately, fires like these areas," said city fire inspector Scott Thompson. "That's why we're so laser-focused now."
Thompson and Todd Friley make up the city's apartment fire inspection task force, whose goal is to curb the staggering number of fire risks that can go unaddressed for years at high-density residential complexes.
During a five-year period starting in April 2013, Las Vegas fire inspectors failed nearly 39 percent of the 10,245 commercial and residential buildings they assessed.
Many locations were repeat offenders: There were 3,954 failed inspections at 1,138 individual properties. Nearly three quarters of those properties fall within the ZIP codes 89101, 89102, 89104, 89106 and 89108. All are located in Las Vegas wards 1, 3 and 5.
Resources stretched thin
City fire inspectors have always checked apartment buildings — anything with three or more units — but those inspections tended to be complaint-driven, because apartments rank lower in priority than schools, hospitals and care homes.
The situation is similar in unincorporated Clark County, where inspections of apartments and other commercial residential buildings are typically triggered by complaints from the public or the fire department.
"Although we would like to inspect every commercial and commercial-residential property every year, this is not possible," county spokesman Erik Pappa wrote in an email.
The city has just 15 fire inspectors to check nearly 21,789 commercial and residential buildings, including individual housing units within apartment buildings, Las Vegas Deputy Fire Marshal Rick Rozier said.
In Las Vegas, the workload is divided as evenly as possible among the staff, but resources are stretched thin and choices have to be made.
The current focus on apartments is essentially a two-man pilot program. While Thompson and Friley concentrate on apartment buildings, their regularly assigned inspection areas are being covered by others.
There will continue to be fires. We can't fix that. But we can do this. This is our answer.

Scott Thompson, Fire inspector for Las Vegas Fire and Rescue
The pair made their way through many large complexes and apartment buildings with on-site management last year. They have had a harder time with small complexes, especially those with no on-site management and with out-of-town owners who were difficult to reach.
"There will continue to be fires. We can't fix that," Thompson said. "But we can do this. This is our answer."
Thompson started the targeted apartment inspections for wards 1, 3 and 5 last year with his previous partner in the project, Steven Taulbee. The initial goal was to inspect every apartment unit in those wards within two years, but it will likely take longer, because they have discovered hundreds of residential buildings that weren't being tracked.
Las Vegas Deputy Fire Chief and Fire Marshal Robert Nolan said that's because the city's business licensing database, which is the source of the fire inspection database, does not track three- and four-unit complexes. Fire inspectors are still adding these missing buildings as they spot them in the field.
"We found more of them in one ward than we thought were in all three wards," Nolan said.
Thompson said he doesn't know the specific number, but the volume of inspections left to be done is "in the thousands."
'They're saving lives'
On a Thursday morning in September, Thompson and Friley entered nearly every unit at a four-building apartment complex in Ward 5 to check for smoke alarms and fire hazards.
The complex was last inspected in 2013. It popped up this time after a fire crew responding to a medical call there couldn't get out a rear exit because it was blocked by a security fence. The fence has since been taken down.
As the inspectors moved through the buildings, a pair of maintenance workers trailed behind them, climbing a stepladder to take down smoke alarms that weren't functioning.
A couple of the apartments were up to code, but most had a room that needed a smoke alarm. Some alarms needed batteries, and others had been painted over.
The inspectors also found propane tanks, gas cans and a motor scooter being stored inside apartments.
They would return to the complex two weeks later to make sure the necessary changes were made.
"Make no mistake, they're saving lives," Nolan said of the inspectors. "When they come across an illegal pop-up restaurant using propane in the same room where they're storing gasoline, those are lives saved."
How long a property owner is given to come into compliance depends on the seriousness of the violations.
"There have been times we've gone in and said, 'We'll be back in an hour,'" Rozier said. "It's instantaneous to an hour, a week or 30 days."
Fire code allows the city to evacuate a building if there is imminent danger, but that's uncommon. Nolan said ordering people out of a residence would be an "extreme" measure.
"It would be a really disruptive thing to do, and we don't like to do that. We would look at mitigating the hazards," he said.
Educating tenants
Thompson and Friley try to inspect every unit because random spot checks are not enough. One apartment might be in good shape, but the neighboring unit might have missing or dead smoke detectors and numerous hazards. All it takes is an unchecked fire in one apartment to destroy an entire building and threaten the lives of everyone who lives there.
The inspectors work in tandem for speed, accountability and to avoid missing anything. As one checks the smoke alarms, the other will talk to tenants — especially if children live there — about the importance of knowing how to call 911 and having an escape plan with a predetermined meeting spot in case of a fire.
Thompson recalled inspecting an elderly man's ground-floor central valley apartment and finding a plastic bag covering the hallway smoke alarm. The alarm had beeped while the man and his brother were cooking the night before, so they covered it to stop the noise, he said.
"Never again," Thompson told him. The bag could have prevented the alarm from activating if there had been a fire, he told the man.
The next time the alarm beeps during cooking, Thompson said, a fan should be turned on and a door opened to push out the smoke.
Educating tenants is a big part of the job, but Thompson and Friley also make sure landlords know it is their responsibility to follow the fire codes — namely by supplying and installing working smoke detectors in every apartment.
While inspecting a small east valley complex in March, inspectors knocked on the door of a woman who spoke little English.
She let them inside, but the language barrier proved too much to overcome, so Thompson dialed a bilingual colleague. Then he handed the woman his iPhone so she could be told in Spanish that her apartment needed to have working smoke detectors and that her landlord was required to provide them.
Thompson spent years fighting fires, and he has seen the damage they can do.
"If we left here and they had a fire tonight, I wouldn't be able to live with myself," he said.
Review-Journal staff writer Michael Scott Davidson contributed to this report.
Strange but true
Among the strangest fire hazards Las Vegas fire inspectors say they have seen inside local apartments:
Voodoo altar
Dead Christmas tree in July
Propane grill
Tires
A second apartment with walls made of cardboard