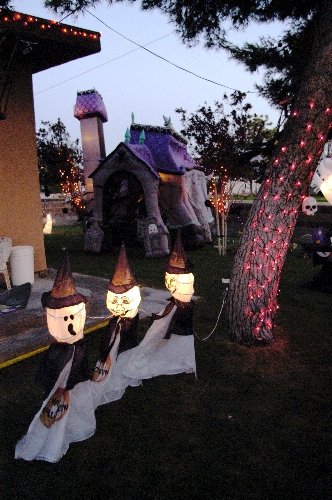 In recent memory, Halloween holiday weekend in Las Vegas has been a safe one, full of more treats than tricks.
"We've done a good job as a community having safe Halloweens," Las Vegas police spokesman Officer Marcus Martin said.
Police agencies across the valley say their efforts coupled with the public's common sense can continue that trend.
In Henderson, city officials declared official trick-or-treating hours as 6 to 8 p.m. Monday.
TRICK-OR-TREATING TIPS
Las Vegas, Henderson and North Las Vegas police gave the following tips for trick-or-treaters:
■ Adults should accompany children who are trick-or-treating or set pre-planned routes with checkpoints and check-in times.
■ Travel in groups and use the buddy system.
■ Don't enter strangers' homes.
■ Use sidewalks and cross at intersections or marked crosswalks.
■ Bring a flashlight and wear reflective clothing.
■ Ensure children can fully see through any masks or headgear associated with costumes or use face paint as an alternative.
■ Inspect candy to ensure each piece is fully wrapped and hasn't been tampered with.
■ Find alternative events at churches or community centers. (Visit your neighborhood View at lvrj.com/view for a list of events in your area.)
OPERATION SCARECROW
The state Department of Public Safety's sex offender unit instructed offenders who are not permitted to contact children to avoid participation in Halloween-related activities, such as hanging decorations or passing out candy. The seventh annual effort, known as Operation Scarecrow, took place throughout the month of October.
DRUNKEN DRIVING ENFORCEMENT
Local police agencies are joining forces to reduce DUI-related crashes. More than 18 additional officers will patrol area streets to target impaired drivers, police said.
In North Las Vegas, extra watch will be a priority from 5 p.m. to 3 a.m. Saturday.
Throughout 2010, 257 people were killed in crashes on Nevada roadways and alcohol was a contributing factor in 89 of those cases, according to the Nevada Department of Public Safety.
Contact Jessica Fryman at jfryman@reviewjournal.com or 702-383-0264.