Vegas cat hoarder moved; city handling cleanup
September 17, 2014 - 3:50 pm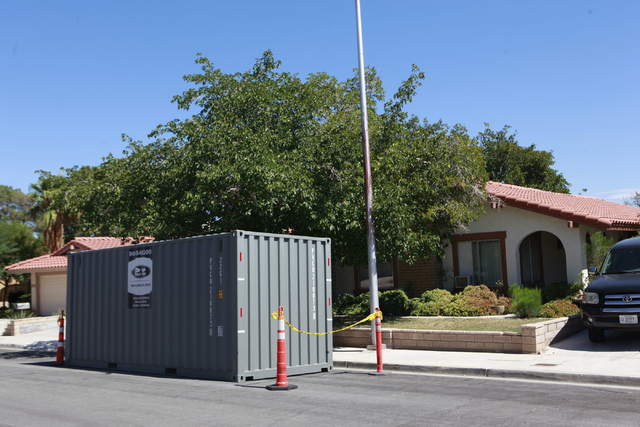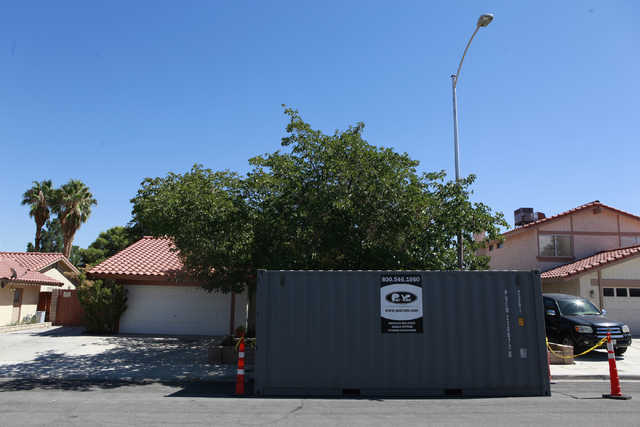 A west valley cat hoarder was removed from her home last week, six weeks after the Southern Nevada Health District declared her house an "unacceptable health risk" to its occupants.
Las Vegas Animal Control officers have removed 165 cats from Diane Dejongh's home at 1417 Lucaccini Lane since October 2010, including 118 carted away from the property since June. More than 90 percent of those cats have since been euthanized at Lied Animal Shelter.
Las Vegas officials expect to spend $10,236 to clean up the home, funds they plan to recoup through a lien placed on the property.
City spokesman Jace Radke said the city plans to spend an additional $1,750 to move Dejongh, 71, and her adult daughter into temporary housing provided by HELP of Southern Nevada.
On Friday city code compliance officers moved both occupants out of the home as cleanup crews in hazmat suits descended on the property with pressure washers and construction trash bins.
The pair will be allowed to move back into their home once work on their property is finished.
This is only the second time in two years that city officials have looked to recover cleanup funds from a known hoarder.
It could take up to a month to fully remediate the home, according to city staffers. Health district officials report that parts of the house were "soaked through" with cat urine. They said cat litter and feces piled up several inches deep in places around the property.
Dejongh, a home health care aid, could not be reached for comment.
Cynthia Snodgrass, one of Dejongh's neighbors, expects it won't be long before some of the cats come home, too.
"If history's any indication, the cats will be back within five weeks," Snodgrass said. "I contend this is the city's problem, because we've been complaining about it for eight years.
"I want them to pay for abatements for the neighbors, because they're the ones who have ignored it."
City code compliance officers cleared out furniture and sanitized surfaces in Dejongh's home for several hours Saturday.
Next door, Cindy Miller began to wonder if cleanup crews would ever reach her front yard.
"They're trying to tell us it's not a health hazard to the neighbors while they're going into the house with biohazard suits," Miller said. "(Dejongh) needs to be placed somewhere. I hate to say that, but it's true.
"They need to set a precedent with this, because it's been going on for too long."
Both Snodgrass and Miller declined to comment on whether they plan to sue the city over its mitigation efforts.
City spokesman Radke said he couldn't speak to Dejongh's ability to pay the cost of fixing her home. He said she will not be required to attend counseling as a condition of reoccupying the home.
Las Vegas contractors plan to clean, treat and sanitize the property's surfaces from floor to ceiling, but don't plan to strip the building to its studs or replace any existing materials.
So far as the city's concerned, it will be Dejongh's responsibility to remediate damage to surrounding properties.
"(The home) is a nuisance for the neighbors, but a hazard for the people living inside it," Radke said. "We want to make sure we're not putting anyone out on the street. That was never an option."
Health district spokesman Andy Chaney said his agency was never consulted as to the health risk the property might present to Dejongh's neighbors.
He declined to speculate on whether the home poses a risk to the rest of the block.
Chaney didn't rule out the possibility that the property's cats could return along with its owners.
He admitted there's not much anyone can do to stop them.
"There's a ton of evidence to suggest that hoarder cases can repeat," Chaney said. "This is an ongoing issue with hoarders, but there's no real answer as to whether or not it'll happen again.
"We rendered a professional opinion on the safety of the home. … So right now, this case is really in the city's court."
Contact James DeHaven at jdehaven@reviewjournal.com or 702-477-3839. Find him on Twitter: @JamesDeHaven.