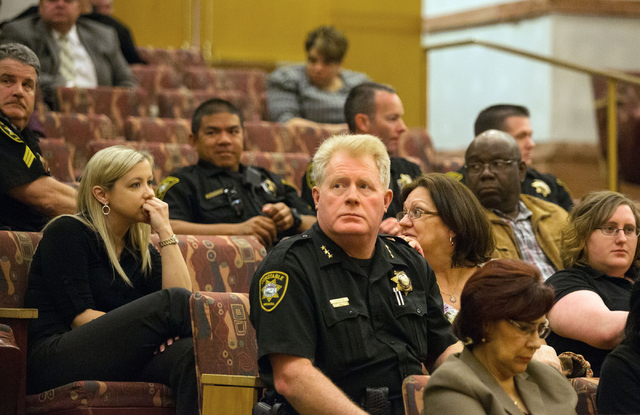 Former deputies of ousted Las Vegas Township Constable John Bonaventura aren't just out of a job — they don't even have the option to get the high-priced health insurance that terminated employees usually can obtain under a federal law.
About a dozen of the deputies and process servers allege their federally mandated insurance was canceled in retaliation for their decision to file a federal lawsuit against Clark County and the Metropolitan Police Department in an effort to get back on the job. Their allegations are outlined in an amended lawsuit filed this week.
The deputies had first filed a federal lawsuit against the county and Metro on Jan. 23, after Metro took over the constable's operation in January. The transition came because county commissioners in March 2013 voted to abolish the constable's office, effective when Bonaventura's term ended Jan. 4.
The deputies got insurance cancellation notices Jan. 28, five days after filing the lawsuit, court records allege. But on Jan. 6, before the lawsuit was filed, the deputies had received insurance notices indicating that they would be eligible for COBRA benefits.
A Metro spokesman declined comment, because it's pending litigation. A county spokesman also declined to comment.
COBRA, short for the Consolidated Omnibus Budget Reconciliation Act, is a federal law that allows former employees to continue receiving health insurance but usually at higher rates because participants usually pay the full premium themselves. COBRA applies to insurance plans of private-sector employers and most state and local government agencies, according to the U.S. Department of Labor.
The Jan. 28 notice sent to employees said the issued COBRA paperwork was "an incorrect action as it was miscommunicated as to how the office was going to operate when Metro took over." It said the deputies it kept are independent contractors, and former and current employees aren't in a valid group anymore.
Last year, county officials and Metro reached an agreement for transitioning the office to the Police Department. That agreement gave Metro the discretion to rehire any of the deputies who worked under Bonaventura. Most of the deputies didn't get rehired and lost their jobs in January.
The deputies who lost their jobs allege the county and Metro violated their due process rights. Their lawsuit says the deputies and process servers are "victims of what can only be properly termed as a systematic 'shakedown' and conspiracy against the elected Constable."
Bonaventura isn't a plaintiff or a defendant in this case.
Commissioners abolished the office because of high-profile controversies that occurred after Bonaventura's election in 2010, including financial conflicts with the county, a reality television pilot with foul-mouthed deputies and embarrassing conversations between Bonaventura and others that were recorded.
The constable's office performs evictions and serves court papers with deputies who are sworn law enforcement officers.
The plaintiffs are seeking damages of more than $75,000 to be determined at trial and attorney fees.
Contact Ben Botkin at bbotkin@reviewjournal.com or 702-405-9781. Find him on Twitter: @BenBotkin1.