Vegas delays action on downtown development
September 17, 2014 - 8:30 pm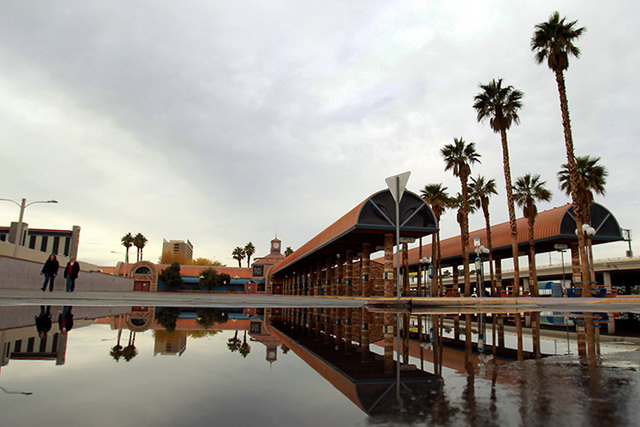 Las Vegas put off big plans for the undeveloped space north of Las Vegas' Mob Museum Wednesday, pushing back construction deadlines for a planned 425,000-square-foot development near the Downtown Grand.
The first phase of the unnamed project would see include a building of around 95,000 square feet of retail and office space near the old bus terminal along North Casino Center Boulevard at Stewart Avenue.
A planned second phase would bring 330,000 square feet of "hotel, residential, and/or office" space to property across from the recently debuted Downtown3rd shopping and entertainment district between Stewart and Ogden avenues.
Developers at California-based CIM Group, the company behind both the Downtown Grand and Downtown3rd, will have until late February to file building permits and break ground on the project, one that is expected to help anchor a special tourism improvement tax district created by the city along Ogden and Stewart in 2009.
"CIM has been working with the City to revise the parking program for the retail project, which delayed our ability to complete the contract documents necessary to obtain permits," the company said in a statement Wednesday. "CIM and the city completed the revisions in July 2014 and the project's architects and engineers have been moving quickly forward, but require additional time to complete contract documents and obtain permits to start construction."
Company representatives, who were granted a pair of monthslong permit and construction extensions in 2012, declined to offer further comment on the project.
It remains unclear how the new development, which is expected to bring more than 600 permanent jobs downtown, will affect the company's Downtown3rd Farmer's Market along Casino Center.
City leaders on Wednesday signed off on millions of dollars in additional redevelopment incentives meant to encourage CIM's future building efforts, including a three-year, $5.5 million purchase option on the city's Ogden parking garage.
The company already owes the city some $978,000 in past due rent payments on that garage, a sum city Economic Development Director Bill Arent hopes to recover through future cash installments and promised tenant improvements.
Arent didn't tell City Council members how CIM managed to fall so far behind on its rent payments, nor did he elaborate on why the company needed more time and incentives to start work on its massive new mixed-use project near the Mob Museum.
He did not return requests for further comment.
Contact James DeHaven at jdehaven@reviewjournal.com or 702-477-3839. Find him on Twitter: @JamesDeHaven.