Vegas HOA crime kingpin Leon Benzer sentenced to 15 1/2 years in prison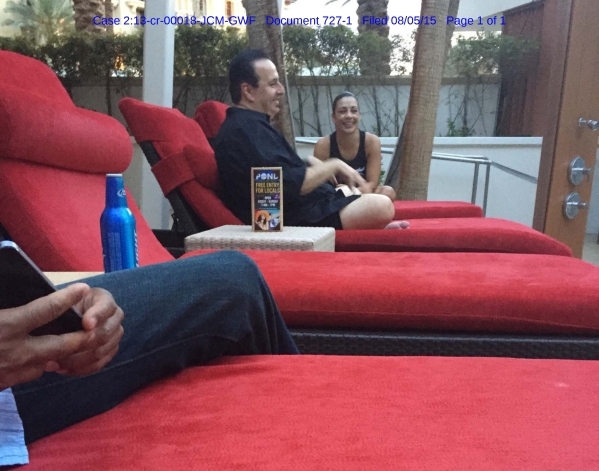 Former construction company boss Leon Benzer, the man behind the massive scheme to take over and defraud Las Vegas-area homeowners associations, was sentenced Thursday to 15 ½ years in federal prison.
U.S. District Judge James Mahan also ordered Benzer to serve five years of supervised release after prison and pay $13.4 million in restitution.
Benzer, 48, who pleaded guilty to conspiracy, fraud and tax evasion charges, is to surrender to prison authorities Nov. 6.
He was among the last of 39 defendants to be sentenced in the largest known public corruption case in Southern Nevada. Three defendants died, one by suicide and two by natural causes, before they could be sentenced.
In handing out Benzer's sentence, Mahan said the best advice Benzer got from his lawyer, Daniel Albregts, was to plead guilty in the long-running case in January.
That prompted Mahan to hand out a lighter sentence than the nearly 20 years Justice Department lawyers had sought.
"It was mind-boggling — the corruption," Mahan said. "This whole thing was really very unsettling. The scope of it, the scale of it was absolutely astounding."
Benzer appeared to be on the verge of fainting after Mahan ordered him to prison. He was allowed to walk back to the defense table, where he staggered for a moment before sitting down.
Benzer did not address Mahan in court, but provided the judge with a letter apologizing for his actions and explaining that he feels "completely lost" in the aftermath of the FBI-led investigation.
"I don't blame anyone but my own stupidity," he said, adding that he worries his former wife, who uses a wheelchair, and young son with autism won't get the family care they need with him in prison.
Following the sentencing, Assistant U.S. Attorney General Leslie Caldwell, who heads the Justice Department's Criminal Division in Washington, hailed the work of the law enforcement agencies in the high-profile case — the FBI, Las Vegas Metropolitan Police Department and IRS Criminal Investigation.
"Leon Benzer recruited and paid off puppets to serve on homeowners' boards so that they would steer lucrative contracts to his company and cronies," Caldwell said. "Far from enjoying their corrupt proceeds, however, Benzer and his co-conspirators will serve years behind prison bars."
In court papers, lawyers with the Criminal Division's Fraud Section, said the wide-ranging conspiracy left a trail of ruin in its wake, including HOAs with substandard repair work, defrauded mortgage companies and homeowners with diminished property values.
"Indeed Benzer by himself caused a (more than) 40-person crime wave in the Las Vegas Valley between 2005 and 2009, perpetrating crimes including mortgage fraud, election fraud, threats of violence and intimidation, abuse of the judicial process, tax fraud and obstruction of justice," prosecutors wrote.
Benzer and the late construction-defect lawyer Nancy Quon were the "principal architects" of the multimillion-dollar scheme, according to prosecutors. The goal was to gain control of HOA boards through election rigging, obtain construction-defect litigation contracts for Quon and, ultimately, funnel repair work to Benzer's company, Silver Lining Construction.
Quon never was charged, but killed herself in March 2012 under the weight of the federal investigation that began in November 2007. As many as a dozen HOAs were targeted by the Benzer organization.
Albregts insisted Thursday that Benzer, with his learning deficiencies and low level of intelligence, was incapable of being the mastermind of the takeover scheme and deferred to Quon while she was alive.
But lead prosecutor Charles La Bella didn't share that opinion.
"I don't know Al Capone's education, but he ran a pretty good criminal organization," La Bella said. "Mr. Benzer was chairman of the board of this conspiracy from day one."
La Bella also suggested Benzer is disingenuous about the impact of HOA investigation on his life.
"I can't stand up and let Leon Benzer spin another tale," La Bella told Mahan. "He's not lost at all."
La Bella cited a photo, entered into evidence, showing Benzer and former girlfriend Marcella Triana enjoying themselves poolside at the Green Valley Ranch resort last Friday. Triana pleaded guilty and agreed to cooperate in the case.
Albregts said there was nothing nefarious about the photo.
Benzer's sister was staying at the resort, and Benzer was merely there to "decompress" in anticipation of his sentencing, Albregts said.
Contact reporter Jeff German at jgerman@reviewjournal.com or 702-380-8135. Follow him: @JGermanRJ