Vegas soccer stadium, dead or not, dominates mayoral race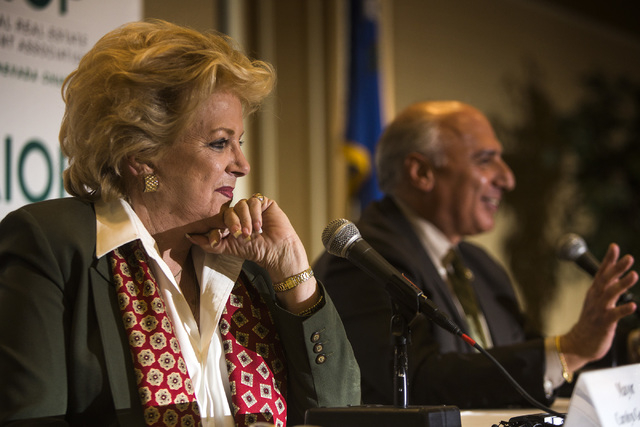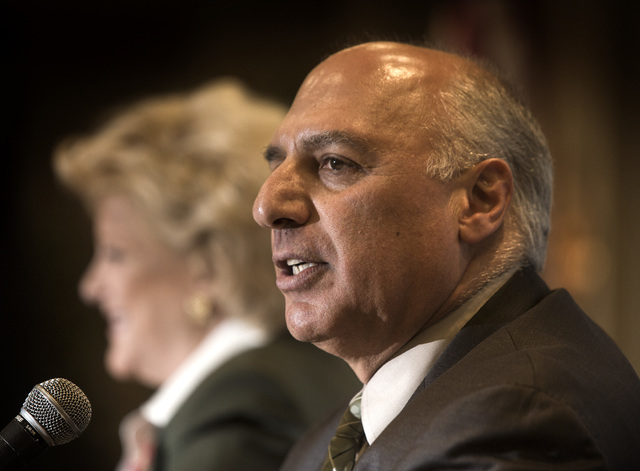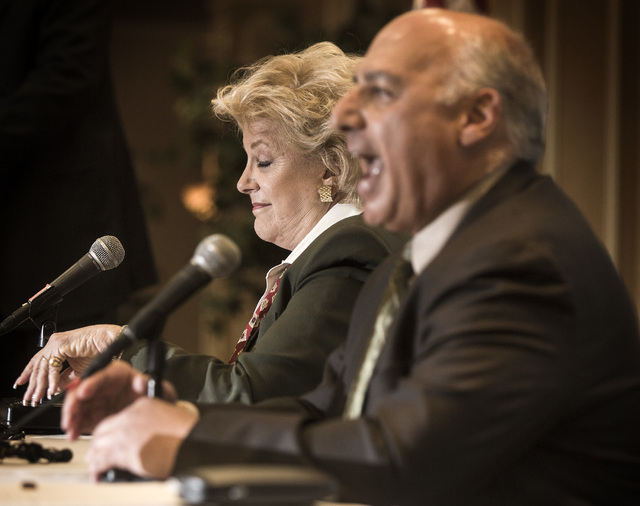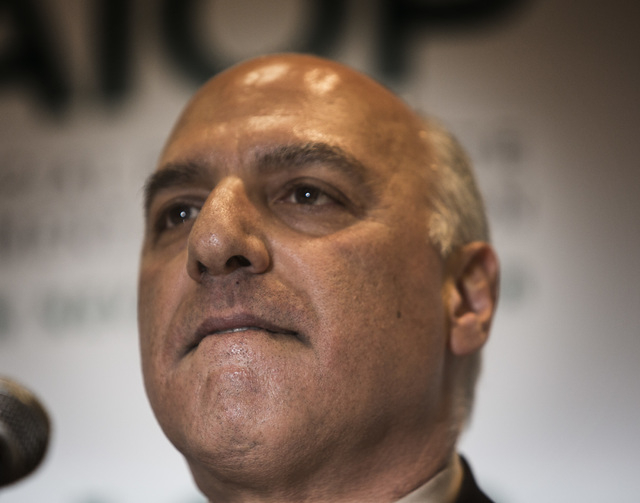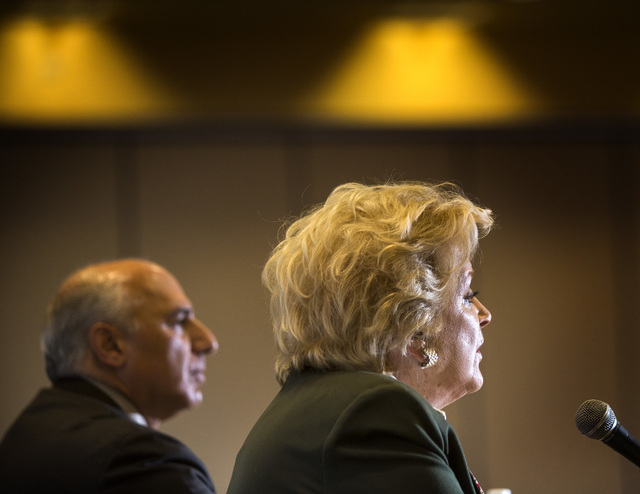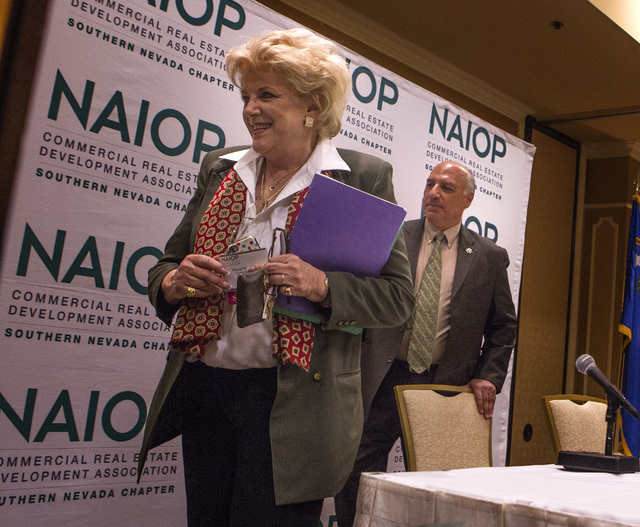 Stavros Anthony and Carolyn Goodman agree on just about everything.
They agree Las Vegas needs more cops. They agree the city needs more parks. Neither disputes that it could use some help with the homeless.
Perhaps the only big issue on which the two part ways is the very issue that will likely see one or the other elected mayor — the soccer stadium.
For months, the two front-runners have sparred over a now-abandoned plan to spend millions of taxpayer dollars on a $200 million, 24,000-seat downtown soccer stadium.
Then, a little more than a month ago, Major League Soccer pulled Las Vegas out of the running for an expansion franchise, citing ongoing uncertainty surrounding stadium funding and the city's appetite for a soccer venue. A week later, both of the front-runners in this spring's mayoral race helped strike the deal from a City Council agenda.
Still the ghost of the project lingers.
Mayor Pro Tem Anthony, 58, fears plans to build a taxpayer-aided stadium might not be dead, just hibernating until after the June 2 general election. On the campaign trail, the former Metro police captain rarely misses a chance to remind supporters that the only way to truly put a fork in the project is to elect him to Goodman's seat.
Mayor Goodman, 75, contends the stadium went belly up weeks ago and might have disappeared from view were it not for Anthony keeping it afloat. She's fond of reminding backers that the project would have have had an estimated $450 million economic benefit downtown, where she — along with husband and predecessor Oscar Goodman — have dedicated years to the type of "world class" projects that have helped spruce up a once rapidly decaying urban core.
The first-term mayor said she'll "keep fighting as long as I breathe" to make her and Oscar's major league dreams a reality.
Anthony has promised to stop her and vowed to put public dollars back in Las Vegas' neighborhoods and city parks.
GOODMAN DEFENDS RECORD
It's been two months since Anthony, Goodman's right-hand man, announced his bid for the mayor's seat.
Since then, the relatively simple question of how best to pay for a proposed soccer stadium has evolved into a more philosophical debate on the role of local government in economic development and the city's use of taxpayer dollars.
That could be because the stadium issue has faded from view, or it could be because this spring's nonpartisan election is much more partisan than either candidate likes to admit.
What's certain is that neither hopeful has shied away from an ideological fight.
Anthony, a registered Republican, has taken up the conservative mantle, decrying the very public-private partnerships around which Goodman, a registered nonpartisan, has built her campaign.
Long a cheerleader for downtown re­development, Goodman has made a point of citing some $1.2 billion in "revitalization" and 31,283 new jobs she said her policies have helped bring to Las Vegas' downtown redevelopment areas.
The mayor has made sure those figures — which come from estimates provided to the city, unaudited, by downtown developers — play prominently in two TV ads that suggest there would have been no such growth under Anthony.
Anthony has taken a few swipes of his own at the mayor, airing TV spots that criticize her votes to head off a ballot question on the city's soccer stadium plan.
In February, Goodman told the Las Vegas Review-Journal editorial board that her opponent not only would not have supported such downtown growth but would have opposed the Hoover Dam had he been around to vote on it.
Days earlier, in a radio debate hosted by KDWN-AM's Alan Stock, she accused Anthony of "living off the public dole" — referring to a $147,000-a-year pension the Ward 4 councilman now collects after 29 years with the Metropolitan Police Department.
Goodman, the founder and chairwoman of Meadows School in Summerlin, hasn't repeated that characterization publicly but hasn't backed away from it either.
She said taxpayer subsidies are sometimes the only way developers can justify building downtown. She hopes to spend the next four years helping them do just that.
"We have learned this is how you rebuild blighted areas," Goodman said Thursday. "It's only through creative incentives that you can do that."
ANTHONY QUESTIONS SPENDING
Anthony contends public debt is the primary byproduct of Goodman's vaunted downtown redevelopment efforts.
He hastens to point out that many of those deals — including agreements to build the Mob Museum, The Smith Center for the Performing Arts and the Lou Ruvo Center for Brain Health — were hatched before the mayor was first elected in 2011.
Pressed on that point, the mayor couldn't name an uninherited project she had helped shepherd into downtown.
The Smith Center and Lou Ruvo count as the only two projects to land in Symphony Park, a 61-acre former Union Pacific railroad yard the city has struggled to develop since it was opened for business in 2005. Three casinos, 1,800 residential units and 257,000 square feet of retail space were promised by developers before the city decided to pour around $100 million worth of infrastructure improvements and environmental remediation into the park.
Anthony said he would not have supported Symphony Park's multimillion-dollar cleanup package had he been on the council to vote on it. He has routinely opposed similar high-profile public spending packages since he was first elected in June 2009, though he did support controversial fee and tuition hikes enacted over the course of his decade-long stint on the Board of Regnts for the Nevada System of Higher Education.
Anthony said Las Vegas hasn't seen much of a return on its Symphony Park investment. He would like to see the city better advertise the area in the hopes of attracting new tenants. He said he would be willing to sit down with each of the park's long-tenured developers to try and work out a plan that would see them finally break ground in the area.
Meanwhile, he would like to see the city start thinking about ways to better spend the cash it sets aside for debt service, including some $8 million per year it uses to pay down a glistening 4-year-old City Hall.
"The Goodmans have focused a lot on downtown, and we have had a lot of success, but I want to be the mayor for the whole city," Anthony said.
"One of the biggest challenges we have is debt coming in," he added. "I've been putting together a plan to spend $50 million on parks, when we really could spend $120 million."
DEBATE CLASHES
Both front-runners have traded downtown-related haymakers in three live debates over the past few weeks, though they only have managed a jab or two on issues that fall outside the city's core.
Asked about his proudest accomplishments at a debate hosted by Southern Nevada's commercial real estate developers last week, Anthony cited his work to help build Fire Station 107 and efforts he spearheaded to crack down on massage parlor prostitution. Faced with the same question, Goodman pointed to her work on a planned expansion of the Cleveland Clinic in Symphony Park and efforts to grow the city's downtown medical district.
Each candidate has provided only the vague outlines of plans to help better support Las Vegas' lower-income African-American and Hispanic communities. Anthony, who helped form a Hispanic-American resource program during his time with Metro, has promised additional parks and community centers for residents on the largely Hispanic east side of Las Vegas.
Goodman, speaking during a debate hosted by KNPR's State of Nevada, suggested a Hispanic business corridor a la Clark County's Chinatown on Spring Mountain Road.
Neither offered much in the way of concrete solutions to clean up vacant lots and boarded-up blocks in historically black West Las Vegas, though the mayor did pledge she would "continue talking" to private developers interested in building in the area.
The two are a little less cloudy when it comes to medical marijuana. Anthony, who is staunchly opposed to use of the drug as a medicine, praised Las Vegas' handling of the months-long pot shop permitting and zoning process but said his constituents still aren't interested in bringing such a dispensary to Ward 4.
Goodman, who had to abstain from the city's pot proceedings because of her son Ross' dispensary application, has said there would be a "huge taxable benefit" to legalizing recreational marijuana but stopped short of advocating for a state law allowing casual use of the drug.
Public conversations with both candidates have a habit of working their way back to downtown, where Anthony recently advocated for the possibility of doing away with the city's taxpayer-funded redevelopment agency. That agency, which aims to help erase downtown blight, is now running nearly $25 million in the red. Goodman has said Las Vegas' two redevelopment areas are "doing beautifully."
CAMPAIGN CASH, POLITICAL BACKERS
Goodman raised $525,610 through March 17, including $10,000 maximum donations from the Tamares Barrick Group — owners of the Plaza Hotel — Fremont Street casino owners with Granite Gaming Group and commercial real estate developer Ted Fescher. The March tally adds to $136,756 the first-term mayor raised last year.
Anthony picked up $308,893 in donations, with some of the biggest checks coming from his own campaign committee, Ed Bozarth Chevrolet and Nevada Yellow Cab Corp. He raised $1,500 in 2014 but more than $79,000 in 2013, according to campaign filings.
First-time candidate Phil "LOL" Cory, a registered Republican, has raised $4,600 in campaign funds. The Internet marketer and stadium opponent is running on a three-legged platform of pedestrian safety, putting an end to human trafficking and attracting tech companies to Las Vegas.
Cory, 40, said he plans to put those issues on a City Council agenda, with or without an election win.
"Win, lose or draw, I think we're leaving a positive footprint," Cory said of his campaign. "If I'm going to be on the losing end, I'm still going to make some noise about these issues."
Perennial Independent American Party candidate Abdul Shabazz, 60, could not be reached for comment.
Contact James DeHaven at jdehaven@reviewjournal.com or 702-477-3839. Find him on Twitter: @JamesDeHaven