Veteran Las Vegas journalist Simpson, 51, dies
December 3, 2011 - 9:17 pm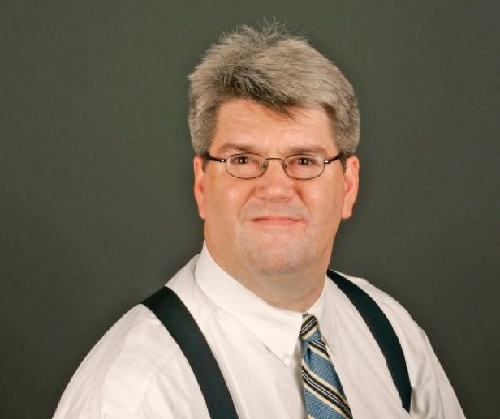 Las Vegas is defined by the gaming industry, and documenting its ebbs and flows was a passion for Jeff Simpson.
Simpson covered the gaming industry for more than a decade, working at both of the city's daily newspapers, appearing on television and finally as an expert for an Internet blog. By many accounts, he was one of the most knowledgeable people on the topic.
He died Saturday following complications from emergency heart surgery on Thanksgiving. He was 51.
"It's a loss to journalism," said Michael J. Kelley, former managing editor of the Las Vegas Sun where Simpson worked for several years. "He was very bright, very knowledgeable of the gaming industry."
Simpson most recently wrote for Two Way Hard Three, a blog on Las Vegas casinos. He was a business reporter at the Review-Journal from 2000 to 2004 before moving across the valley to become business editor at the Las Vegas Sun, where he worked until 2009. Simpson also regularly appeared as a guest on "Nevada Week in Review," a show on Las Vegas public television station KLVX-TV, Channel 10.
He grew up in Olmstead Falls, Ohio, and received a bachelor's degree in history from Wittenberg University in Springfield, Ohio. He moved to Las Vegas in the late '90s.
'MOST EXCITING YEARS'
"He was able to cover some of the most exciting years when the city was really booming," said Jazmin Casing, his girlfriend of seven years. "In Las Vegas, casino openings and closings define this town and they bring up a lot of emotion in terms of where we've come from and where we're going and Jeff understood that and he loved to document that."
Simpson cultivated relationships with many gaming executives, and became particularly close to Steve Wynn, which gave him the chance to grasp an inside look at the opening of Wynn Las Vegas, a story that meant a lot to him to cover, Casing said.
He was comfortable covering the older downtown haunts, the Strip resorts and the expansion by Las Vegas gaming companies into Macau. Despite his love for the city's gaming, his coverage of the industry wasn't always flattering. He felt the wrath of The Venetian owner Sheldon Adelson for suggesting in a 2006 Sun column that Adelson was unlikely to win a casino license in Singapore. Although Adelson's Sands Corp. did, it sued Simpson twice. Both lawsuits were dismissed.
AWARDS FOR COVERAGE
Simpson won awards for his business coverage at the Review-Journal and the Sun.
His colleagues said his expertise extended beyond gaming and business to politics and history, as well.
"He'd be edgy and he'd be opinion­ated," Mitch Fox, host of "Nevada Week in Review," said of Simpson's appearances on the show. "He had kind of a smirk, and you knew he had inside information about something."
Casing said many of his friends would call him a genius, although he wouldn't say that. But she added that Simpson was disappointed if he missed more than two questions in a round of "Jeopardy."
He excelled at poker, especially enjoyed playing no limit hold 'em, and had hoped to eventually make it to the World Series of Poker.
Casing said he was an avid reader, a devoted partner and loved his Chihuahua, Ricky. "Even on a personal level, he loved Las Vegas," Casing said. "That was really his passion in life."
In addition to Casing, Simpson is survived by his brother Jon Simpson; his father, Robert Simpson; and four nieces.
Funeral services will be private.
The family suggests that memorial contributions be sent to the Nevada Society for the Prevention of Cruelty to Animals.
Contact Jessica Fryman at jfryman@reviewjournal.com or 702-383-0264.