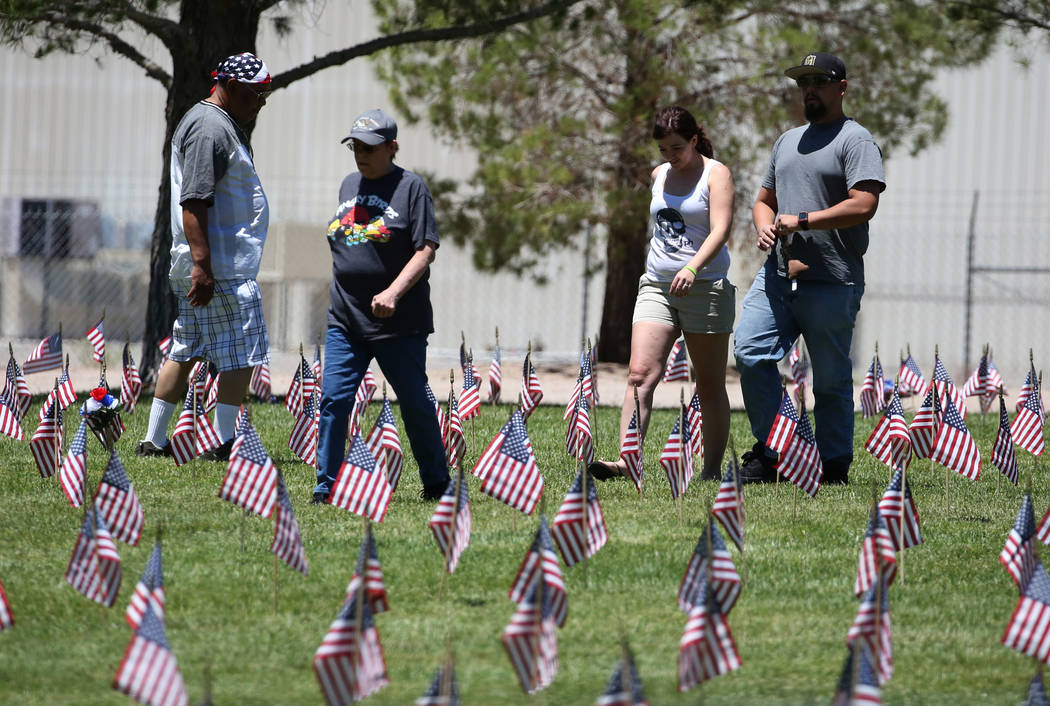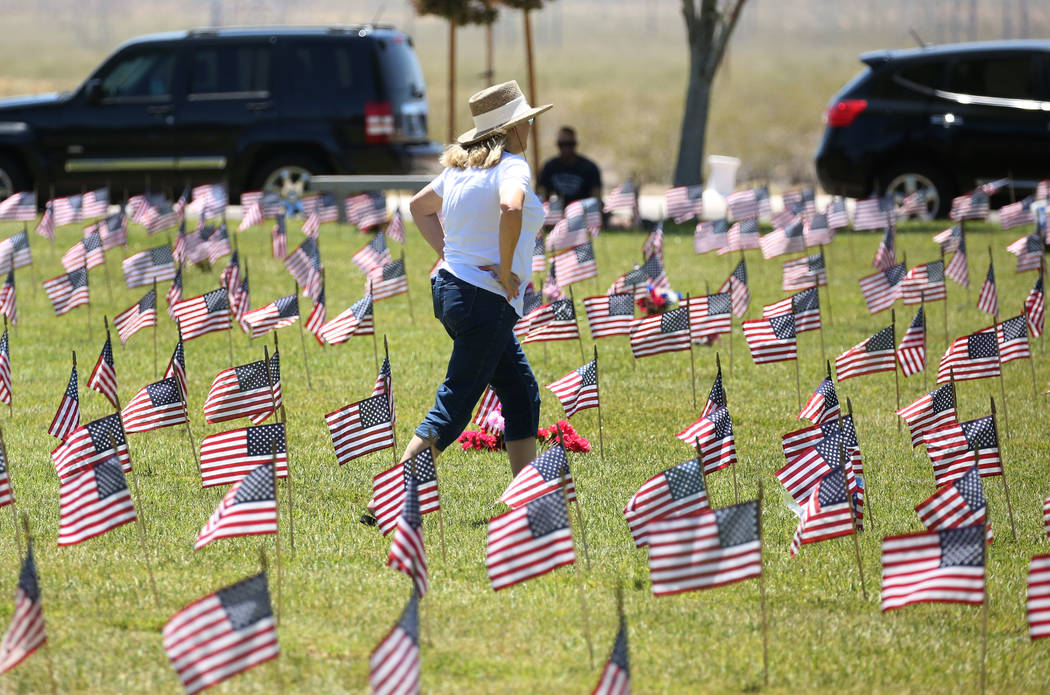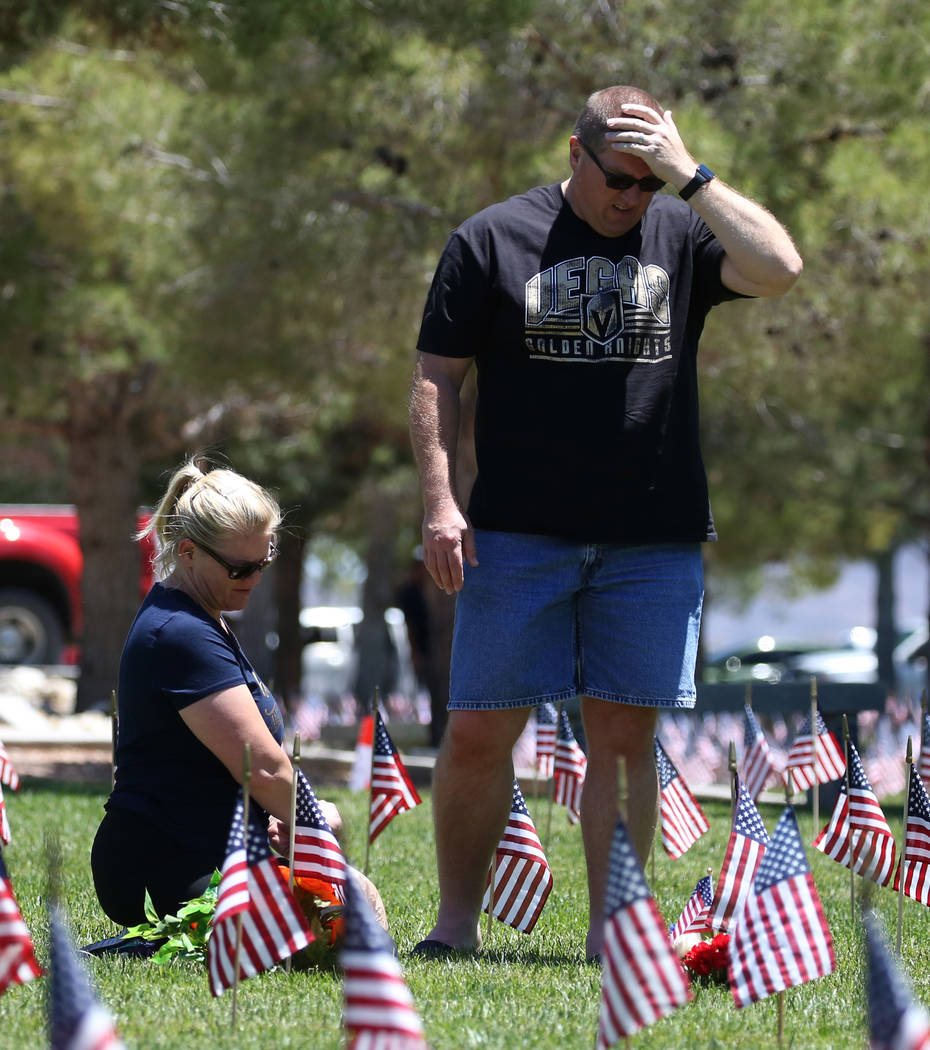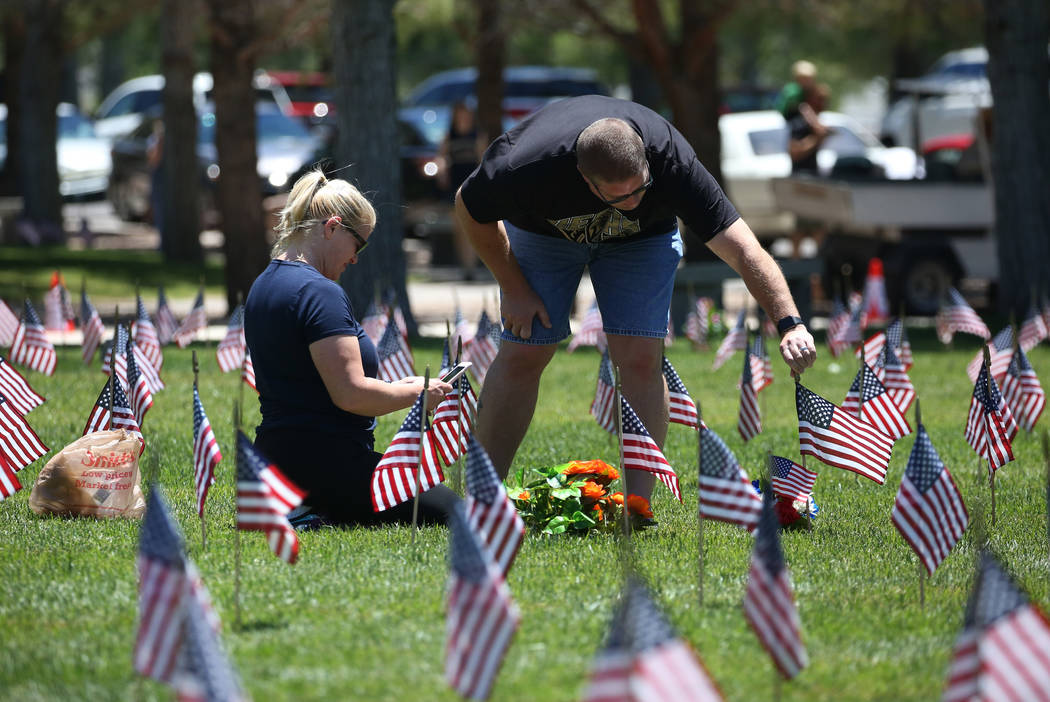 Cathy Navin wore a blue dress on that sunny September morning in 1968, the day her fiance left to serve in the Army in the Vietnam War.
It would be the last time Navin, then 17, and David Leroy Bell would see each other. Bell was killed by a land mine on Valentine's Day in 1969 in South Vietnam, just weeks before the couple were set to marry. He was 20.
On Monday afternoon, nearly 50 years since she last saw her first love, Navin sat among at least 300 people gathered at the Southern Nevada Veterans Memorial Cemetery in Boulder City to honor and remember those who died serving in the U.S. armed forces. The annual ceremony is hosted by the Nevada Department of Veterans Services.
Navin sat next to a large framed photograph of her and Bell taken from that September morning in Honolulu, where the two met. A Navy brat, Navin had moved to Hawaii when she was 14 and had been living there for two weeks when she met Bell.
"All these years, David has not been forgotten. I do everything I can so others are not forgotten either," Navin said Monday, which marked the 150th Memorial Day.
Also in attendance Monday were Attorney General Adam Laxalt, U.S. Reps. Jacky Rosen and Ruben Kihuen, and U.S. Sens. Catherine Cortez Masto and Dean Heller. Gov. Brian Sandoval attended a ceremony at the Northern Nevada Veterans Memorial Cemetery in Fernley.
Katherine Miller, director of Department of Veteran Services, spoke on Sandoval's behalf in Boulder City.
"Once every year, we acknowledge the debt we owe to the men and women, who, because they so cherished peace, chose to live as warriors," she said. "Not every veteran laid to rest in this beautiful cemetery died in combat, but they all served their country and were prepared to give their lives if necessary to protect our country. So today we not only recognize the sacrifice of many, but the service of all who were laid here to rest."
Miller's speech was followed by keynote speaker Lt. Cmdr. Ed Giron, of the Naval Operation Support Center in Las Vegas, who echoed Miller's sentiment.
"We recognize that all who have served understand that the risks are high, but the reward of freedom is definitely much higher," Giron said. "Part of the fellowship we share is the knowledge that those who have sacrificed everything, we will never, ever forget."
As the crowd slowly diminished following the service in the cemetery chapel, veterans from all branches of the armed forces shook hands as they walked past each other.
Nearby, two men, both in uniform, hugged as though they were old friends. In the background, Navin packed her belongings: the large photograph, flowers and other trinkets.
"Losing David was really a steppingstone to what became a mission to make sure our fallen heroes are not forgotten," Navin later told the Las Vegas Review-Journal. "Our veterans are the reason why we're free today."
Contact Rio Lacanlale at rlacanlale@reviewjournal.com or 702-383-0381. Follow @riolacanlale on Twitter.