Vietnam Veterans Memorial wall replica on display in Las Vegas
Updated November 1, 2018 - 8:47 pm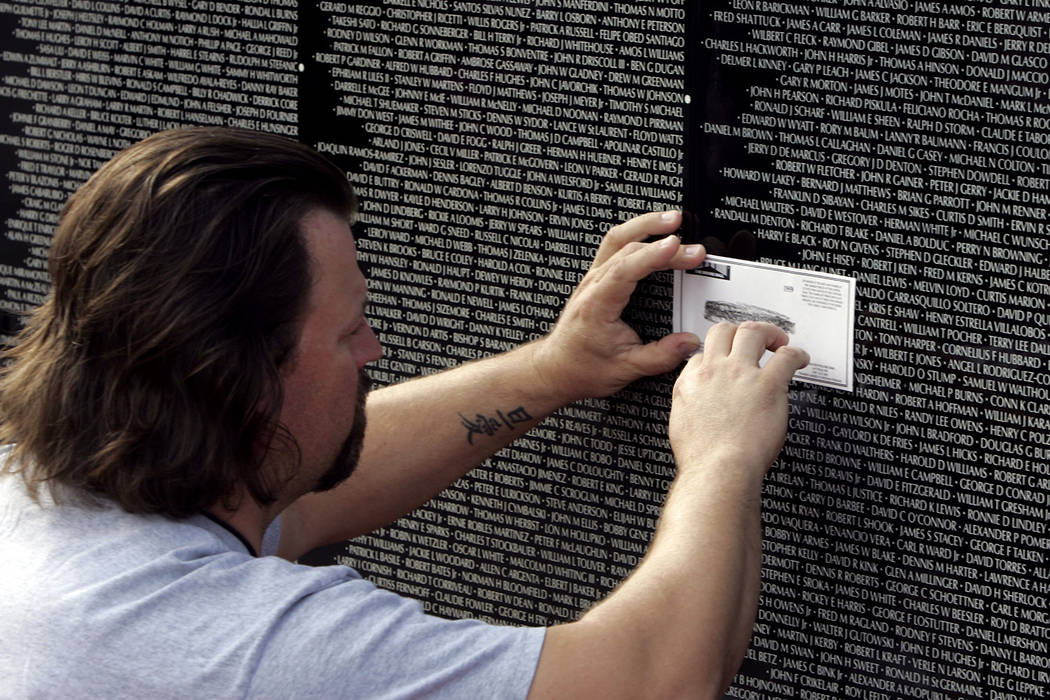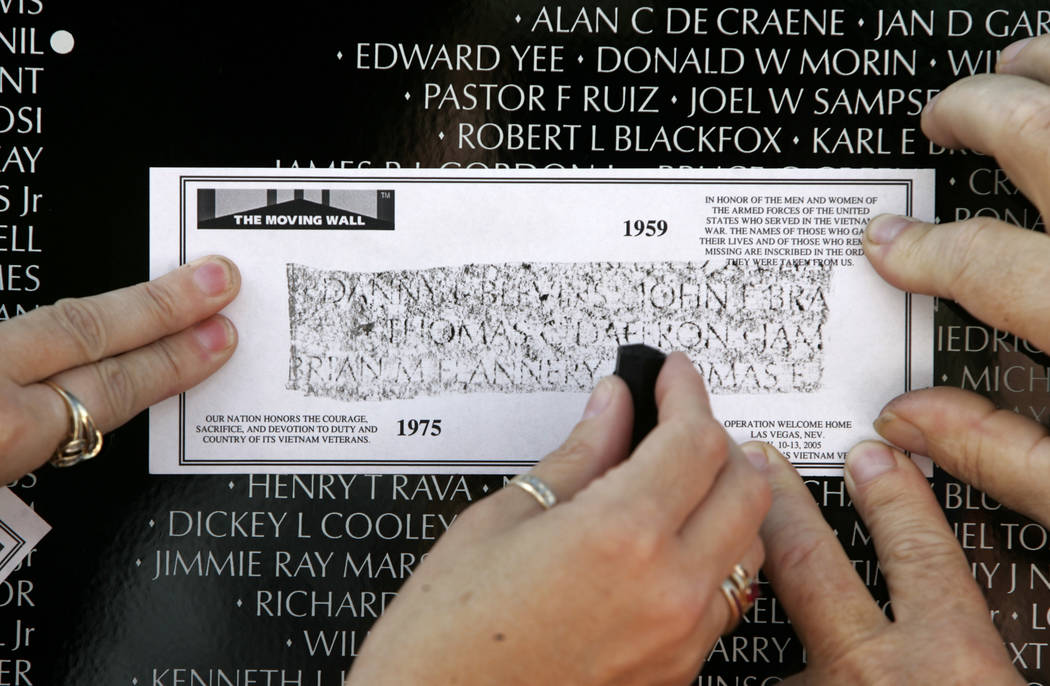 The Moving Wall, a half-size replica of the Vietnam Veterans Memorial in Washington, D.C., will be in Las Vegas through Sunday.
The traveling memorial, which was erected Thursday morning at 500 S. Las Vegas Blvd. South, near the Nevada Supreme Court building, will be available for viewing from 10 a.m. to 10 p.m.
"It's much like visiting a memorial or a cemetery," attorney James Jimmerson said Thursday. "You can pay your respects in a rather somber fashion and learn more about a time in our lives which was very misunderstood, and where there was so much internal controversy."
Jimmerson, with his wife, Carol, and son, Jacob, spent the past two years figuring out the logistics of bringing the replica, built in 1996, to Las Vegas.
The synthetic granite replica — known as "The Wall That Heals" — is one of two traveling memorials that are engraved with the names of those American service personnel who died in the unpopular war. More than 58,000 men and women died in Vietnam.
LED lights allow for the names to be read during both day and night.
The wall has visited more than 400 U.S. cities and was created to help those who couldn't travel to Washington, D.C, honor their loved ones and for veterans to rekindle relationships.
Visitors are welcome to place a piece of paper over a name on the memorial and rub a graphite pencil over it to remember their loved ones. The 6-foot-tall memorial wall stretches 300 feet from end to end.
As with the national memorial, names on the replica are listed by day of death.
Jimmerson, whose father was a World War II Army veteran, said he became interested in the Vietnam War while he was studying at George Washington University. He saw the original memorial being erected and witnessed the anti-war movement.
"It really made me quite aware of the internal conflict that America was experiencing," he said.
On Friday, Mayor Carolyn Goodman, Chief Justice Michael Douglas and Jessica Lynch, a former Army soldier who was a prisoner of war during the Iraq War, will be among the speakers during an event starting at 11:45 a.m.
On Saturday, Justice Michael Cherry and speakers from veterans groups are expected to attend an 11:45 a.m. public event, which includes a free turkey luncheon, at the memorial site.
Jimmerson said the timing of the memorial coming to Las Vegas couldn't have been better, with the upcoming Election Day and Veterans Day.
"At a time when there is such partisanship in our politics and a divide among our people, returning to our nation's roots is important and unifying," he said. "One of the themes that we're developing here is 'Because America matters.'"
Contact Briana Erickson at berickson@reviewjournal.com or 702-387-5244. Follow @brianarerick on Twitter.