Vietnam War protesters join Las Vegas rally against Syria attack
September 7, 2013 - 5:08 pm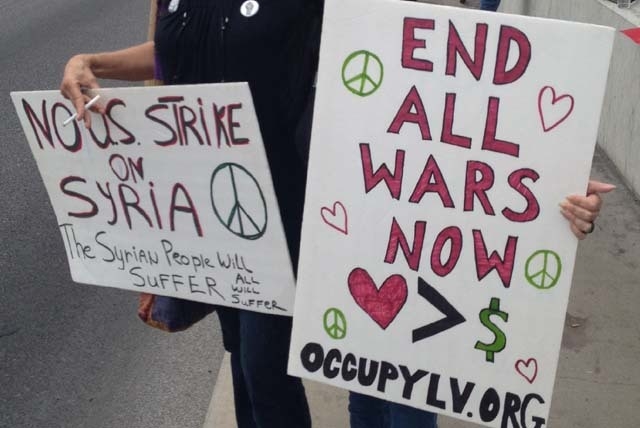 As the United States inches closer to a decision on whether to launch a military attack against Syria, protesters rallied on the Tropicana Avenue overpass above Interstate 15 Saturday morning for the second straight week.
Unlike last week's protest, which drew about 75 protesters, Saturday's group of about 150 people included more "baby boomers." Protesters from the 1960s held up signs and showed their displeasure for possible U.S. involvement in the Middle Eastern nation, like they did against the Vietnam War nearly 50 years ago.
Evy Slodzina stood in protest as thousands of cars drove by and honked their horns in support. She was born and raised in New York City and protested against the Vietnam War as well.
"I was going to Queens College and we were able to close down the Long Island Expressway," she recalled about her activism in the 1960s. "Because they happened nationwide, it's things like this that make a difference."
Slodzina has tattoos of flowers and a butterfly on her right forearm. She has long black hair that runs down to her lower back and wore jeans and black Converses to the Syrian protest. She calls herself a "flower-child hippie."
She said there are similar aspects of the Vietnam and Syrian protests.
"The comparisons I see is that the anti-war movement is getting sick and tired of these chain wars," she said. "If you look at the people here, we don't all look like a bunch of hippies. We don't all go barefoot and have long, shaggy hair. But this whole thing started with the concept of 'We The People.' It's time to take back our country."
Slodzina was 10 years old when she saw the Beatles perform at Shea Stadium in 1965. She talked about her love for John Lennon. She also talked about her father, a veteran of World War II who was stationed in Germany, and how he would be supportive of Saturday's protest.
"He was very patriotic," she said. "I think if he was alive he would be out here with me today."
Semi truck drivers turned onto Tropicana from I-15 and continuously honked in support of the protesters. Even a Las Vegas police officer honked in support as the crowd grew even more excited.
Another protester, Barbara Nelson, recalled demonstrating against the Vietnam War as a teenager in Venice Beach, Calif.
"We are so happy there are so many young people out here today," she said. "It's a different time and it's unfortunate we still have to come out here, but this is another needless war."
As Nelson discussed her involvement in Vietnam protests, her husband, Jim, played a bongo drum next to her. He wore ripped, blue jeans and Converses and had a long, charcoal beard and a pony tail sticking out of the back of a rugged-looking cowboy hat.
Barbara Nelson protested with UCLA students in the 1960s, but talked about the similarities to today's anti-war movement.
"We had every college participating in those days," she said. "We had a draft back then which is why it was so big. If this escalates into World War III there could possibly be another draft."
Nelson, who said she loved the idea of young people coming out to participate in the protest, shared her thoughts from the past and the present.
"Give me some Doors, Dylan and Joplin," she said, referring to musicians from her generation.
She met Jim Morrison in Southern California and saw the Beatles twice, once at the Hollywood Bowl and the other time at Dodger Stadium. She also loves writer and poet Jack Kerouac and the Beat Generation. Though she doesn't care for the term, she called herself an "old hippie."
"More people are against this war than the beginning of Vietnam," Nelson said. "Get out and get your voices heard."
Contact reporter Steven Slivka at sslivka@reviewjournal.com or 702-383-0264.