Vigil held for witnesses of Las Vegas police shooting at BLM protest
Updated September 10, 2020 - 12:13 am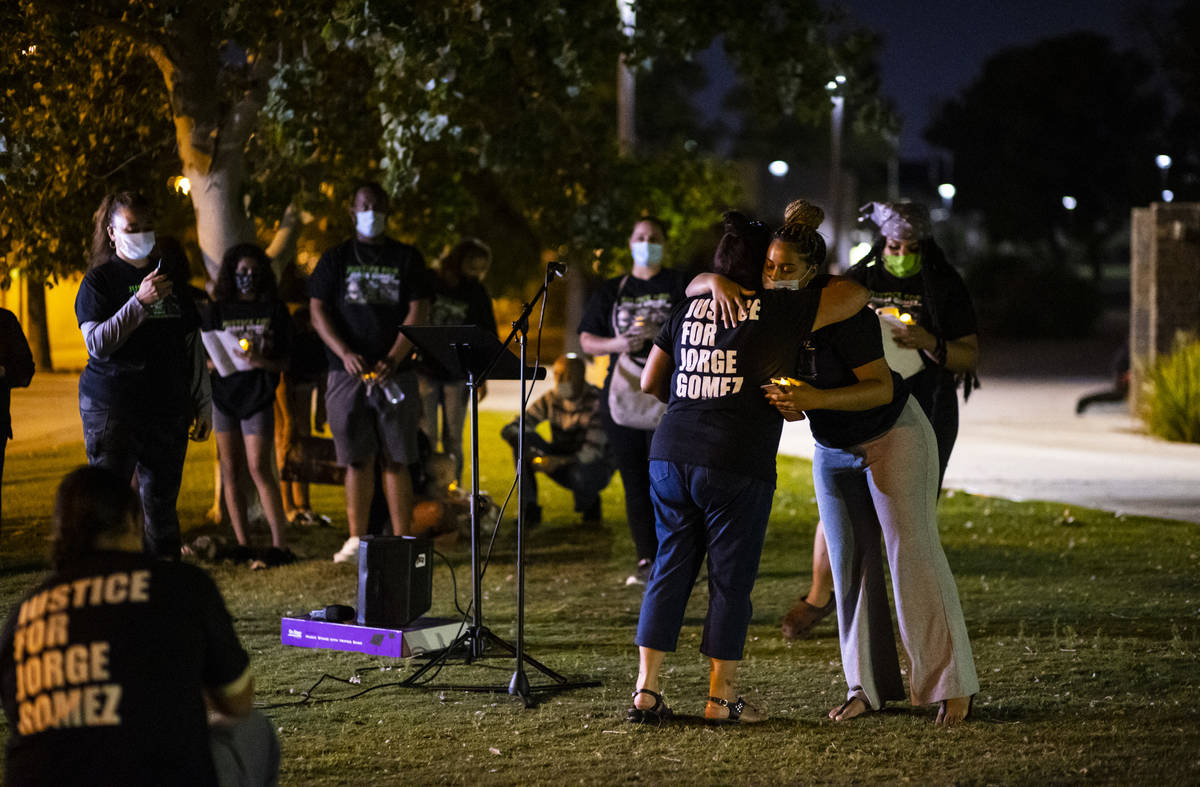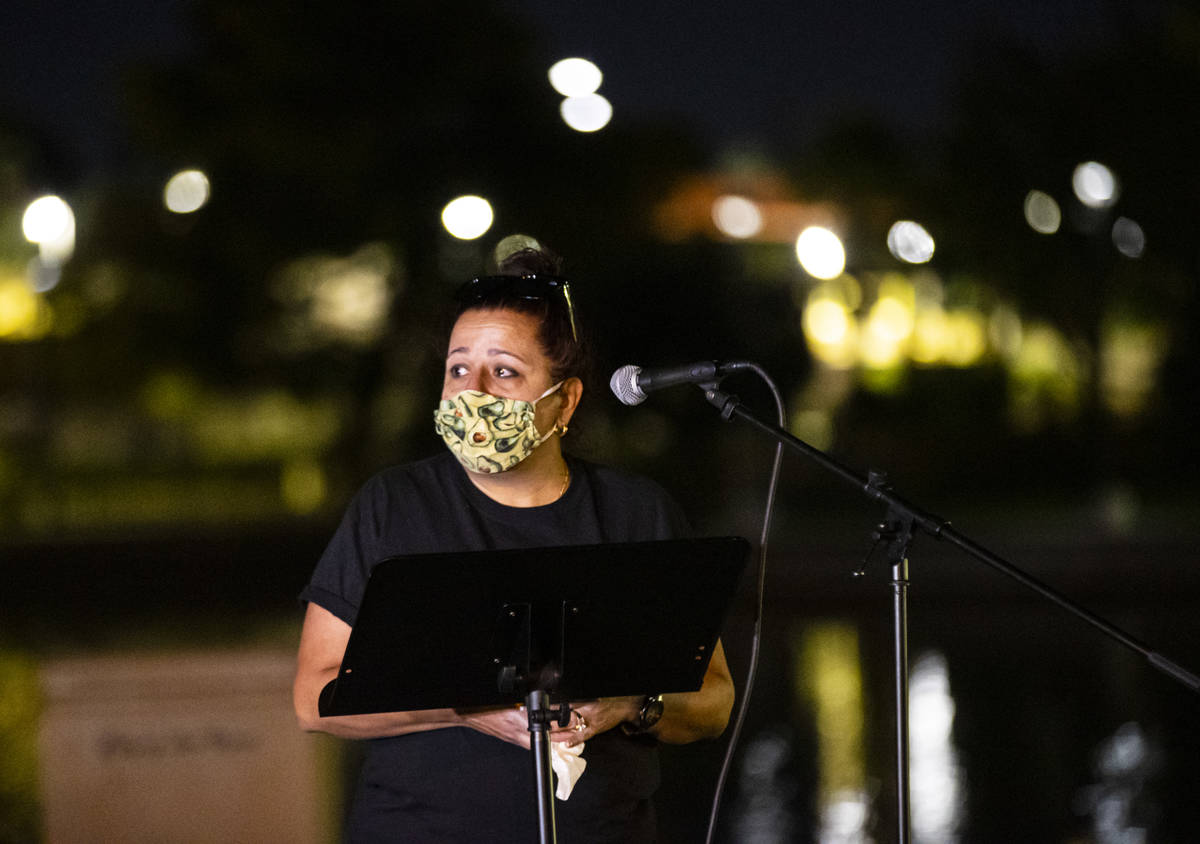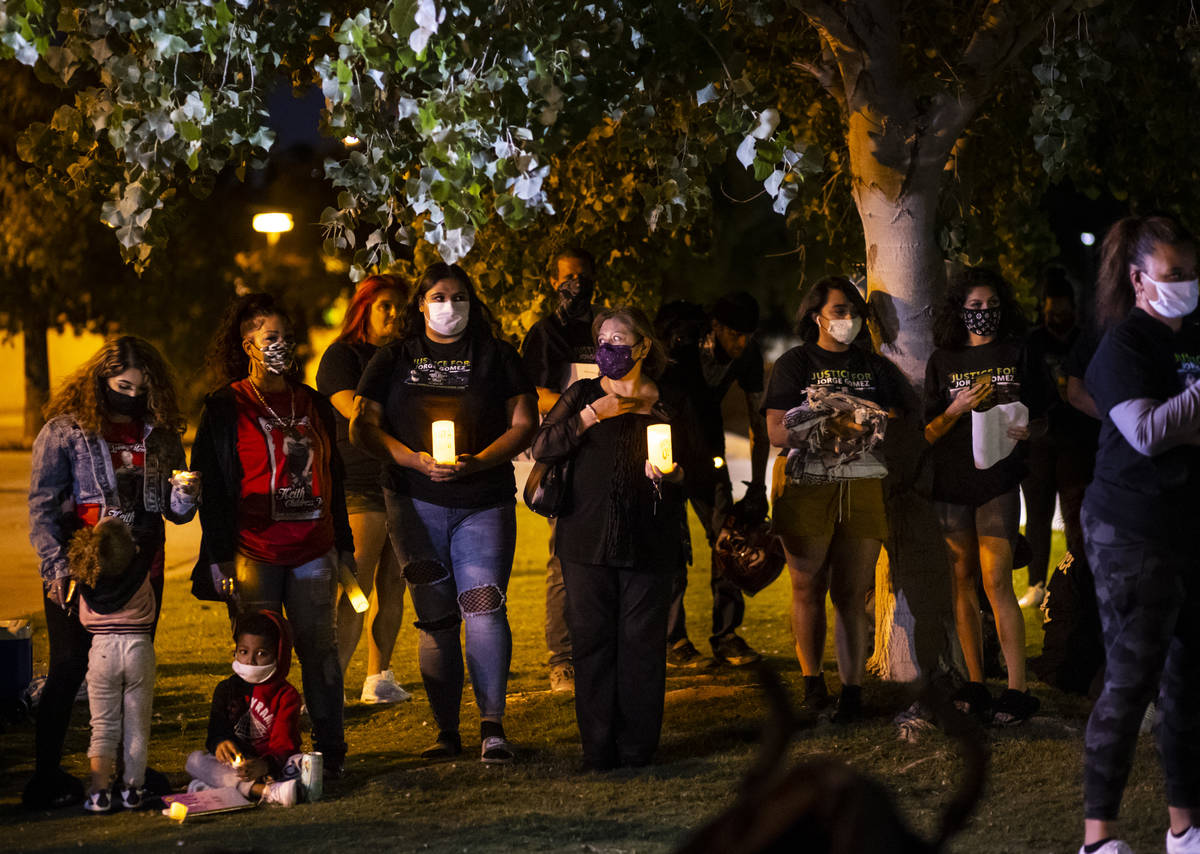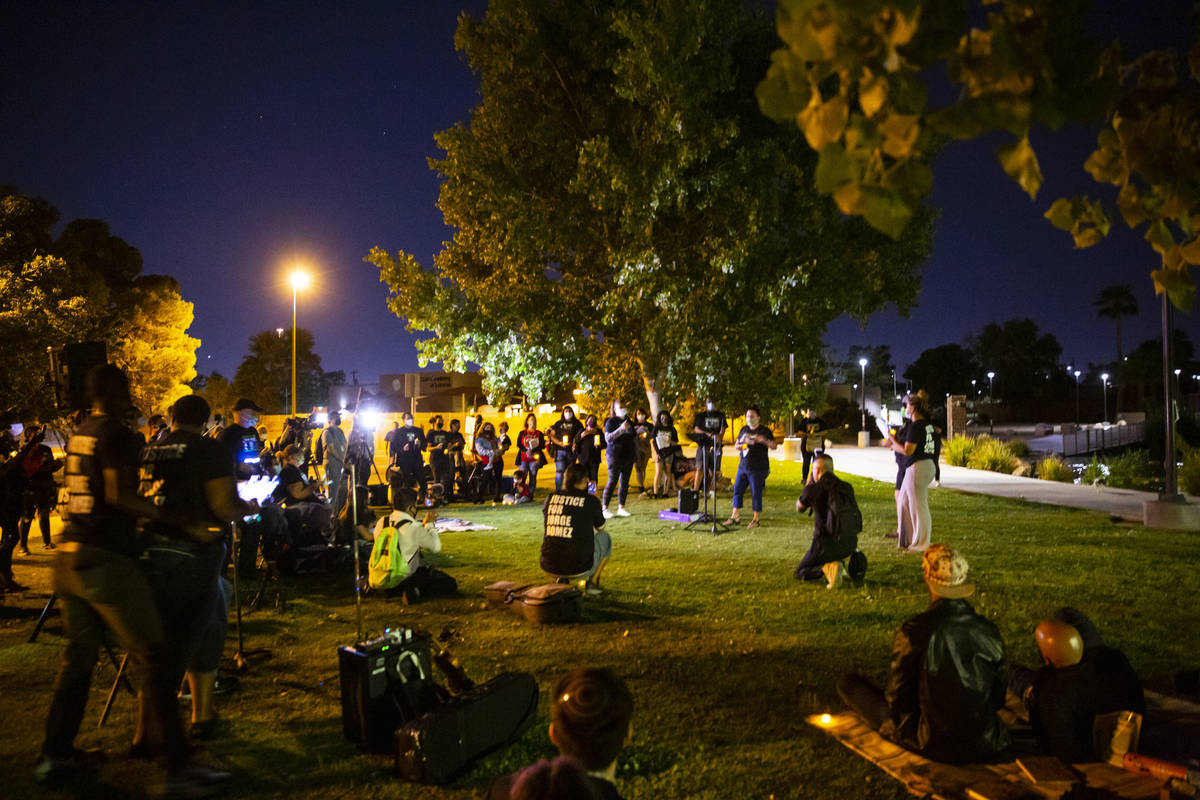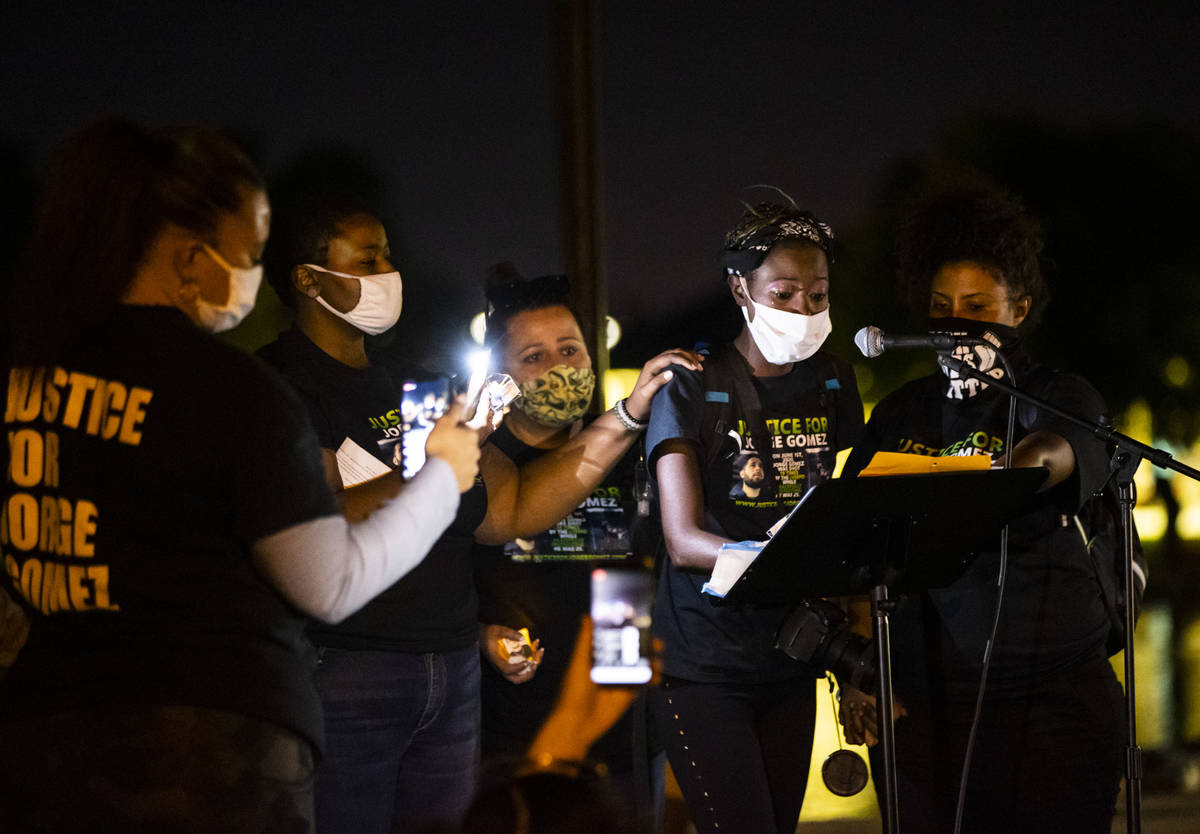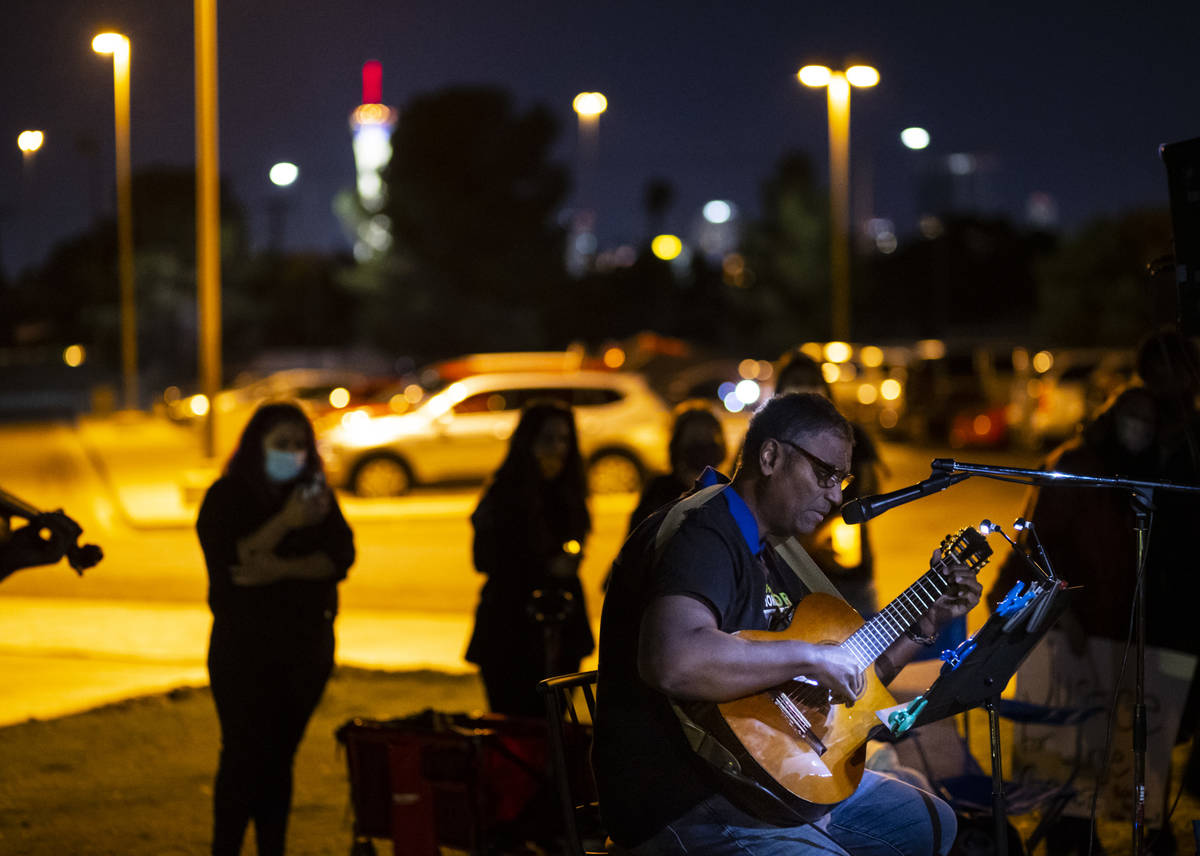 A vigil for families affected by police brutality in Las Vegas drew about 50 people to Lorenzi Park on Wednesday night.
The gathering at the Las Vegas park was hosted by More Than a Hashtag and the family of Jorge Gomez.
Gomez, 25, was shot 19 times June 1 by four Metropolitan Police Department officers who were not wearing body cameras during a Black Lives Matter demonstration downtown.
The vigil began with reading the names of about 10 people who have been shot by Las Vegas police, including Keith Childress Jr., Tashi Brown, Byron Williams and Joseph Justin.
An acoustic guitar led singers in tributes while families wrote the names of their deceased loved ones on candles.
In his first public speech since Gomez's death, Jorge Gomez Sr. spoke about the hours before his son's death, when he asked him why he was going to protest the death of George Floyd, who died in Minnesota while in police custody.
"We never had to have the talk Black families have to have about being safe so their kids don't get killed," Gomez's son told him.
Gomez told his son he would come the next night to see why Gomez liked going to the protests.
"Never in my mind did I think I wouldn't be able to keep my promise to my son," he said through tears.
Jeanne Llera, Gomez's mother, also cried while she thanked the crowd.
"Thank you for protesting and saying his name," she said.
Gomez's family had welcomed anyone who witnessed the shooting to attend the vigil, according to an attorney for the family.
Llera told the Review-Journal three witnesses had come forward since Monday with possible video of the shooting. She said she flies into Las Vegas from Florida every two weeks to protest, host vigils and speak with the district attorney's office.
Jackie Lawrence, 51, of Phoenix drove to Las Vegas on Wednesday to show her support for Llera.
Lawrence has been vocal in police brutality protests this summer, speaking about the death of her son Keith Childress Jr. Childress was 23 when Las Vegas police mistook his phone for a gun and shot him on New Year's Eve in 2015, according to a 2016 review from the Clark County district attorney's office.
Lawrence said that after the funeral, the family often feels alone, and she wanted to help Llera avoid having to feel that way.
"I know what it's like to be the mother and feel alone," Lawrence said.
Nessa Elemile, 21, of east Las Vegas said that with Black relatives and a diverse city around her, she won't stand for racism.
"This is a very diverse city," she said. "Racism shouldn't be here."
Heaven Menendez, 19, of North Las Vegas said she joined More Than a Hashtag after learning how many people had died from police shootings.
"I didn't know we had so many people's lives taken here," she said. "When we protest I'm so surprised at how many racist people are yelling at us."
Gomez' family filed a lawsuit against Metro in August, arguing Gomez "never verbally threatened any of these officers, he never pointed a gun at anyone, including the involved officers, and he never fired his weapon at any point during the incident, nor did he attempt to do so."
The family has asked since June that anyone with video footage come forward because the family has not yet seen any unedited footage from the dozen security cameras that were active in the area at the time of the shooting.
Contact Sabrina Schnur at sschnur@reviewjournal.com or 702-383-0278. Follow @sabrina_schnur on Twitter.