Vigil held on Las Vegas Strip for man who died in police custody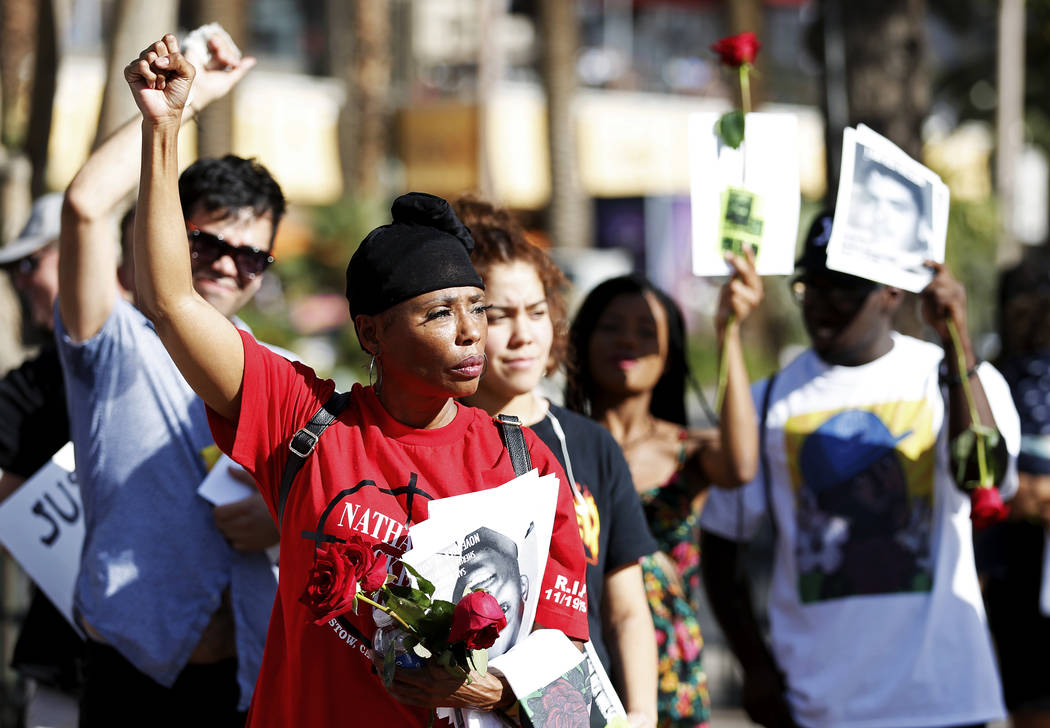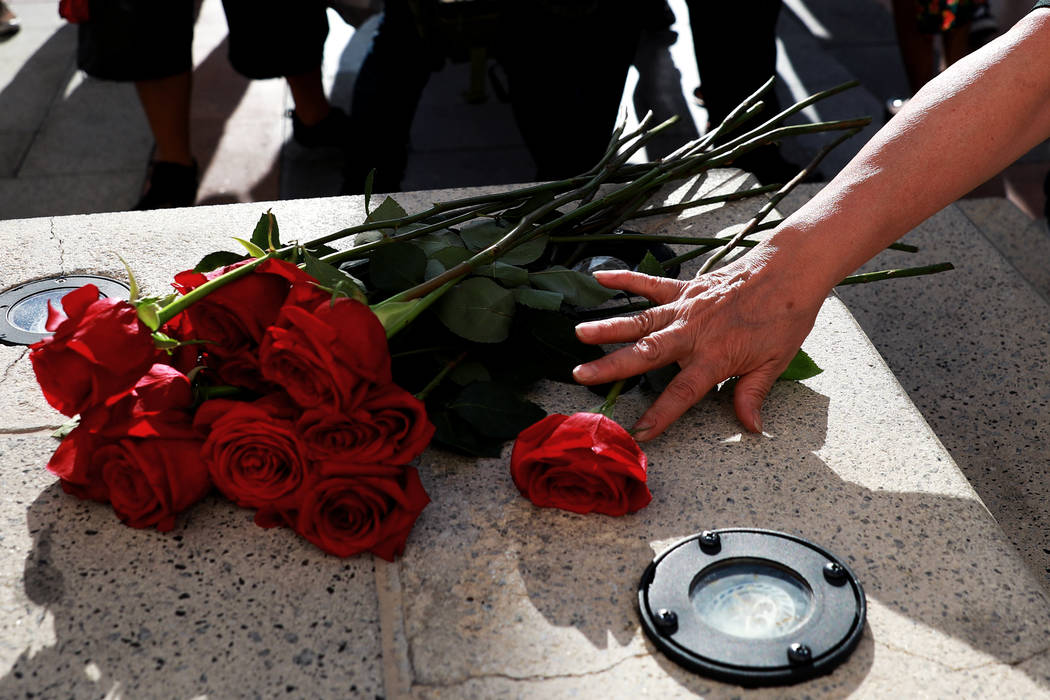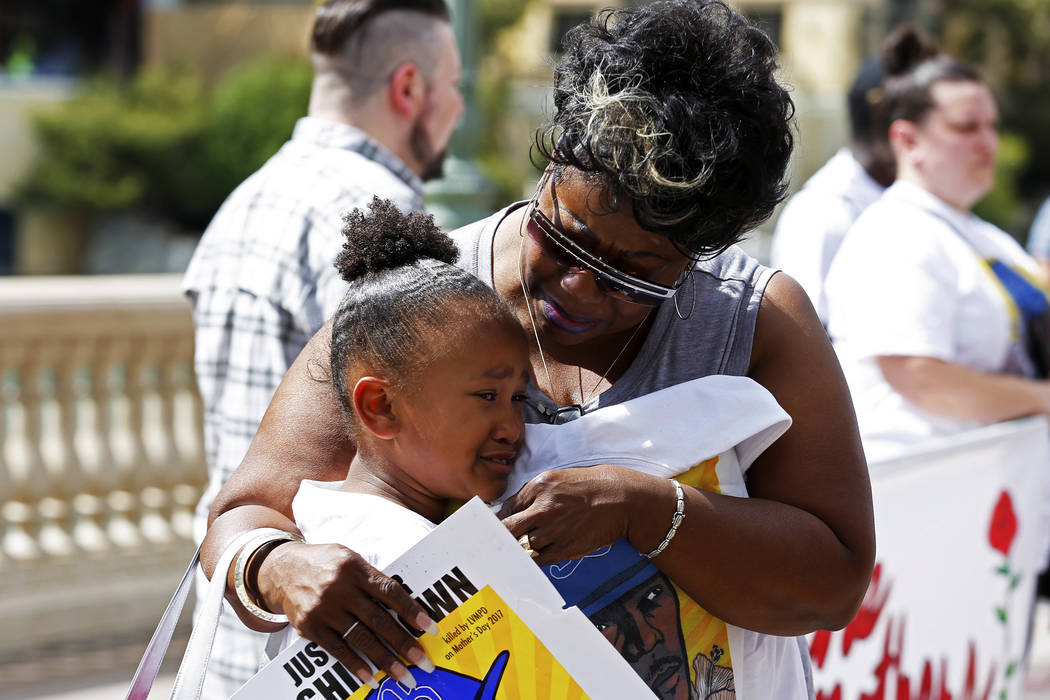 About 40 people gathered on the Strip on Sunday to mourn the death of Tashii Brown, who was choked by a Las Vegas police officer a year ago Monday.
Brown's mother, Trinita Farmer, was among them.
Brown, 40, died May 14, 2017, at Sunrise Hospital and Medical Center. His death resulted in criminal charges for the officer.
Farmer led the group along the Strip. A man drumming on a bucket could be heard among the pattering of feet at the otherwise silent vigil.
Onlookers turned their heads and pulled out their cellphones as the marchers passed Las Vegas landmarks on their way from Bellagio to The Venetian.
One by one, supporters placed roses outside the resort.
Farmer desperately searched The Venetian parking garage for the spot where, according to Las Vegas police, officer Kenneth Lopera shocked her son with a Taser seven times, punched him in the face and placed him in an unapproved chokehold for more than a minute.
"Do you know where my son was killed at?" she tearfully asked a Venetian security guard.
Another security guard blocked a lane of traffic so Farmer could mourn where she believes her son was choked.
On her way to the parking garage with supporters, Farmer couldn't find the area inside the casino where her son approached Lopera and his partner. Brown took off running through an employee exit that night, but Lopera caught up to him outside the casino, police said. The officer said he believed Brown was trying to steal a truck, according to the Metropolitan Police Department.
The Clark County coroner's office ruled Brown's cause of death as asphyxia due to police restraint procedures. His death was ruled a homicide. Police said that Brown, who was unarmed, would not have faced any criminal charges had he lived.
Lopera was charged with involuntary manslaughter and oppression under color of office. His criminal case is pending.
Police last year acknowledged that the death was a factor in reclassifying the department-approved neck restraint from a low-level tactic to an intermediate or deadly one.
Visiting The Venetian did not bring Farmer closure, she said.
"I just still can't believe it," she said. "I still wait for my baby to come home."
Federal lawsuit
Farmer on Sunday filed a lawsuit in U.S. District Court against Metro, Lopera and three other officers. The lawsuit names Michael Tran, Michael Flores and Travis Crumrine, who were at the scene when Brown was killed.
The lawsuit alleges that Crumrine, Tran and Flores did not intervene when Lopera choked Brown.
At the time of Brown's death, Crumrine was the sergeant in charge of Lopera and told him to release the neck hold, according to a complaint Crumrine filed against the department in February to get his position back. Crumrine was demoted to officer for failing to stop the hold.
Tran also told Lopera to let go of Brown, according to Farmer's lawsuit.
The federal lawsuit also alleges that Metro does not properly train officers to intervene if other officers use excessive force, or how to respond if an unarmed person is showing signs of confusion or mental disorders.
Farmer's attorney, Andre Lagomarsino, said he hopes the lawsuit will lead to Metro eliminating the use of the department-approved lateral vascular neck restraint.
A police spokesman said Sunday that the department does not comment on pending litigation.
The Review-Journal is owned by the family of Las Vegas Sands Corp. Chairman and CEO Sheldon Adelson. Las Vegas Sands operates The Venetian.
Contact Blake Apgar at bapgar@reviewjournal.com or 702-387-5298. Follow @blakeapgar on Twitter.