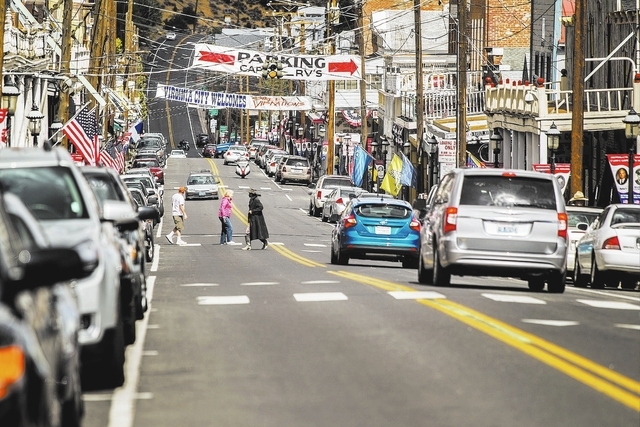 Editor's Note: Nevada 150 is a yearlong series highlighting the people, places and things that make up the history of the state.
VIRGINIA CITY
Mining may not get top billing anymore, but this town built high on Northern Nevada hillsides still packs that history into its punch.
Today tourism is big business, and there's something here for everybody who likes tales of yesteryear, whether rooted in fact or fiction. There are signs of life from the actual boom days that drew thousands to mine the Comstock Lode starting in the 1850s, and also the made-for-TV version from "Bonanza" that started its 14-season run a hundred years later.
You can find markers and a museum commemorating Mark Twain's newspapering days. He reported for the Territorial Enterprise in the early 1860s. Piper's Opera House, whose current location dates back to 1885, still houses performances in the same spot where traveling shows stopped to make some cash back in the day.
Even this town's name, according to legend, is a throwback. Miner James Finney, whose nickname was "Old Virginia" or "Old Virginny," christened it Virginia City to honor his home state.
All that history drew Breck Greninger here, where she's run Virginia City Kettle Corn Depot for about a year.
Greninger, 70, used to live on the North Shore of Oahu, a place she said has let its history slip away. Kamehameha I — who brought the Hawaiian Islands under one rule starting in the 1790s — would feel "horrified," she said, if he could see the freeways and high-rises there now.
"However, if Mark Twain came back today and saw this town, except for the vehicles, he probably wouldn't notice much difference," Greninger said on a chilly September afternoon as a light snow fell.
The elements are something the Comstock Historic District's estimated 2 million visitors a year must prepare for, even if they don't have to rough it quite like the miners did 150 years ago. At 6,000-plus feet, early fall days could bring 70-degree highs or cold wind and frozen precipitation.
Swirling flurries didn't stop folks from snapping photos and strolling the creaky wooden sidewalks that still parallel C Street, the main drag through town. The walkways lead to places including The Washoe Club, formerly a luxurious and exclusive gathering place in the 1870s that has since earned itself a different place in pop culture. Now billed as a haunted museum, the team on Travel Channel's "Ghost Adventures" spotted its first apparition there. For $400 a night, amateurs can seek their own supernatural experiences.
On the other side of the road is the Bucket of Blood Saloon, a building that's stood since 1876. Stained glass lamp shades hang from the ceiling, harkening back to earlier times. But in case you need modern souvenirs, you can buy belt buckles and beer coozies — also available online via the bar's collectibles and "bling" page.
The county tourism office also looks back through slightly boozey goggles. One statistical breakdown it offers: With 100 saloons during its heyday, there was one drinking establishment for every 32 people.
But good-timing wasn't all there was to do after a day in the mine. The restored St. Mary's in the Mountain Catholic Church, founded in 1862, pays homage to the faith of many Irish workers who came to work on the Comstock.
Then there's the restored Fourth Ward School, built in 1876. It included elementary and high school students. Now a museum, it includes exhibits about the way blacks, Native Americans and Asians lived when Virginia City was booming.
Virginia City also is the seat of Storey County, meaning living history is on display. The courthouse was built in 1876 after fire destroyed its predecessor and much of the rest of the town. The county promotes it as the oldest continuously operating courthouse in Nevada. Court is in session once a week, and there are no metal detectors at the entrance. Many records in its vault are hand-written in calligraphy.
For a moving historical experience, passengers can take a three-mile round trip on the Virginia & Truckee Railroad. The line used to link mines with reduction mills and also move lumber back to Virginia City. These days it's mainly for sightseeing.
Tourist Don Troutman, of Memphis, Mo., was happy to sit still. His perch was a bench where he had a full view of C Street's lines of shops that sell rocks, antiques and candy.
"It's nice to just kind of imagine the way it was," the 75-year-old said while sitting by Todd Tuttle, his tour guide for the day. Tuttle, 51, was wearing what he described as "standard 1880s" duds: a suit accessorized with a top hat, a pocket watch and an ascot, the wide silk neck ties that fans out across the shirt.
Troutman came to town for a U.S. Navy Reunion for those who served on the USS Brush destroyer. After his time at sea, he kept moving as a truck driver. He drove through Nevada plenty of times en route to Califorinia, but he never really got to stop.
Now he was finally getting a chance to look around. And he liked it: Virginia City has no freeways, much like the northern Missouri town where he hangs his hat.
Both are the kind of place where it seems life has a pause button.
No one can stop time, but Troutman hoped Virginia City would at least keep things moving slow.
Contact reporter Adam Kealoha Causey at acausey@reviewjournal.com or 702-383-0401. Follow @akcausey on Twitter.

Celebrating the Silver State