Virginia tragedy sparks North Las Vegas rally against injustice
August 13, 2017 - 11:50 pm
Updated August 14, 2017 - 9:31 am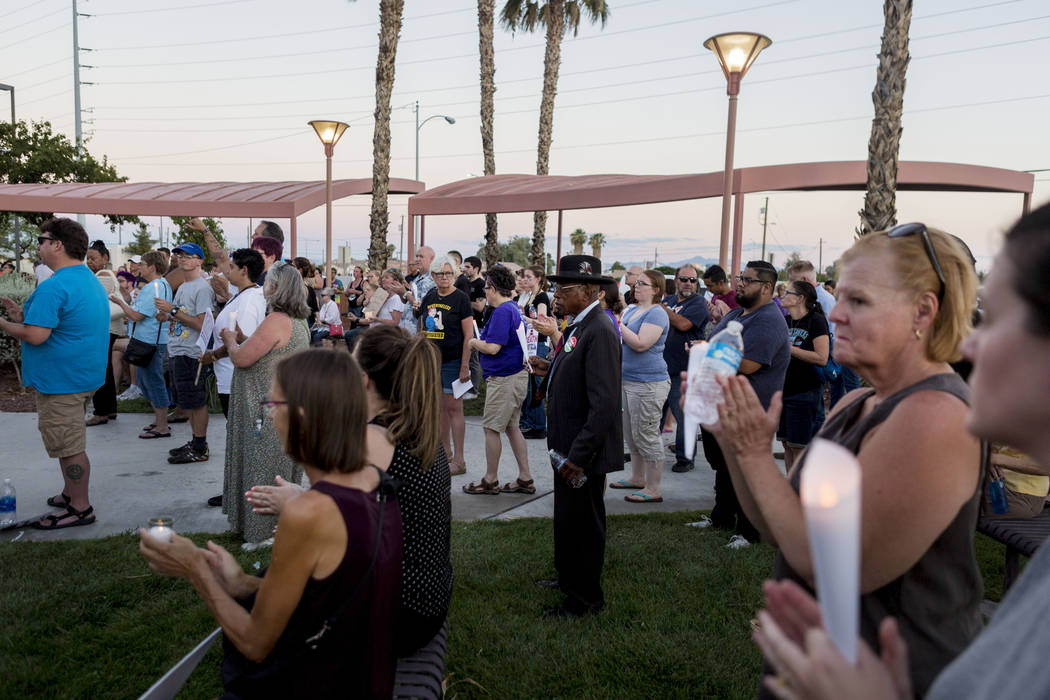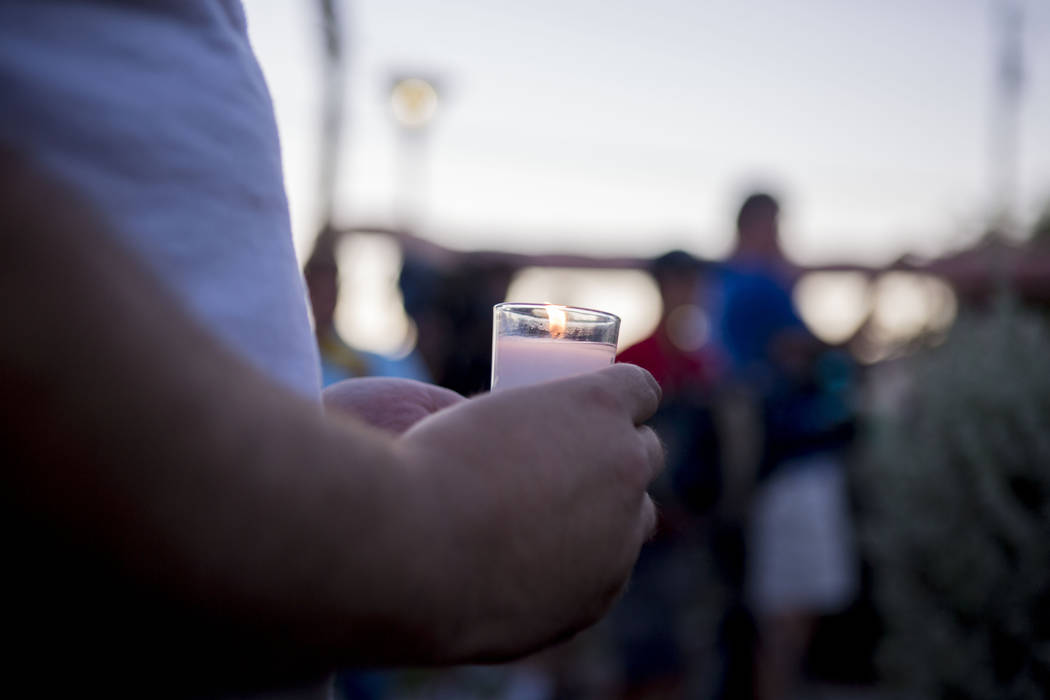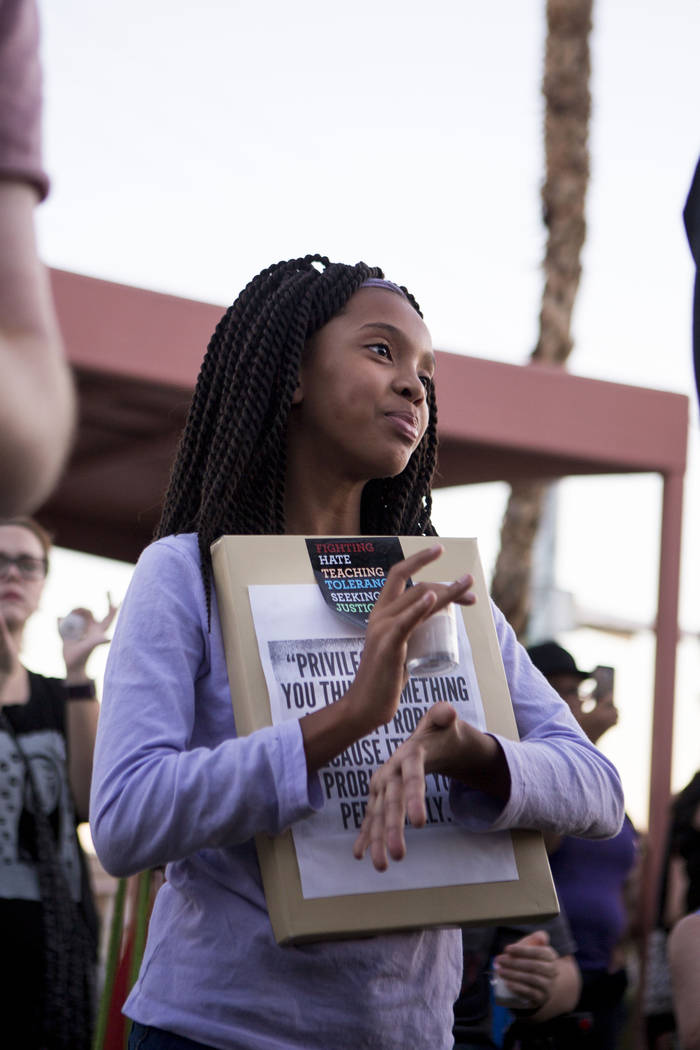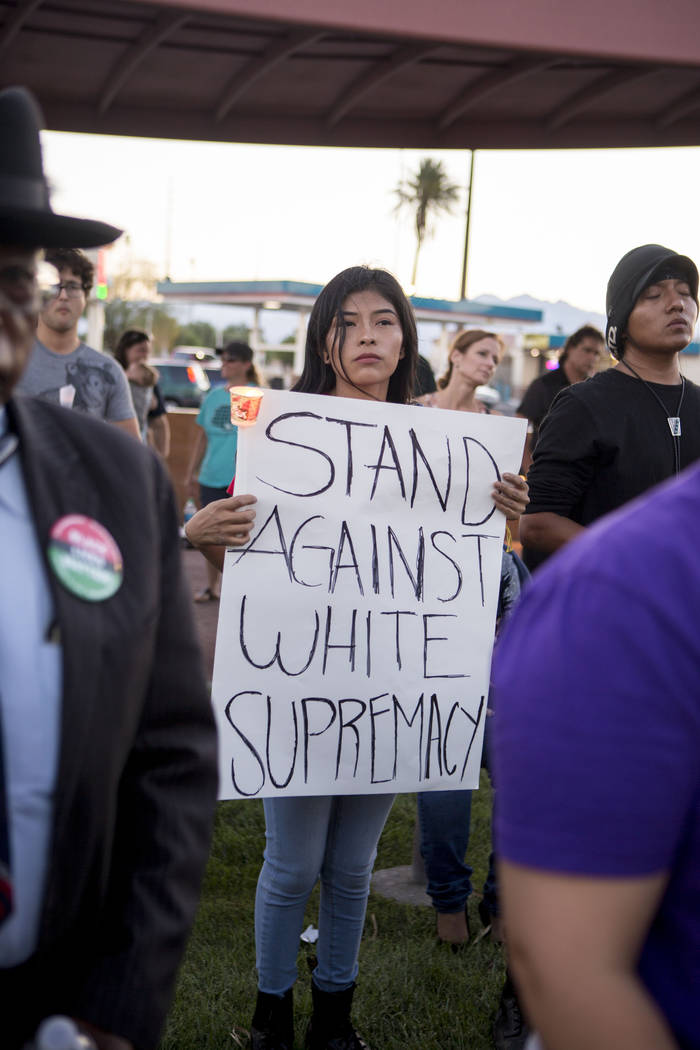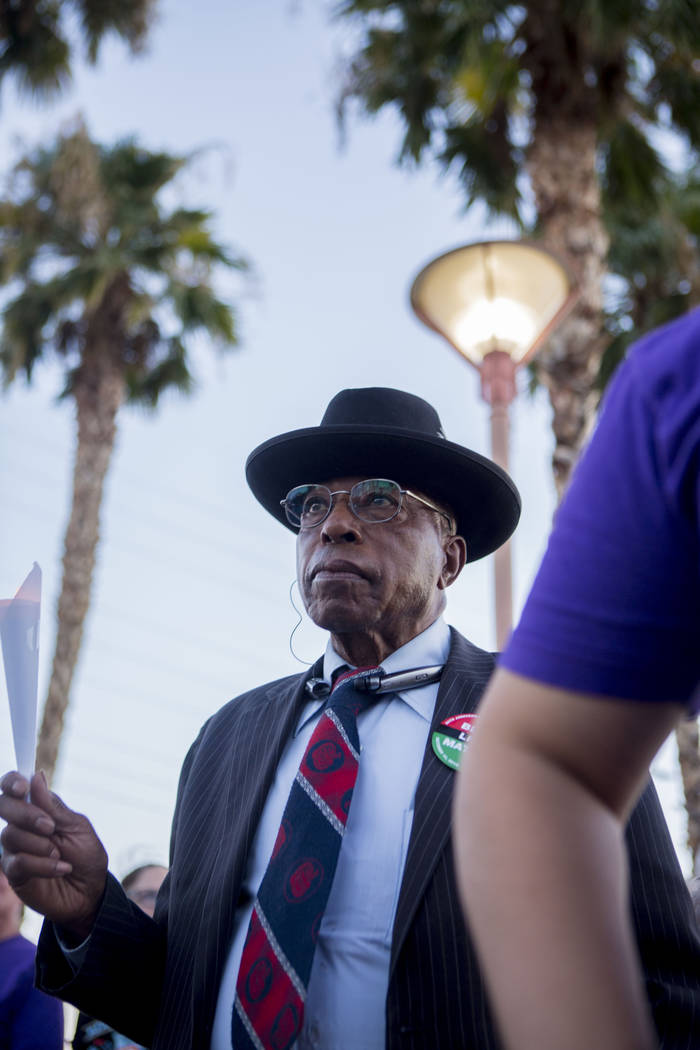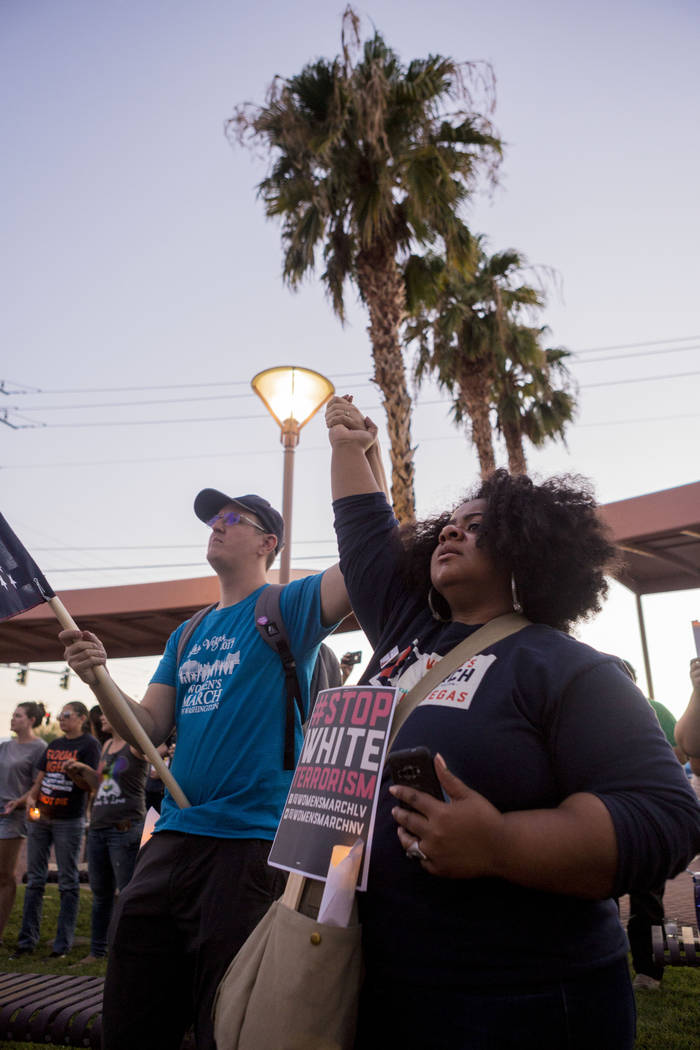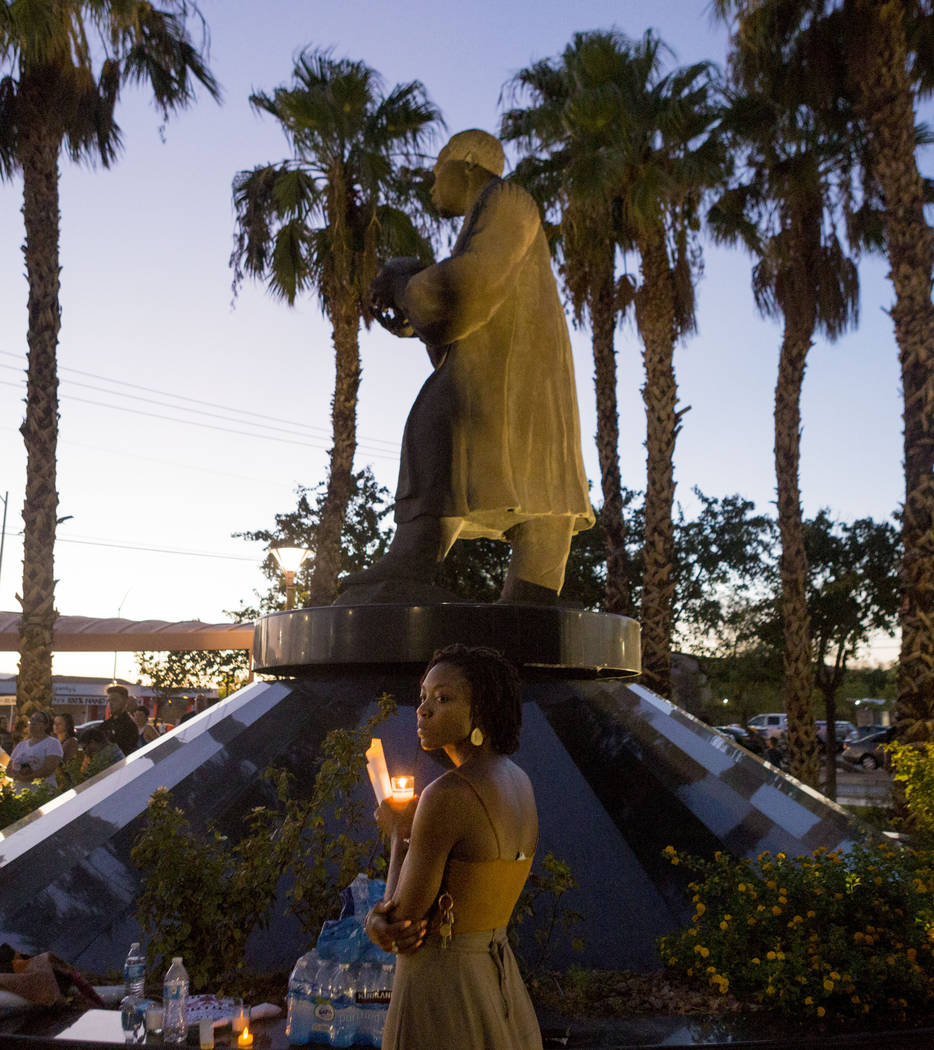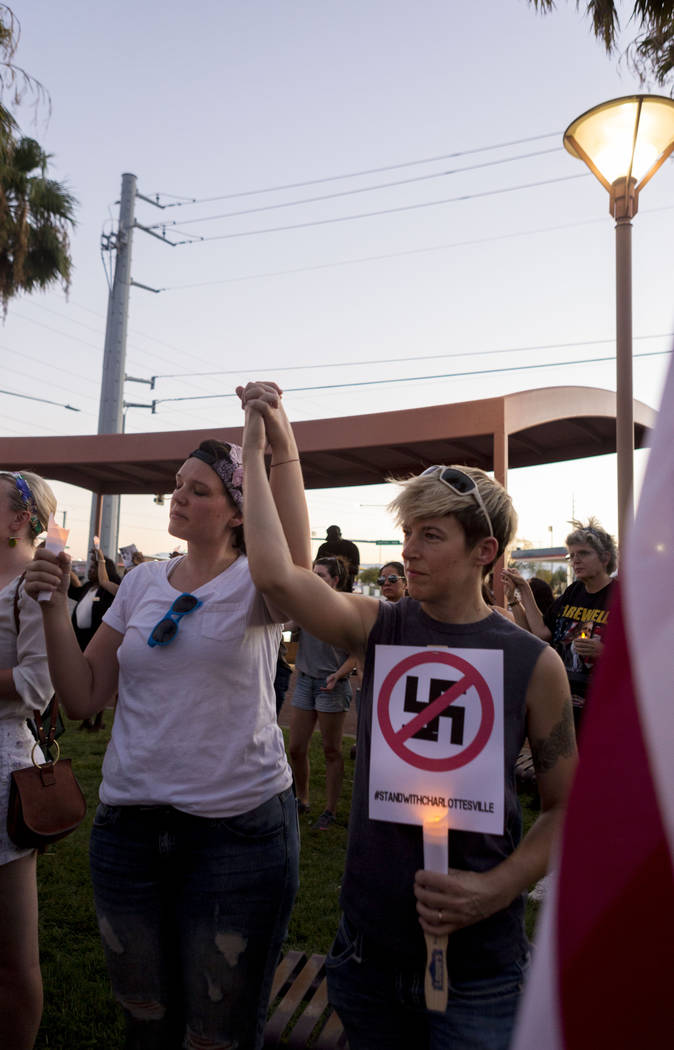 More than 100 people at a candlelight vigil Sunday outside a statue of Dr. Martin Luther King Jr. called for an end to hatred and bigotry in the wake of the Charlottesville, Virginia, protest against a white nationalist rally that left one woman dead and others injured.
Tensions were high at the North Las Vegas vigil as some shed tears, while others turned a passionate red as they spoke out against the injustices they've witnessed in recent times.
"We have to stand up and be tall," Assemblyman William McCurdy, D-Las Vegas, said during the vigil. "We are standing united against hatred and we are united against bigotry."
McCurdy called upon everyone to speak up and become part of the solution.
"We cannot do it alone," he said. "This is all of our fight, and the only way we can spread the word of love and peace is through unity. Today we're talking about the most vulnerable population, but tomorrow it could be you or me. So be heard."
The violence that erupted in Charlottesville came as a group of counterprotesters clashed with white nationalists who were protesting the planned removal of a statue of Confederate Gen. Robert E. Lee.
A speeding car that authorities said was driven by James Alex Fields, a 20-year-old man from Ohio, barreled into the counterprotesters, killing 32-year-old Heather Heyer and injuring others. A helicopter crash that killed two state troopers outside Charlottesville also was linked to the rally.
Many at the vigil — including religious and political leaders, community organizers, families and artists — condemned the act of "violence and hate."
Kirk Clyatt, a former Charlottesville resident, expressed hope that something positive might come from Saturday's tragic events.
"When I heard about what happened I thought, 'Oh my God, maybe this is the wake-up call America needs,'" the Las Vegas resident said. "It's horrifying to see what is happening, but my hope is that this will unite us and people will stand up for what is right."
Clark County Commissioner Chris Giunchigliani said that while she supports everyone's right for free assembly, Saturday's rally was orchestrated toward hate. Before leaving the stage, she asked everyone to hold hands as people yelled, "Love trumps hate."
Kavin Burkhalter, member of LGBTQ Nevada Moving Forward, said he was disgusted by Saturday's events and feels that white supremacists are "attacking every single marginalized group."
Some in attendance laid part of the responsibility for Saturday's violence on President Donald Trump.
"The Trump administration has kind of advocated this kind of hate speech and as a result has made it available to be brought into action," said vigil co-organizer Kenia Leon, who is with Paradise Indivisible, part of the Indivisible Project, which opposes Trump's policies.
"Silence is also acceptance, so his inaction speaks almost louder than his tweets — or lack thereof. Call it what it is."
Others said Trump, during a news conference Saturday, failed to adequately place blame on white nationalists for the violence.
At the news conference, Trump spoke out against the violence and said he condemns "in the strongest possible terms this egregious display of hatred, bigotry and violence on many sides."
"It is disheartening to see what our country is going through today," said U.S. Rep. Ruben Kihuen, D-Nev. "But you know what is even more disheartening? To see that we have a leader in this country today who refuses to condemn these domestic acts of terrorism. We have a president who refuses to take the responsibility and to take leadership to say that this is wrong. We live in America. It's 2017."
But Republicans interviewed earlier Sunday said they believe Trump has made his stance clear.
"President Trump condemned the hatred, and our local party echoes his sentiments," said Carl Bunce, chairman of the Clark County Republican Party. "The Republican Party and our president do not support white supremacy or the violence that the counterprotesters incited during the event."
Raymond Serrano, treasurer of UNLV's College Republicans, cautioned against politicizing such tragedies.
"We feel that politicizing these sort of tragic events, in order to suggest that President Trump and conservatives as a whole were in some way complicit in what transpired is not only outrageous, but extremely divisive," Serrano said. "When these sort of tragedies are politicized, and the more flawed narratives that are pushed onto the public by the media, the further the divide grows between different ideologies."
Crowd gathers at a vigil in North Las Vegas to stand in solidarity with #Charolettesville pic.twitter.com/pDldhaQZOw

— Sandy Lopez (@JournalismSandy) August 14, 2017
Conservative congressional candidate Timothy Petarra said that while he disagrees with violence of any kind, he also believes in free speech.
"I consider (free speech) to be as important as the Second Amendment," Petarra said. "I don't condone any kind of violence from anyone. However, I firmly believe that you have the right to say whatever you'd like under the First Amendment."
As darkness fell Sunday, the Dr. Martin Luther King Jr. Memorial Plaza filled with flickers of lights from candles and flashlights, and people singing songs of hope and peace.
"This is a very scary time, but united we can be stronger," Leon said. "I hope people leave this vigil with a renewed sense of empowerment that we have the collective power to change this. Our voice is our power."
Contact Sandy Lopez at slopez@reviewjournal.com or 702-383-4686. Follow @JournalismSandy on Twitter.