Wanted: 360 new officers to join Las Vegas force
February 7, 2016 - 11:19 am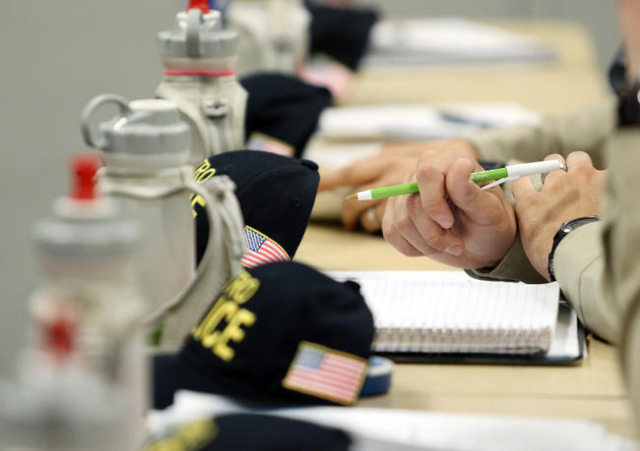 The Metropolitan Police Department is looking for more than a few good men and women.
Hundreds, to be exact.
"This is in conjunction with the 'More Cops' tax increase," Metro officer Jesse Roybal said Friday of the department's ability to hire 360 new officers.
To aid in the process, Metro is using a computer-based recruiting system that will allow applicants from around the country to test by video for a "small fee," without ever stepping foot in Las Vegas, a release said Friday.
"This is a brand-new thing," Roybal said. "This way they can take the test wherever they are."
Metro has partnered with the National Testing Network to facilitate the national search.
"Once you take the test, you have the option to submit it to multiple police departments," Metro officer Michael Rodriguez said, referring to other forces that partner with the network, which is active in 20 states.
Those who pass the initial exam will be invited to take the physical exam and oral board in Las Vegas.
Applications will be accepted until March 9 or until 2,500 have been received.
Candidates must be at least 21 and have a high school diploma or GED certificate. After a candidate passes the initial exam, he or she will be invited to take the physical exam and oral board in Las Vegas.
"More Cops," which took effect in January, is funded through a county sales tax increase that raised the rate from 8.1 percent to 8.15 percent. It is expected to generate about $19.4 million in each of the next 10 years, including $14.6 million annually for Metro.
To speak with a recruiter, call 702-828-5787 or email recruitment@lvmpd.com.
— Contact Kimberly De La Cruz at kdelacruz@reviewjournal.com or 702-383-0381. Find her on Twitter: @KimberlyinLV.