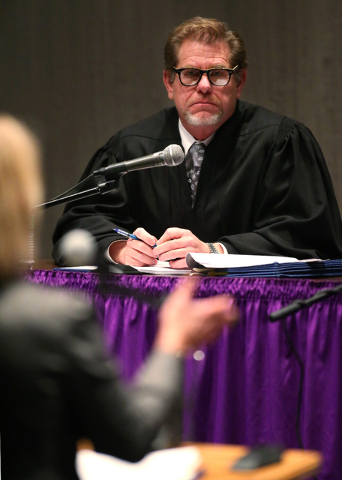 Leslie Parraguirre, the wife of Nevada Supreme Court Justice Ron Parraguirre, is facing an April trial on a misdemeanor DUI charge.
Her attorney, Richard Wright, said she was arrested in late October after a minor traffic collision on West Charleston Boulevard in the Summerlin area.
"She's embarrassed and deeply regrets the situation," Wright said late Wednesday.
The attorney said she was driving alone the evening of her arrest. He said she was arrested on two misdemeanors, DUI and battery, but Las Vegas Justice Court's online records show that the latter charge was dismissed on Feb. 4 after the state chose not to proceed.
Wright declined to comment on the battery charge.
Online records for the DUI case begin on Oct. 30 with a "temporary custody record" and show an "own recognizance release" on Oct. 31.
A criminal complaint was filed Dec. 15 but could not be obtained late Wednesday. The case lists a second misdemeanor charge of failing to "decrease speed or use due care."
According to the online records, a plea of not guilty was entered Feb. 1, and a bench trial has been scheduled for April 7 before Justice of the Peace Karen Bennett-Haron.
Wright said he has not appeared in court on the matter with his client.
"The case is being handled by the district attorney's office just like any other case, and we will continue to address it appropriately," the lawyer said.
Leslie Parraguirre operates an interior design firm, Colours Inc., in Las Vegas. The business has been embroiled in litigation in recent months.
In a federal lawsuit, filed in November 2014, a California woman claims her former bookkeeper wrongfully transferred more than $180,000 from her bank accounts to Leslie Parraguirre, who is one of the defendants in the civil case.
Leslie Parraguirre has filed a counterclaim against the woman, Tonia Antonacci. According to the counterclaim, Colours hired the bookkeeper based on Antonacci's "high recommendation."
The bookkeeper, Roxanne Sparks, has admitted she made the wrongful transfers.
"I was trying to save the Parraguirre company and save everyone's jobs," she told the Las Vegas Review-Journal in January. She said she has not faced criminal charges.
When Sparks "abruptly left" Colours on April 30, 2014, according to the counterclaim, she had drained its corporate accounts and Leslie Parraguirre's personal accounts.
"Some accounts were left with less than $100 and every corporate and personal credit card was drawn to its maximum limit as a result of Sparks's unauthorized use and failure to pay the statements as directed by Colours and/or Parraguirre."
According to the Colours website, the Las Vegas-based boutique design firm was established in 1988 under the leadership of Leslie Parraguirre, a lifelong Nevadan. Its address is listed as 500 S. Seventh St.
Ron Parraguirre has been on the Nevada Supreme Court since 2004.
Contact reporter Carri Geer Thevenot at cgeer@reviewjournal.com or 702-384-8710. Find her on Twitter: @CarriGeer