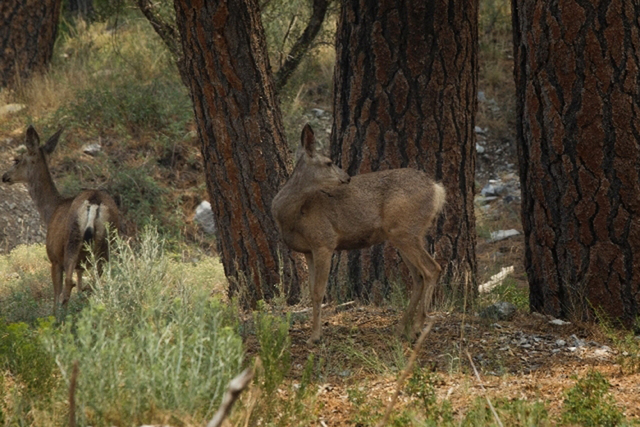 The wildfire still raging west of Las Vegas is a "biological dis­aster" that could wipe out several animal species found nowhere else on Earth, according to an expert on rare butterflies native to Mount Charleston.
"I can't imagine that the fire could have occurred in a worse place," said biologist Bruce Boyd on Thursday. "I'm talking about potentially more than one extinction event."
Boyd, who has been studying butterflies in the Spring Mountains since the mid-1990s, said the Carpenter 1 Fire has already burned through some of the richest habitat in the range, and not just for tiny insects.
Boyd called the forest and meadows surrounding Griffith Peak and south Kyle Canyon the "biological center of that mountain range."
"This is a heart attack," he said.
Federal wildlife officials were more measured in their assessment of the fire damage.
This "catastrophic" blaze will undoubtedly have negative results for animals, U.S. Forest Service biologist Jenny Ramirez said. But she and others guiding firefighting efforts from the command center at Centennial High School won't know the extent of damage until they can see it up close — after the fire is out.
The Spring Mountains are a "sky island," Ramirez said, using a term for evolutionarily distinct areas in high elevations. As she puts it: "It's surrounded by a sort of inhospitable ocean of Mojave Desert."
Mount Charleston is such a diverse sky island, Boyd calls it "the Galapagos of the Southwest."
Even untrained observers can see the drastic change in landscape leaving the Las Vegas Valley and heading toward Kyle Canyon: Scenic Highway 157 goes from cacti and Joshua trees to conifers in less than a half-hour's drive. The types of animals change, too.
But there are complicating factors for the range's unique subspecies, Ramirez said, including several types of blue butterflies and the Palmer's chipmunk, found only on Mount Charleston. Their homes already are in narrow spaces, and ongoing drought can take a toll even without wildfires.
Ramirez and other wildlife experts give options for firefighters to avoid causing more damage. In already sensitive areas, for instance, they might direct them to dig with shovels versus bulldozing or avoid dumping retardant.
Smoke and flames will kill some animals, Ramirez said.
Those that escape may return to their usual habitat as it heals, Ramirez said. But the fire may have destroyed the woodpiles in which Palmer's chipmunks den.
Common species such as mule deer and mountain lions should be fine, Ramirez said, but those endemic to the Spring Mountains are more susceptible to drastic environmental changes.
"I don't know that, when all is said and done, they're going to be able to rebound," Ramirez said. "But we will be watching them more closely than anything else out there."
The U.S. Fish and Wildlife Service is expected to announce later this year whether to add the Mount Charleston blue butter­fly to the endangered species list and extend federal protection to five similar butter­flies that share the same habitat.
Boyd wonders whether there will be any Mount Charleston blues left to protect.
Fewer than a half-dozen of the dusky blue butterflies have been spotted in Lee Canyon since 2005. Seeing one is no small feat — they're no bigger than a quarter.
The only place to reliably find the insect has been in an area no more than a few dozen acres in size on the South Loop Trail high above Kyle Canyon — a place now smack in the middle of Carpenter 1 charring, Boyd said.
He blames decades of mismanagement by the U.S. Forest Service for squeezing the butterfly into a smaller and smaller space, leaving it vulnerable to be wiped out by a single event such as a wildfire.
Most recently, he said, the agency thinned trees and brush to reduce wildfire danger but fed the wood into a chipper and scattered it on the forest floor in Lee Canyon and elsewhere, literally burying butterfly pupae and the plants they depend on.
When the fire reached the ridge above Kyle Canyon, a few Mount Charleston blues may have flown away from the advancing flames, Boyd said, "but where do they go? There's no other habitat for them to come back to."
One rare animal that appears safe from harm is the Lahontan cutthroat trout, a threatened species of fish that was introduced to a small stream on the west side of the Spring Mountains in the 1950s.
The spring-fed stream flows through the bottom of Carpenter Canyon, which gave the fire its name but has been largely untouched by the flames.
Ultimately, we may never know the full scale of the fire's damage, Boyd said. "We may lose species that haven't been described or even discovered yet."
Contact reporter Henry Brean at hbrean@reviewjournal.com or 702-383-0350. Contact reporter Adam Kealoha Causey at acausey
@reviewjournal.com or 702-383-0361.
Related Story