Wildfires called big risk one year after Mount Charleston inferno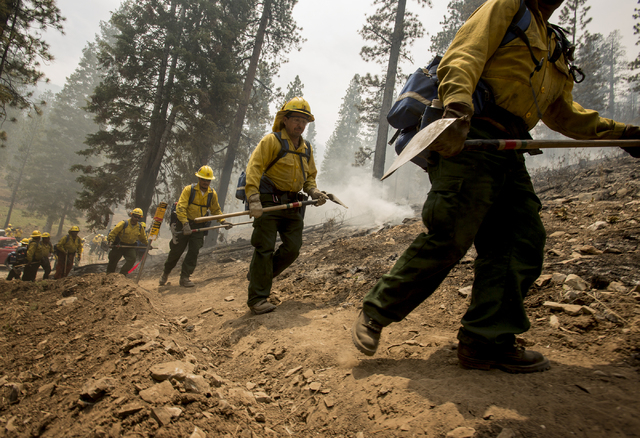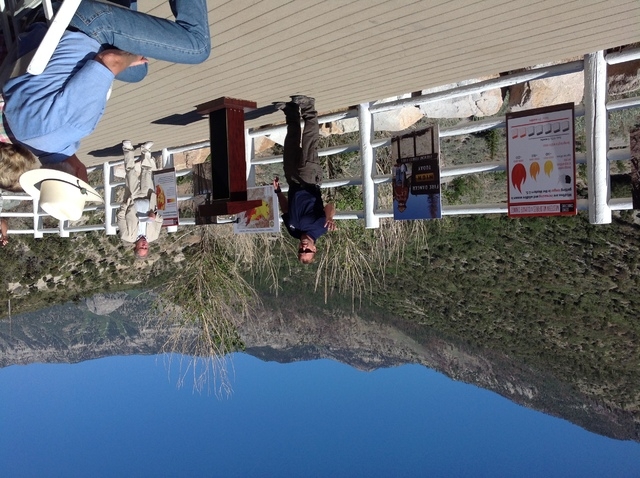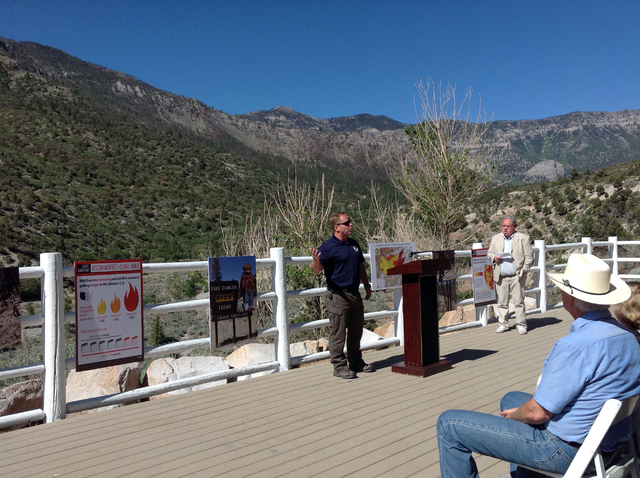 Wildfires are still a major risk a year after the Carpenter 1 fire burned 27,800 acres on Mount Charleston and people are urged to adhere to fire prevention rules to avoid being the cause of another such blaze, officials said Tuesday.
If only someone would tell Zeus to stop throwing lightning bolts toward earth.
Fire officials, politicians and environmentalists gathered Tuesday at the Resort on Mount Charleston to remind folks that a decade-long drought out west has not ended and the Spring Mountains remain a tinderbox ready to ignite.
There is a heightened need for proactive fire prevention by people, said Mike Haydon, Bureau of Land Management's Southern Nevada District fire management officer.
Haydon spoke while standing in front of a breathtaking view of Kyle Canyon that included acres of blackened landscape, scarred by the Carpenter 1 fire, while a pine tree scented, hot and dry breeze swirled by.
"Those trees have not been this dry in recorded history," Haydon said, pointing to the canyon behind him. "This drought needs to be taken seriously. We're all hoping for a greater snowpack, more timely and quality precipitation and things of that nature to help bring our landscape up, but what we can do… is prevent more fires than need to happen."
Haydon said that already in 2014, BLM has battled 40 human-caused fires in Southern Nevada and no nature-caused ones. Normally, firefighters see a 50-50 split between human- and nature-caused fires. The fires this year have mostly been caused by target shooting, campfires or bonfires.
"It's our responsibility to not be the cause of those fires when they do happen," Haydon said.
Haydon encouraged people to follow basic tenants of fire prevention: Smoke in your car, don't build campfires, use propane and closed stoves while camping and don't use fireworks.
"There are ways to mitigate risks," Haydon said, including reporting people who are not taking preventative measures.
Of course, nothing could have prevented the lightning strike that caused the Carpenter 1 fire in July 2013. The fire erupted on the Pahrump side of the Spring Mountains then spread east, threatening homes in Kyle Canyon.
An effort by the U.S. Forest Service to thin brush on the ground several years earlier was widely credited with slowing the intensity of the blaze as it crept down into Kyle Canyon.
Clark County Commissioner Chris Giunchigliani also spoke at the press conference, which partly highlighted the belief by some that wildfires are the result of global warming.
"It's bone dry," Giunchigliani said of the Spring Mountains. "It's 10, 12, 15 years since we've had a good snowpack."
Giunchigliani, who owns a vacation home in Kyle Canyon, said there is a responsibility by homeowners as well as the 2 million tourists who visit Mount Charleston annually.
Homeowners need to work to make sure that brush and dead trees are removed from their property, Giunchigliani said. She had the Nevada Division of Forestry review her property to determine what could be done to reduce the "fuel" around her home. Since then she has used the chainsaw she received for her birthday to remove trees and brush from her vacation home.
"This is our jewel to protect," she said.
Haydon added, "The Carpenter fire was a very challenging event and a clear reminder to those of us who want to come up and enjoy, the importance of working together and really following fire-safe practices."
Contact Francis McCabe at fmccabe@reviewjournal.com or 702-380-1039. Find him on Twitter: @fjmccabe.