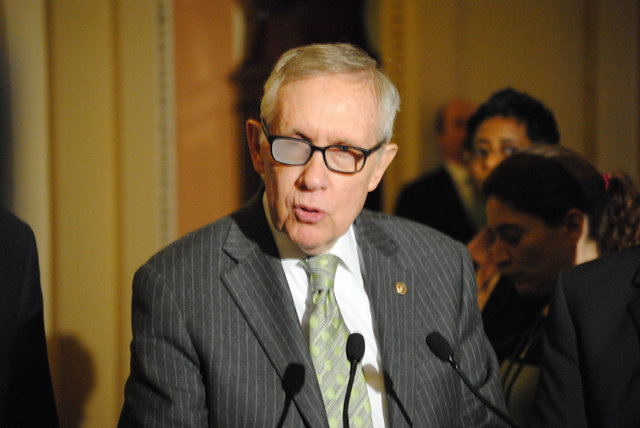 WASHINGTON — Congress might weigh tightening an investor visa program in the wake of an investigation that found a top Department of Homeland Security official pulled strings to process visas under pressure from powerful political figures including Sen. Harry Reid, according to a House committee chairman.
Rep. Mike McCaul, R-Texas, chairman of the House Committee on Homeland Security, said Alejandro Mayorkas will be invited "to tell his side of the story" on the report released Tuesday that said he intervened in three cases involving investors linked to leading Democrats.
Majorkas, deputy secretary of the Department of Homeland Security, was head of U.S. Citizenship and Immigration Services at the time of the incidents in 2011-13 that triggered complaints from 15 whistleblowers.
"I am extremely troubled by the findings" of the probe into the investor visa, or EB-5, program, McCaul said Thursday at a committee hearing called to review the report issued by the DHS Office of Inspector General.
"The list of individuals involved in the allegations raised in the report reads like an A-list of political powerhouses," McCaul said.
Besides Reid, they included figures tied to Bill and Hillary Clinton including Virginia Gov. Terry McAuliffe, former Pennsylvania governor and Democratic National Committee Chairman Ed Rendell, and Hillary Clinton's brother Anthony Rodham.
At the hearing Homeland Security Inspector General John Roth told lawmakers Mayorkas broke no laws but violated ethics policies by leaving an impression that some visa applicants had received favorable treatment.
In one of the cases, the inspector general concluded Mayorkas improperly intervened to fast-track visas for foreign investors in the $415 million renovation of SLS Las Vegas as the result of Reid pressure.
At Mayorkas' direction visa applications for the Las Vegas project essentially were moved to the front of the line despite career officials in the USCIS earlier denying a request that they be expedited, according to the report.
Mayorkas also agreed to provide Reid with "regular" weekly updates on the status of the SLS petitions. According to the inspector general, lawmaker briefings on the status of local petitions usually are routine but not "down to that level and degree."
The EB-5 program allows foreign nationals to obtain green cards if they invest at least $500,000 in a commercial enterprise that creates or saves at least 10 full-time jobs. The program has been controversial and criticized for uneven management.
Rep. Bennie Thompson, D-Miss., defended Mayorkas, noting the report did not find that he broke any laws, and that none of the cases investigated "was improperly decided."
Democrats also questioned whether the investigation had a partisan bent.
Rep. Kathleen Rice, D-N.Y., asked Roth if he had seen any indication that Nevada Republican Sen. Dean Heller had weighed in on the SLS visa petitions.
If so, "I would think that would change the whole tenor of what we are talking about here, and it becomes not a political decision that Mr. Mayorkas might have made but on where he might have been attending to requests from members of Congress across the broad spectrum."
After the hearing, a Heller spokesman said the senator's involvement was limited to sending a letter to USCIS in December 2012 asking the agency to consider the petitioners' request for expedited processing of the visas.
Reid has signaled he has no regret for using his influence to spur completion of the SLS, which an aide said this week "created thousands of Nevada jobs."
Meanwhile Wednesday, a legal watchdog group announced it has sent a letter to the Department of Justice urging further investigation of Reid and McAuliffe, the two figures in the report currently holding public office.
Dan Epstein, executive director of Cause of Action, charged Reid crossed the line between an elected official inquiring about agency actions on behalf of constituents to actively seeking to influence an adjudicative matter of determining who should be granted a U.S. visa.
Cause of Action, which has received funding from conservative donors, earlier filed an ethics complaint against Reid on the same issue that was dismissed by the Senate Ethics Committee.
"Cause of Action is a joke," Orthman said in response to the group's charge.
Contact Review-Journal Washington Bureau Chief Steve Tetreault at stetreault@reviewjournal.com or 202-783-1760. Find him on Twitter: @STetreaultDC.