Winter's grip eases for New Year's fireworks show
December 30, 2010 - 7:54 pm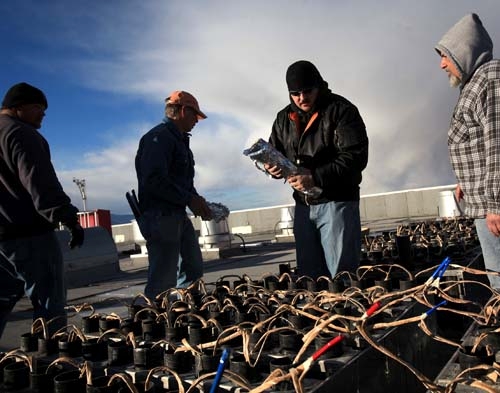 Braving the bone-chilling winds atop Treasure Island on Thursday, a small group of workers ran spools of wire, set up launching boxes and put other finishing touches on the fireworks show that will welcome 2011 tonight.
The recent cold and wet weather forced the crews from Fireworks by Grucci to play catch up, but they were on schedule with about 33 hours left until the new year.
"I guess we played the odds, and this is not our year for weather," Felix Grucci Jr. said.
Thankfully for Grucci, tourism boosters and revelers looking forward to the largest New Year's fireworks show this side of the Mississippi, the winter weather that dampened Southern Nevada in the past week is not expected to interfere with the main event.
Forecasts call for partly cloudy skies, light winds and, unfortunately for those ringing in 2011 under the stars, an overnight low of 26 degrees.
Revelers who brave the cold on the Strip at midnight will see Grucci's largest Las Vegas New Year's Eve show yet. The 8-minute, 6-second show will feature music choreographed with nearly 50,000 fireworks launched from MGM Grand, Planet Hollywood, Aria, Caesars Palace, The Venetian, Treasure Island and Stratosphere.
Grucci said the company tries to outdo itself each year. The 2011 shows will have some new fireworks, but he wouldn't reveal them.
"You'll have to come and see," he said with a smile.
Tourism officials expect about 310,000 visitors in Las Vegas for America's Party 2011.
The largest crowds are expected on Las Vegas Boulevard, which will be closed to traffic so tens of thousands of people can pour into the street and countdown to the new year.
The entire force of roughly 2,900 officers from the Metropolitan Police Department will be on duty tonight. Most of them will line the four-mile section of Las Vegas Boulevard between Sahara Avenue and Russell Road.
The Nevada National Guard, as it does each year, has assigned about 300 personnel and helicopters to the area to boost security.
Authorities have no information about any credible terrorist threat, Las Vegas police officer Bill Cassell said.
"We are anticipating an uneventful New Year's Eve," he said.
Road closures start about 5:30 p.m. when the Nevada Highway Patrol shuts down onramps and exits on Interstate 15 at Tropicana Avenue, Flamingo Road and Spring Mountain Road. The Harmon Avenue overpass and all Strip pedestrian walkways will close at 6 p.m.
Las Vegas police will close Las Vegas Boulevard between Sahara Avenue and Russell Road about 6:15 p.m., leaving only Russell, Sahara and Desert Inn Road open for crossing the Strip.
Las Vegas Boulevard will reopen starting about 3 a.m. after street sweepers clear the trash left in the aftermath.
Police will be enforcing Clark County and Las Vegas ordinances that prohibit metal and glass containers on the Strip and downtown from 6 p.m. today until 6 a.m. New Year's Day. Police ask party-goers not to bring large backpacks, satchels or knapsacks that could carry cans and bottles.
There is also a curfew on the Strip for those under 18. Minors must be accompanied by a parent or legal guardian between 9 p.m. today and 5 a.m. Saturday.
At the Fremont Street Experience, revelers will ring in 2011 with concerts and fireworks under the lighted canopy.
Anyone 21 or older can pay $20 for admission to TributePalooza, which features eight hours of music by tribute bands paying homage to AC/DC, Red Hot Chili Peppers, Aerosmith, Green Day and more.
After the party's over, several organizations are offering free rides to would-be drivers who have had a few adult beverages and don't want to get behind the wheel.
AAA has its Tipsy Tow service, which offers a tow home for free up to 10 miles. The service is available to both club members and nonmembers. Call 800-AAA-HELP (222-4357) and say "I need a Tipsy Tow." The service is available from 6 p.m. today until 6 a.m. New Year's Day.
Designated Drivers will drive you and your car home from anywhere in the Las Vegas Valley for $60.
They also have free rides from 57 locations, which are listed under "Associate Members" at www.designated driversfoundation.org.
Because of road closures, they will not pick up on the Strip or downtown Las Vegas until after 3 a.m. Designated Drivers can be reached at 456-RIDE (7433).
And the Regional Transportation Commission is offering free bus rides from 6 p.m. today until 9 a.m. New Year's Day.
Contact reporter Brian Haynes at bhaynes@reviewjournal.com or 702-383-0281.