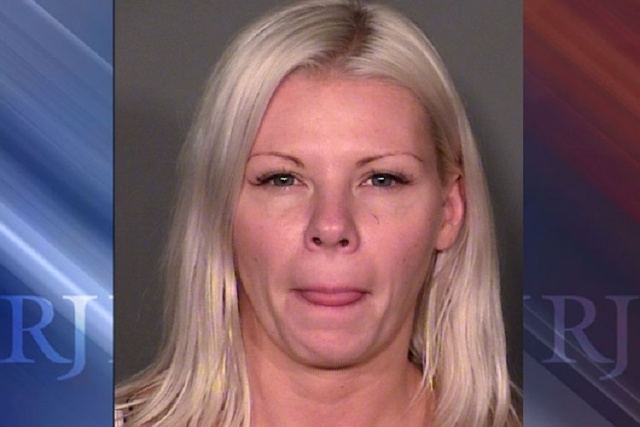 A Las Vegas woman accused of driving while intoxicated in a fatal crash Wednesday was behind the wheel in another collision two days before, a mile up Maryland Parkway from where 78-year-old Richard Glen Bryan was run down and dragged to his death.
The driver whose truck was hit Monday and a witness said Nicole Johnson, 30, reeked of alcohol just after that crash, and that she had been driving into medians and onto sidewalks just before the collision.
But Las Vegas police officers who administered field sobriety tests that day said she wasn't impaired, and allowed her to drive away from the scene.
Stanley Jurewicz, 45, was rear-ended by Johnson's 2007 Honda Civic on Monday, near the intersection of Maryland Parkway and Pebble Road. The way he sees it, she wouldn't have been driving two days later when Bryan was killed and a second man critically hurt had Metro not let her go.
He said that after their minor crash he approached her window and immediately smelled alcohol. He said her speech was slurred.
"This lady needed to be taken off the road the day she ran into me," Jurewicz said. "She was wasted."
Nicole Tuesta said she was driving Monday when she saw the Civic Johnson was driving swerving, jumping the curb onto the sidewalk and running into the median.
"She was just all over the place," Tuesta said. "I could not let her go."
Tuesta said she called 911 and followed Johnson from near Las Vegas Boulevard at Pebble to the intersection of Pebble and Maryland, where the collision happened about 11:20 a.m. The driver-side door of the Civic was smashed against the rear bumper of Jurewicz's Chevy pickup.
Tuesta said she later recognized Johnson's photo from news reports about Bryan's death and was shocked the woman wasn't in jail.
No report taken
But the Metropolitan Police Department cleared Johnson in the Monday crash.
Johnson passed three field sobriety tests, Metro spokesman Officer Michael Rodriguez said. No citation was issued at all.
"She was not impaired," Rodriguez said, adding that a certified drug-recognition expert was among the officers on the scene.
Little official information is available. The officers didn't make a report, Rodriguez said, because no one was hurt and damage was minor.
Jurewicz said three officers responded when Johnson hit him. One put Johnson in the back of his car, where she sat for about 90 minutes before she was given her keys and allowed to drive away.
"There's no way they did their jobs the right way," Jurewicz said.
Richard Tusko, acting sergeant for Metro's division that investigates fatal crashes, said his officers on the Bryan crash had no information about the earlier accident because Johnson wasn't cited.
"There's no way to cross-check anything," Tusko said.
Rodriguez says an investigation into whether officers were in the wrong for letting Johnson leave after the Monday crash is unlikely, because "there's no way to prove" wrongdoing.
Morning routine gone wrong
Johnson faces one count each of felony DUI death and DUI substantial harm, according to her arrest report in the Wednesday crash. She is being held at Clark County Detention Center, with a court appearance scheduled Monday.
The fatal crash happened on Maryland Parkway between Richmar and Gary avenues, near Gehring Elementary School.
Bryan and Marko Kustudia, who did not know each other, were walking on the sidewalk near the school about 6:55 a.m. when the Civic police said Johnson was driving hopped the curb and hit them. Bryan was dragged until the car hit a wall and stopped.
His body was still in the road as children arrived at Gehring Elementary around 8 a.m.
It was a tragic end for a "good, loving husband and father," his 57-year-old daughter, Debra Ijams, said Friday.
Bryan and his wife left Indianapolis 18 years ago to retire in Las Vegas, where they would get warmer weather and be closer to grandchildren here. He was soft-spoken, the daughter said, and passionate about golf and the Baltimore Orioles.
Her father was out for his routine morning walk Wednesday, Ijams said. But he went a little earlier than usual because he and his wife of 58 years, who was his high school sweetheart, planned to go out for breakfast.
"He never came back," Ijams said.
Kustudia, 75, was taken to Sunrise Hospital and Medical Center. On Friday he was still listed in critical condition. His family could not be reached for comment.
An arrest report said that after the men were hit another driver blocked Johnson's car and took her keys . That driver told police he thought she would have left if he hadn't stepped in.
Johnson was unable to stand for police to interview her, according to the report. She told an officer she takes Xanax for anxiety but that she hadn't drunk alcohol in three days. The officer disputed that, saying she smelled of booze.
In the report, Johnson told police she had gotten off work at The Cosmopolitan of Las Vegas at 11 p.m. the day before and was on her way home. A representative of the resort said Friday that Johnson was not an employee there.
"The suspect had no emotional connection to the crash, as she started to laugh and showed no apology for killing one person and injuring another," an officer wrote in the report.
Toxicology reports are pending.
It's not the first time Johnson, who also goes by Nicole Tanguay, has faced charges of driving under the influence.
She was arrested in December 2002 in Riverside, Calif., and charged with DUI and possession of controlled substances. She plead guilty to both charges and was sentenced to 36 months of probation, according to court records.
Potential effects of planned Metro change
Although Metro stopped responding to many crashes when no one was hurt in 2014, that will soon change.
Sheriff Joe Lombardo told the Review-Journal on Tuesday that his department would begin to respond to all crashes again next year.
That will mean more paperwork gets filed, and that officers responding to crashes could have access to more of a driver's history.
Jurewicz said since he hopes speaking up will let Bryan's family and Kustudia know more about Johnson.
"She should've been at home feeling sorry for herself, not back on the road a half-a-block away from where she ran into me," he said.
Contact Kimberly De La Cruz at kdelacruz@reviewjournal.com or 702-383-0381. Find her on Twitter: @KimberlyinLV. Contact Ricardo Torres at rtorres@reviewjournal.com or 702-383-0381. Find him on Twitter: @rickytwrites.