Woman accused of stealing watch during massage headed for trial
September 24, 2014 - 8:15 pm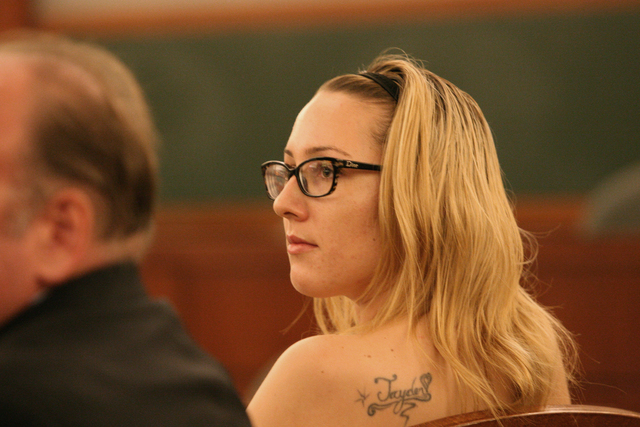 A 26-year-old woman must stand trial on grand larceny charges that she stole a $35,000 Rolex Presidential watch from a man during a naked $300 massage.
After a preliminary hearing Wednesday, Las Vegas Justice of the Peace Diana Sullivan decided that prosecutors had enough evidence to take their case against Christina Lafave to a jury.
Lafave faces two felony counts, grand larceny and possession of stolen property. If convicted, Lafave faces one to 20 years in prison. She remains free on her own recognizance in the case.
The first witness called was Lafave's accuser, 67-year-old Kenneth Herold of California. He described staying at Wynn Las Vegas in January and meeting Lafave late one night at the resort's B Bar.
After an hour of chit-chat and some drinks, the two headed upstairs to his comped suite, with its own massage room, where Herold said he agreed to pay $300 for a massage.
He testified he paid Lafave the money before the two of them both got naked and the massage began.
A few minutes into the massage, Lafave asked Herold to take off the watch so she could massage his arms, he testified. He placed the watch on the floor below the massage table, and about five minutes later, it was gone, he said.
Herold accused Lafave of stealing his watch. Lafave denied it, but the watch was nowhere to be found.
Wynn security guards soon arrived, followed by Metro vice detectives.
Detectives later testified that they searched the suite twice for the watch but still couldn't find it.
Detective Brandon Englert said that Lafave later confessed to him that she took the watch and hid it in her vagina.
Another officer said Lafave was so uncomfortable that she even tried to remove it herself but couldn't.
She was taken to University Medical Center, and a search warrant was signed, according to testimony. Medical staff then helped recover the watch.
Herold said the next day police returned the watch to him.
During his cross examination of Herold, defense lawyer Chris Rasmussen suggested Herold had sought more than a massage from Lafave. He asked Herold whether he offered the watch to Lafave so she would perform oral sex on him without a condom.
He denied that accusation and denied seeking any sexual favors from Lafave.
"So you just wanted a naked massage for $300?" Rasmussen asked. Herold, who wore the watch to court, said yes.
Prosecutor Elana Graham said before Wednesday's hearing that Lafave was offered a deal that would have ended the case and netted her a sentence of probation. She only needed to plead guilty to possession of stolen property.
The defendant declined the offer.
For his part, Herold declined to comment following his testimony before returning to the Wynn.
Contact Francis McCabe at fmccabe@reviewjournal.com or 702-224-5512. Find him on Twitter: @fjmccabe