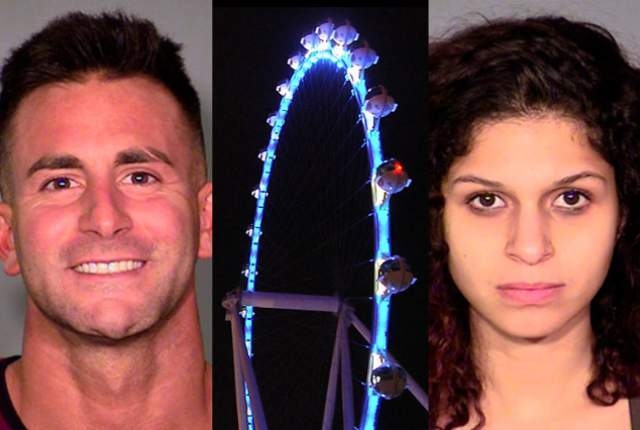 Chloe Scordianos, the woman caught on video having sex in the High Roller on her 21st birthday, pleaded no contest Monday to a misdemeanor disorderly conduct charge.
Scordianos, of Hicksville, New York, entered the plea through court papers she signed in her home state.
She is not expected to appear in Las Vegas courtroom, according to her lawyer, Chris Rasmussen.
A surveillance video police said caught the action Feb. 5 on the Caesars Entertainment Corp. attraction at The Linq on the Strip has not been made public.
Her partner in the observation wheel affair, Philip Frank Panzica III, 27, was shot and killed in his hometown of Houston in March. He had been expected to plead guilty to misdemeanor disorderly conduct, his lawyer, Bennair Bateman, said.
On the afternoon of the tryst, a security officer noticed the only passengers in Cabin 16, Panzica and Scordianos, smoking and undressing.
Linq security officers called Las Vegas police after the pair rejected two requests to stop what they were doing.
The 550-foot-diameter wheel with 28 cabins, each large enough to hold 40 people, continued rolling. At the end of the 30-minute ride, the fully clothed tourists were pulled from the giant glass ball and taken to jail.
It wasn't the first time people have been spotted having sex in the all-glass cabins of the world's tallest observation wheel, which opened in 2014 and is billed as "The Happiest Half Hour in Vegas," police said. At the time, there had been eight reports of indecent exposure on the attraction.
Contact David Ferrara at dferrara@reviewjournal.com or 702-380-1039. Find @randompoker on Twitter.