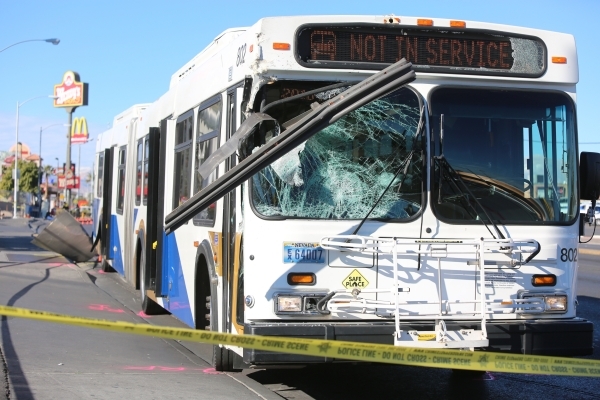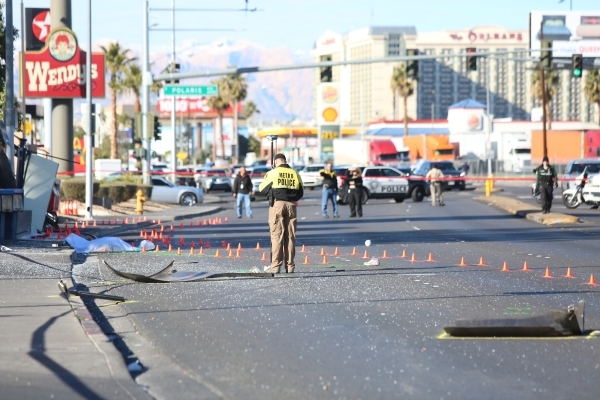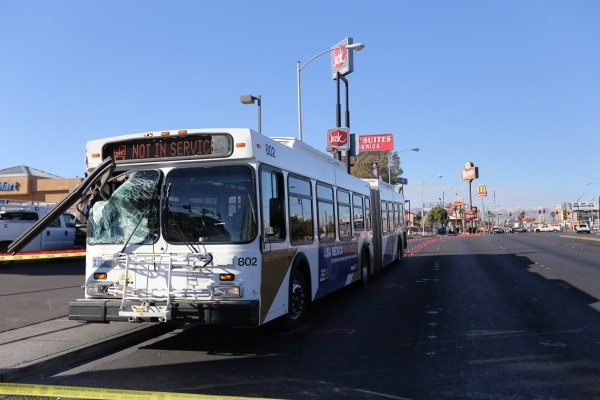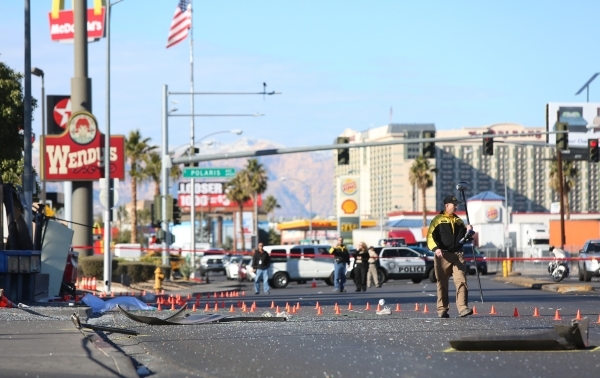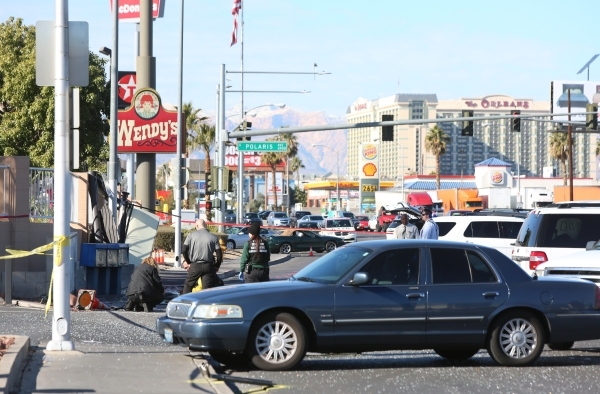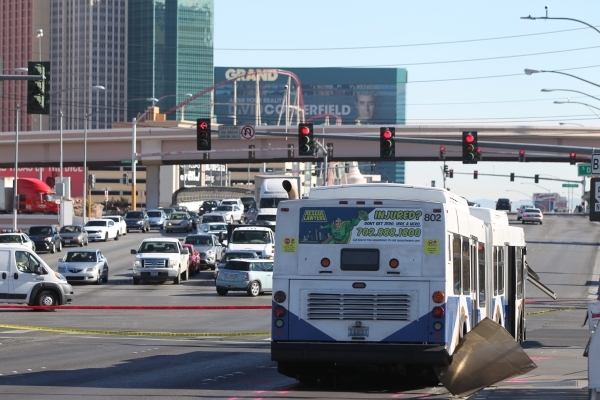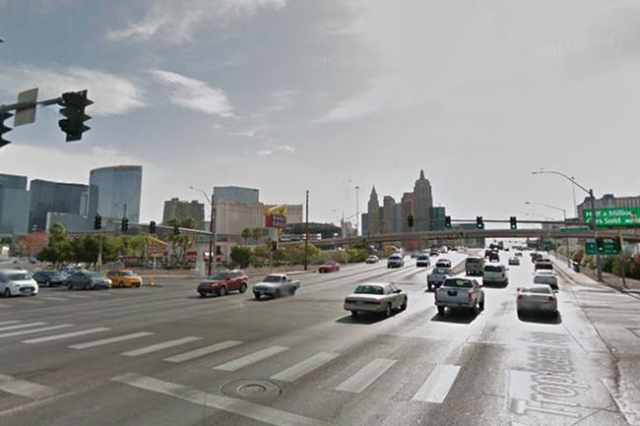 A woman walking on a sidewalk just west of the Strip early Saturday was struck and killed by a Regional Transportation Commission bus that veered off the road "for unknown reasons," Las Vegas police said.
The pedestrian was heading east on Tropicana Avenue around 5 a.m. before the crash. She had just passed Polaris Avenue, walking toward Dean Martin Drive, when the bus came up onto the sidewalk and slammed into a bus shelter, then hit her before swerving back into the road and coming to a stop.
Medical personnel responded to the scene, where she died.
On impact, part of the mangled bus shelter impaled the bus's upper right windshield.
Below that pierced portion of windshield, a large spider-web crack could be seen from where the woman was hit.
Metro identified the bus driver Saturday afternoon as 22-year-old Jamal Nichols. RTC spokeswoman Angela Castro clarified that Nichols was not technically an RTC employee but rather an employee of Keolis Transit America, a system operator that contracts drivers in the southern valley.
Keolis spokesman Bill Marion said nine other people were on the bus during the crash but were not injured. He would not say how long Nichols had been employed and what consequences he may face.
"It's an ongoing investigation with Metro," Marion said, adding he would not comment further until it was complete. "We are cooperating fully."
About seven hours later after the crash, RTC Southern Nevada posted on Twitter.
"This morning's accident is a terrible tragedy and our deepest condolences go to the victim's family," the post read. "As always, (RTC Southern Nevada) remains committed to ensuring public safety."
Investigators were on the scene after the crash for several hours, blocking traffic until about 2 p.m. They marked off the bus's path with cones and walked over shards of glass, littered throughout the sidewalk and street.
The woman's body lay where it was left — across the curb, partially in the road, partially on the sidewalk — and was covered with a sheet. Her identity will be released by the coroner's office after her family has been notified.
A few feet away, her two sneakers — gray with white and pink soles — sat in the street.
— Review-Journal reporter Christian Bertolaccini and Review-Journal photographer Brett Le Blanc contributed to this story. Contact Rachel Crosby at rcrosby@reviewjournal.com and 702-387-5290. Find her on Twitter: @rachelacrosby.