Woman sentenced in videotaped child sex acts case
March 20, 2016 - 12:21 pm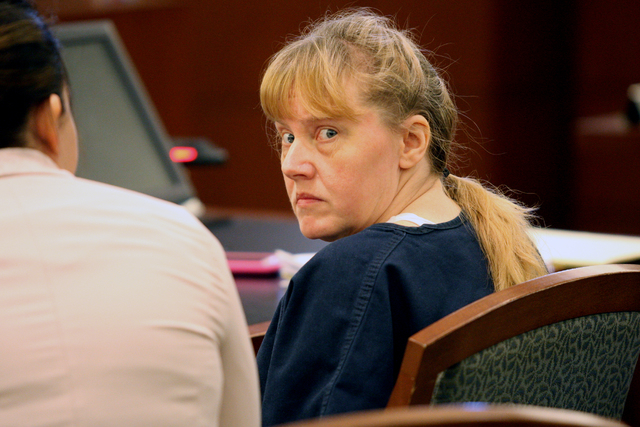 A 49-year-old woman who prosecutors say participated in videotaped sex acts with children was sentenced to 10 years to life in prison Thursday.
In handing down the mandatory sentence for one count of sexual assault, District Judge Kerry Earley referenced a psychologist's report that stated Deborah Sena was "coerced" by her husband, Christopher Sena, to commit repeated acts of abuse.
"I know there are two sides to every story," the judge said. "And I did not walk in your shoes, ma'am."
Victims in the case, along with Deborah Sena's relatives, wrote letters that said she was a victim of years of physical and emotional abuse at the hands of her husband.
Earley pointed to "tragedy all around" in the case.
Sena stood in shackles, wearing blue jail fatigues and clutching tissues, dabbing tears from her eyes. Her lawyer, Josh Tomsheck, said she was too nervous to speak.
Defense lawyers and victims in the case have repeatedly said they believed she was a victim who was forced into the attacks by her husband, who faces 124 counts, including sexual assault of a minor, lewdness with a child, incest and use of a minor in the production of pornography, and is awaiting trial.
Chief Deputy District Attorney Mary Kay Holthus said prosecutors sought justice in the case.
"I'm a mom," she said. "I don't understand. I will never understand how (Deborah Sena) did this, why she did this."
In a 20-page report, psychologist Karla Fischer wrote that Sena was controlled by her husband.
"Just because she did not overtly resist does not mean that she freely abused the children," Fischer wrote. "In my opinion, the opposite is true: that the lack of resistance demonstrates that he had exacting control over her."
For more than a decade, Christopher Sena wielded control over wife Deborah, and ex-wife, Terrie Sena, and their children through intimidation and abuse.
He would monitor phone calls and tell the women how to dress. He prohibited them from making friends. He set up video cameras around their trailer, inside and out, watching them at all hours.
If they didn't obey his orders, the children would be beaten and sexually attacked inside their home in the 6000 block of Yellowstone Avenue, the accusers said in the letter and in court testimony. The Las Vegas Review-Journal typically doesn't identify the names of sexual assault victims.
After Las Vegas police learned of the abuse allegations in September 2014, a SWAT team served a warrant at the family's trailer south of Nellis Air Force Base, and Sena was arrested. He remains in jail on $11 million bail. Three months after his arrest, authorities said they had learned that Sena videotaped sexual abuse of the children, and his wives were charged.
Terrie Sena, who pleaded guilty to one count of sexual assault, was sentenced to 10 years to life in prison.
Victims said they tried to tell prosecutors about the repeated abuse that Terrie and Deborah Sena suffered. Christopher Sena does not face any charges related to attacks on the women.
Defense lawyers said the women could have faced much longer prison terms if they took the case to trial.
Contact reporter David Ferrara at dferrara@reviewjournal.com or 702-380-1039. Find him on Twitter: @randompoker
RELATED
Judge: Jury should decide fate of woman charged in videotaped sex acts
Woman accused in sex abuse case a licensed CCSD sub
Trio kept juvenile sex abuse quiet via intimidation, police say