Woman slain in central valley stabbing remembered by family, friends
August 28, 2015 - 3:55 pm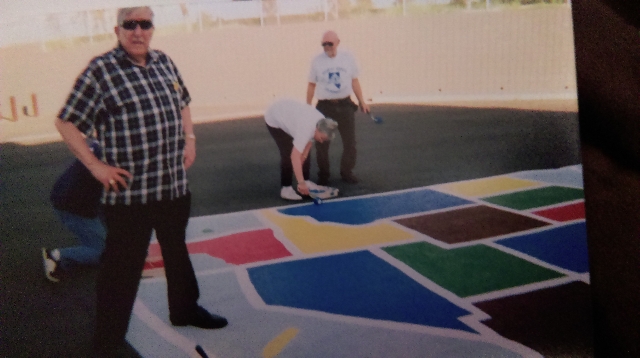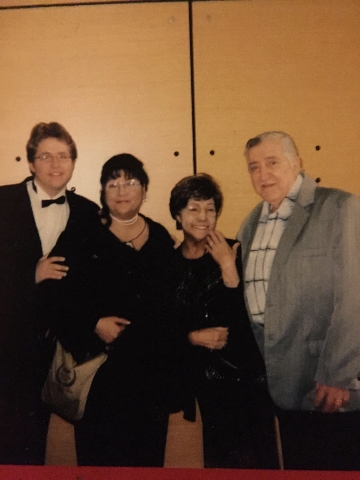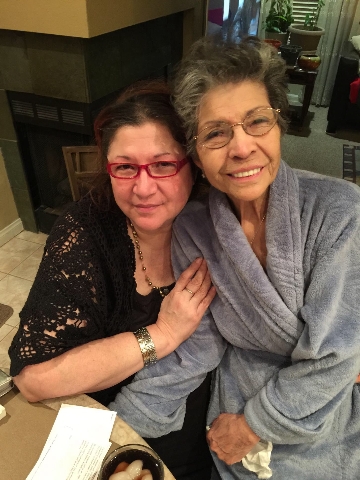 At 84, Mary Luebeck had beaten the odds.
She left a life of poverty in Puerto Rico, worked hard in New York and Chicago, then retired to Las Vegas, where she also beat cancer.
In the Las Vegas chapter of her story, Luebeck tried to improve the odds of others. She and her husband spearheaded the Hug-A-Bear program, which made nearly 30,000 teddy bears for law enforcement agencies in Southern Nevada to give to children who'd been dealt a bad hand.
But at the end of Mary Luebeck's life, the odds turned against her.
Her adult daughter went to see her July 29. When she got to her mother's house in the 3200 block of Opera Drive, near the intersection of Decatur Boulevard and Desert Inn Road, it was ransacked.
Her mother had been stabbed to death.
Margarita Balandova, 28, was arrested Aug. 7 and faces charges of murder, arson, robbery, home invasion and burglary. Balandova is awaiting trial.
"I don't understand why anyone would ever do that," daughter Linda Luebeck, 60, said. "Do you have no regard for a person's life?"
Finding love and work
Born Mary Antonia Cruz in April 15, 1931 in Utuado, Puerto Rico, she was one of 13 children, her daughter said. Mary grew up on a farm and didn't have much.
Her father, a farmer, died of polio in the late 1930s, prompting her mother to send Mary to live with an aunt and uncle in New York City as a young teen in the early 1940s.
As a teen, she worked checking coats at a New York hotel, her daughter said. It was there, at age 16, that she met future husband Karl Luebeck. He was 16, too.
They married less than a year later, in 1947, and as Mr. and Mrs. Luebeck moved back to his hometown of Chicago.
"My mom and dad were both very poor growing up," Linda Luebeck said. "They worked very hard to earn everything they had."
After Karl Lubeck's stint in Germany with the Army, the husband and wife were offered jobs with AT&T in the Chicago suburb of Skokie, Ill., the daughter said. And they both stayed for the rest of their working lives.
After 35 years as an electronics inspector, Mary Luebeck and her husband retired at age 55, leaving the Chicago area in 1987 to build their dream home in Las Vegas.
It was there she began a new life of community service.
"She came from nothing and achieved the American Dream," Linda Luebeck said. "And she worked tirelessly to give back her time to those who needed it."
Service in retirement
Just months after moving to the valley, Luebeck and her husband joined the Desert Sands Life Member Club, a Las Vegas affiliate of the Telephone Pioneers of America volunteer organization. The organization, made of 600,000 retired telephone industry workers, aims to be a "world-class leader in volunteerism," its website says.
Hug-A-Bear was a Pioneers program. Members made the stuffed animals from scratch in their living rooms, and sometimes at Las Vegas police headquarters.
A couple times each month, the roughly 20-member group would meet to stencil and cut fabric, stuff the fabric with cotton and sew it closed. Besides Metro, the group provided bears to police in North Las Vegas and Henderson and to the Nevada Highway Patrol.
"It was a new thing when they did that," said former Clark County Sheriff Jerry Keller, who led the agency from 1995 to 2003.
During Keller's eight years as sheriff, Metro gave the bears to children of families "in crisis," Keller said. They were homeless, or had been in car crashes. Sometimes their parents had been arrested on charges of domestic violence.
"Most children don't know what's going on in situations like that," Keller said. "The bear was there to help get them through the trauma."
Mary Luebeck was among the most dedicated of the Pioneers, said fellow Pioneer and close family friend Michael Corta.
And chatty.
"She was a fiery, talkative lady," said Corta, 84, of Las Vegas. "She had everything going for her."
"She could sew almost as fast as she could talk," Corta added.
Unlike most of the group's members, Mary Luebeck was involved in all of the Las Vegas-based Telephone Pioneers' volunteer activities, Corta said. In addition to the Hug-A-Bears, the Pioneers built lap trays for children in wheelchairs, "beep" balls for visually impaired baseball players and also painted U.S. maps of on local elementary school playgrounds.
But as its members grew older, the Desert Sands Life Member Club disbanded in 2008, and the bear program ended.
"She was a fabulous person," Keller said about Mary Luebeck. "And just that whole group, they were so committed to the community and to each other. They were great."
Loving Las Vegas
Even after living in New York and Chicago, her daughter and family friends said, Las Vegas was Mary Luebeck's favorite city.
Lights, sights and entertainment gave her a thrill, they said. And she liked trying to beat the odds here, too.
She was a regular at the Gold Coast Casino, going up to three times a week to socialize and play the one-armed bandit, hoping to line up triple 7's.
"Boy, did she love that," Corta said with a laugh.
In early 2008, Mary Luebeck fell ill with Merkel cell carcinoma, a rare and fast-spreading skin cancer that most often develops in older people.
After months of intense radiation treatment, her daughter said, Mary Luebeck was struggling.
In early 2009, Linda Luebeck called a Catholic priest to perform the Anointing of the Sick sacrament, delivered to those in danger of dying.
But two days later, her mother was released from the hospital.
"I truly believe it was a miracle," Linda Luebeck said. "The doctors didn't think she'd survive."
Following her recovery, Mary and Karl Luebeck lived happily together for five more years until his death in May 2014.
With her father gone, Linda Luebeck, who followed her parents to the valley in 1997, said her relationship with her mother became closer than ever.
When Linda Luebeck wasn't on the phone with her mother, she said, the two would visit at Mary Luebeck's central valley town home, watching shows like TNT's "Proof."
"She was my mother, but my best friend, too," the daughter said.
And since Mary Luebeck's mother had lived to be 103, and her grandmother to be 104, her daughter figured the odds were in their favor for years to come.
"She was so healthy and had so much of her life still in front of her," Linda Luebeck said. "We were ready for two more decades together."
Contact Chris Kudialis at ckudialis@reviewjournal.com or 702-383-0283. Find him on Twitter: @kudialisrj