Woman testifies Metro officer boyfriend told her, 'You're going to die'
February 5, 2016 - 5:04 pm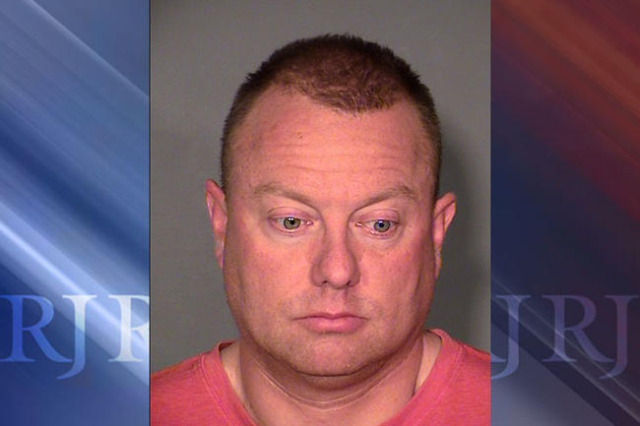 A Metropolitan Police Department officer told his live-in girlfriend, "You're going to die," as he dragged her by the neck across their living room floor and slammed her onto a couch, she testified in court Friday.
The 41-year-old James "Jimmy" Burt, a 10-year veteran of the force, faces four felony charges: one count of first-degree kidnapping, two counts of domestic battery by strangulation and one count of coercion with force or threat of force.
Kelly Ryan testified during a preliminary hearing that she arrived home at 7:45 p.m. Jan. 11, in the midst of a text message quarrel with Burt, who confronted her the moment she stepped through the door.
He held a pad of paper that contained two pages of "topics" in their relationship he wanted to discuss.
She walked into the kitchen, where she started to clean dishes and tried to stay quiet.
"You're shutting me out," she said he told her. "We need to talk about this."
Suddenly, he approached her at the sink, stood face-to-face and yelled, "Get the f–k out," Ryan said as she described the start of a two-hour struggle in their southwest valley home.
She grabbed her cell phone and car keys and walked to her car. He had thrown her shoes across the garage. As she slipped into the driver's seat, he yanked the door open, pulled the garage door opener from the visor and hurled it against a wall.
The 6-foot, 230-pound Burt pulled his 5-foot-1-inch, 125-pound girlfriend out of her car, wrapped his right arm around her neck and left arm around her body, dragged her inside and said, "I wasn't going anywhere," she testified through tears.
He wrapped his hand over her mouth. She said she had trouble breathing.
"Be quiet," she said he told her. "Be quiet. Shh. People are going to hear you. Stop crying. Stop crying."
She heard a crack and thought he had broken her jaw. She escaped his grasp, tried to run back to the garage, and "he threw me on the other couch," she said.
He put his hand over her mouth again, and yanked her body off the floor, with an arm still around her neck. She said her vision began to blur.
"At this time, he said — I don't have the exact words — 'You're going to die right here' or, 'We're going together right now,'" she testified. "And he's covering my mouth, and I'm thinking I'm going to die."
On cross-examination, defense lawyer Warren Geller suggested that Burt had been referring to the couple's relationship and actually said, "Do you want this to die?"
She managed to free herself and run back to her car. But he followed and climbed into the passenger seat.
Eventually, she said, Burt started to calm down and pleaded with her, "telling me he needs help."
She convinced him to let her go, and she made her way to a hospital, where she was questioned by police.
There had been other attacks, too, she said, that she did not report to authorities "out of embarrassment… and I thought he wouldn't do it again."
Burt also faced domestic violence charges in 2011, when he was arrested on two counts of domestic battery, coercion with force and kidnapping involving his then-wife.
That case was dismissed less than six weeks after he was arrested, and the couple divorced about a year later.
In 2009, Burt was one of three officers who shot and killed 35-year-old Edmundo Del Valle Jr. during a downtown Las Vegas confrontation. An inquest found the shooting was justifiable.
Burt remains suspended without pay, according to his attorney.
The preliminary hearing is scheduled to resume in March, when Las Vegas Justice of the Peace Melanie Tobiasson could determine whether prosecutors have enough evidence to present the case to a jury.
— Contact reporter David Ferrara at dferrara@reviewjournal.com or 702-380-1039. Find him on Twitter: @randompoker.