Work delayed on pedestrian bridges at Las Vegas Strip, Tropicana
March 14, 2016 - 12:05 pm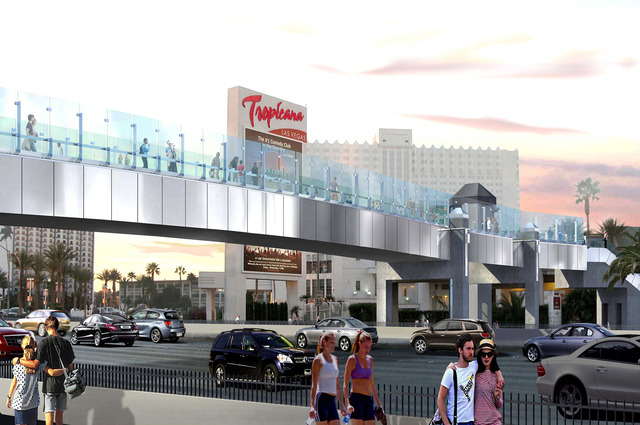 CARSON CITY — Locals and visitors alike looking forward to upgraded pedestrian bridges at the Strip and Tropicana Avenue will have to wait a few months more before the project gets underway.
Rudy Malfabon, state Transportation Department director, told the Transportation Board on Monday the major construction has been put on hold until June to allow for a smooth opening of MGM Resorts International's new 20,000-seat arena. The T-Mobile Arena is to open April 6.
The delay will also ensure no disruptions during Cinco de Mayo festivities.
Utility work was expected to begin on the $35 million project in April. Now it won't begin until May 11 with construction commencing on the south bridge, the first of four, in June.
The state Transportation Board in September approved the contract with Whiting-Turner Contracting Co. to install escalators and make other improvements to the structures. The project is scheduled for completion by mid-2018.
Whiting-Turner will replace 16 escalators, four at each corner, with state-of-the-art equipment while installing low-energy glass and air-conditioning units for elevators.
"These are the first and oldest pedestrian bridges in Southern Nevada," said Lynnette Russell, the Transportation Department's assistant chief of project management. "These structures serve roughly 130,000 pedestrians a day, making them (among) the busiest crossings in the state."
The 16-foot-wide, 165-foot-long concrete-and-steel structures each have 17-foot clearance heights. The bridges provide crucial connections between the MGM Grand, Tropicana, Excalibur and New York-New York resorts.
There have been frequent escalator system failures with the bridges.
The bridges will remain open during the construction process through the use of the stairs and elevators. For some of the work, there will be an inconvenience factor where pedestrians will have to take a longer trip using three bridges to avoid the closed structure.
"This project will greatly improve the safety and efficiency of pedestrian traffic flows at one of the most active pedestrian corners in the state," department spokesman Tony Illia said. "It will also create a sleek contemporary look consistent with the newer pedestrian bridge crossings along Las Vegas Boulevard, injecting some new glamour to the Strip."
Contact Sean Whaley at swhaley@reviewjournal.com or 775-461-3820. Find him on Twitter: @seanw801