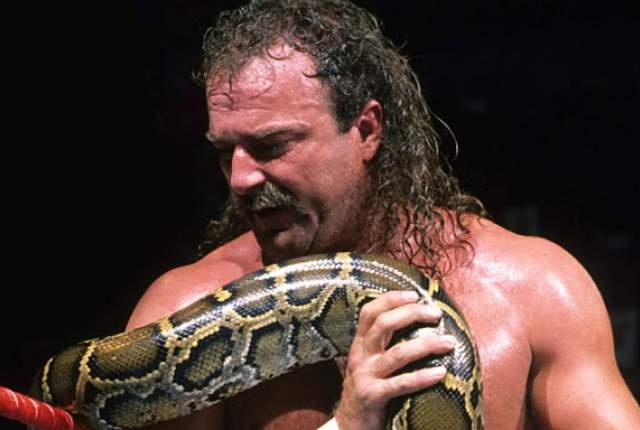 Professional wrestler Jake "The Snake" Roberts is hospitalized in a Las Vegas intensive care unit after falling ill on an flight headed here.
Roberts, 59, known for his time as a WWE wrestler, was on a flight to McCarran International Airport on Wednesday to attend Friday night's Freakshow Wrestling event, according to a producer for Freakshow. Roberts was taken straight from the plane to ICU at a local hospital.
The wrestler was diagnosed with double pneumonia, show producer Jenn Neal, a performance artist who also goes by Jenn O. Cide, said Friday. Double pneumonia affects both lungs.
Neal said Roberts is a fighter. He is sedated but stable and "doing all right."
Freakshow Wrestling will go on, Neal said. The show feature a number of clowns, side-show performers and wrestlers, including the Amazing Jonathan and Sinn Bodhi, Neal said.
Long-time friend and fellow wrestler Rikishi may fill in for Roberts, Neal said. Bodhi has been by Roberts' side since Wednesday.
Roberts rose to wrestling fame in the 1980s, introducing his signature finishing move called DDT and his beloved pet python, Damien.
Freakshow will take up a collection to help with Roberts's medical bills.
And if Roberts is up for it, Neal said, she hopes to get him on the phone during the show so people can wish him well and Roberts can thank everyone for their support.
"It's one of the best feelings," Neal said, "knowing people still give a damn."
Doors to Freakshow Wrestling are scheduled to open at 8 p.m. Friday at Hell Town, a horror-themed film studio and back lot. That's at 6425 W. Richmar Ave., near Rainbow Boulevard and Blue Diamond Road.
Contact reporter Cassandra Taloma at ctaloma@reviewjournal.com or 702-383-0381.