WWII vet Gene Stephens celebrates turning 100 in Las Vegas
Updated July 12, 2018 - 10:32 pm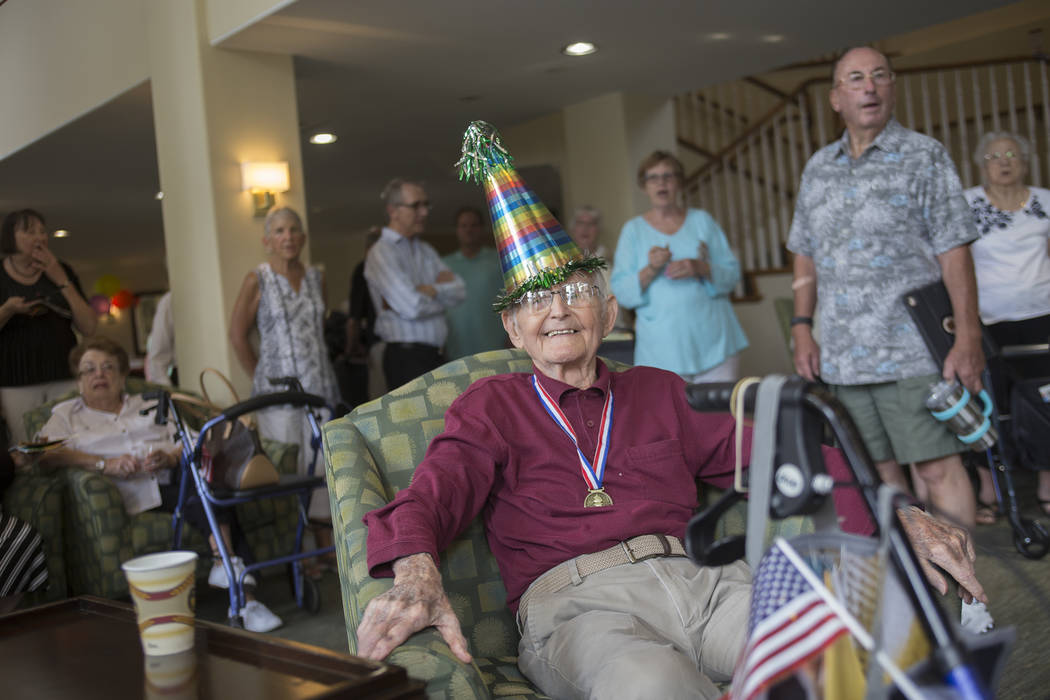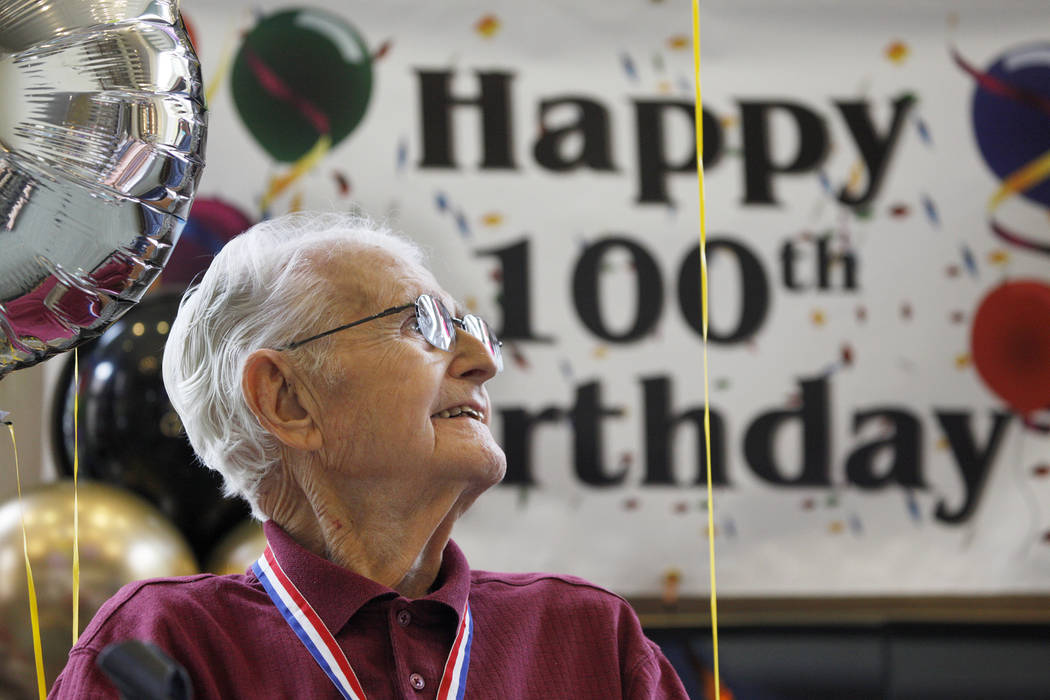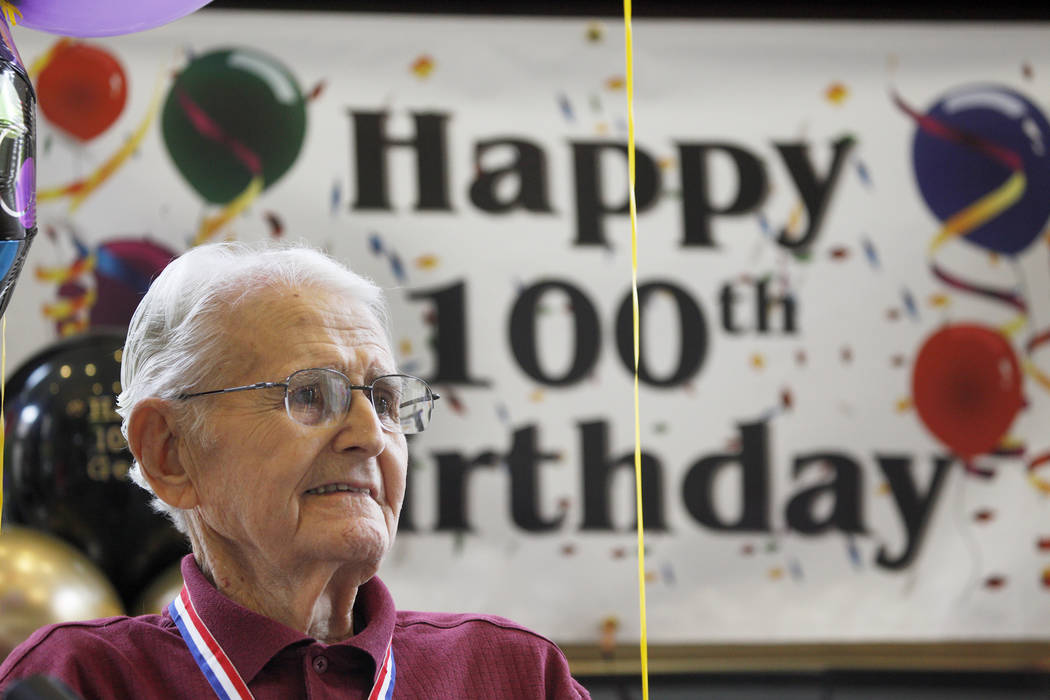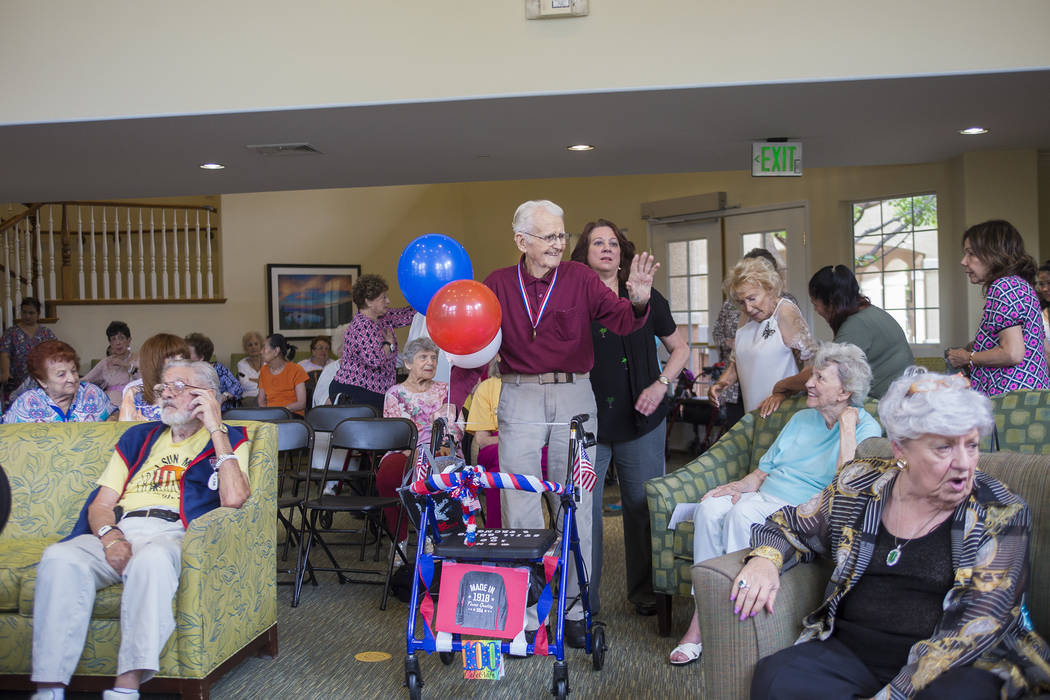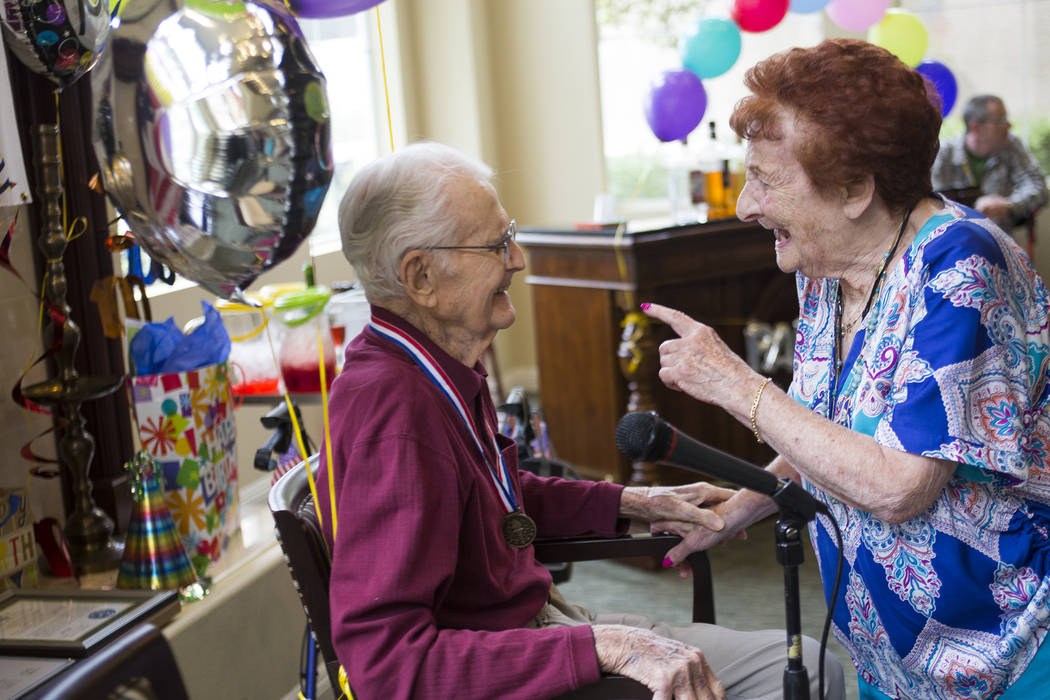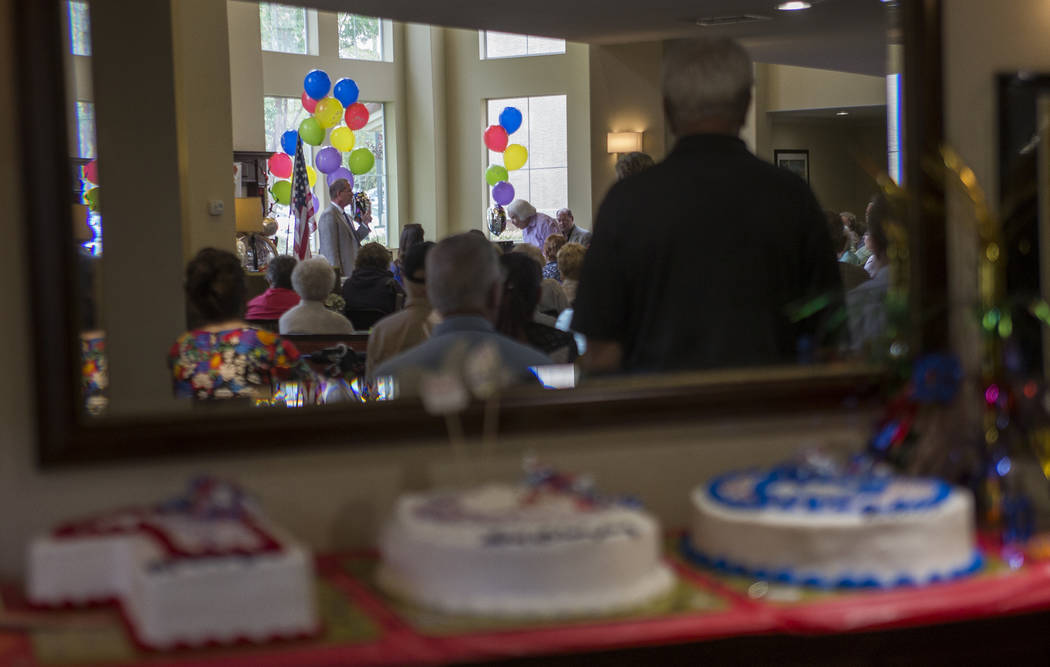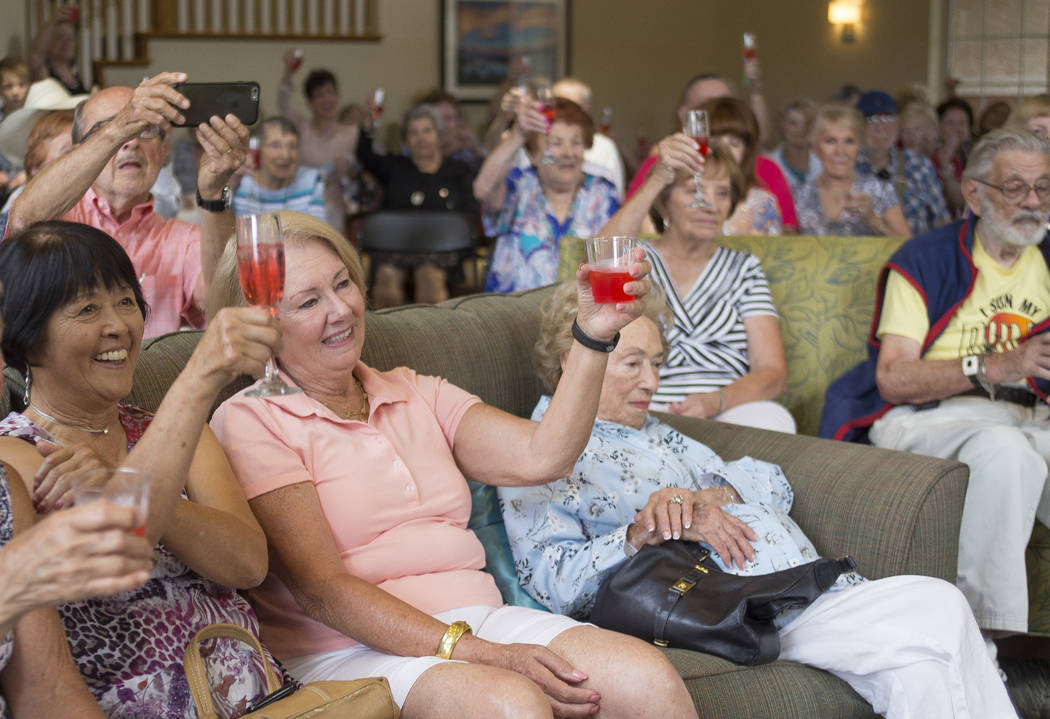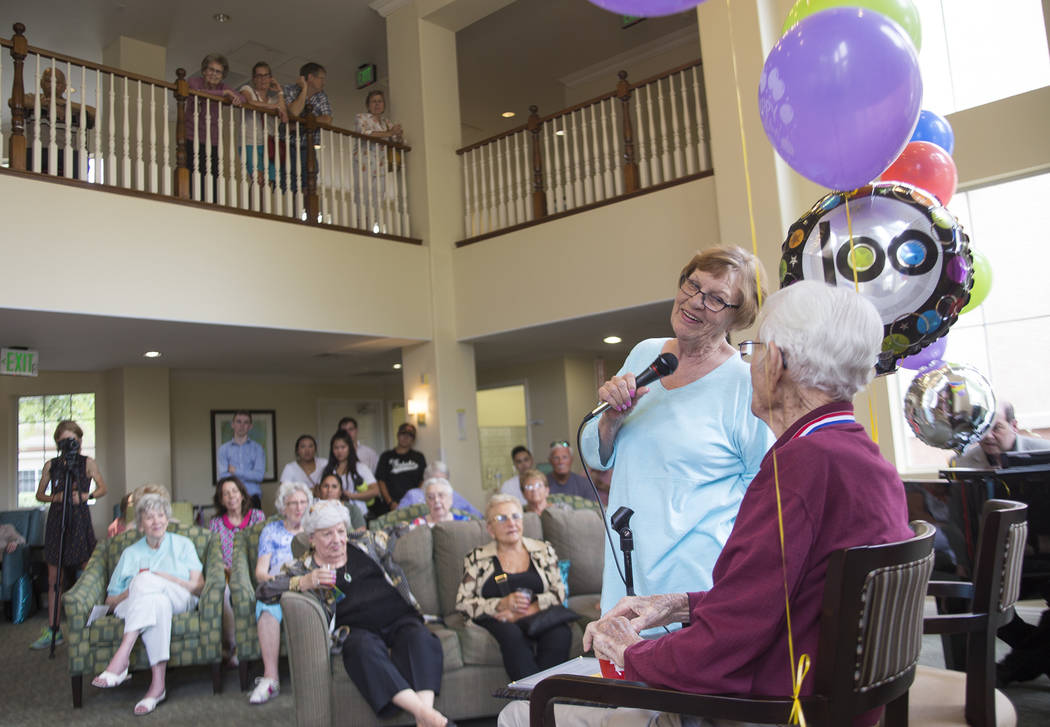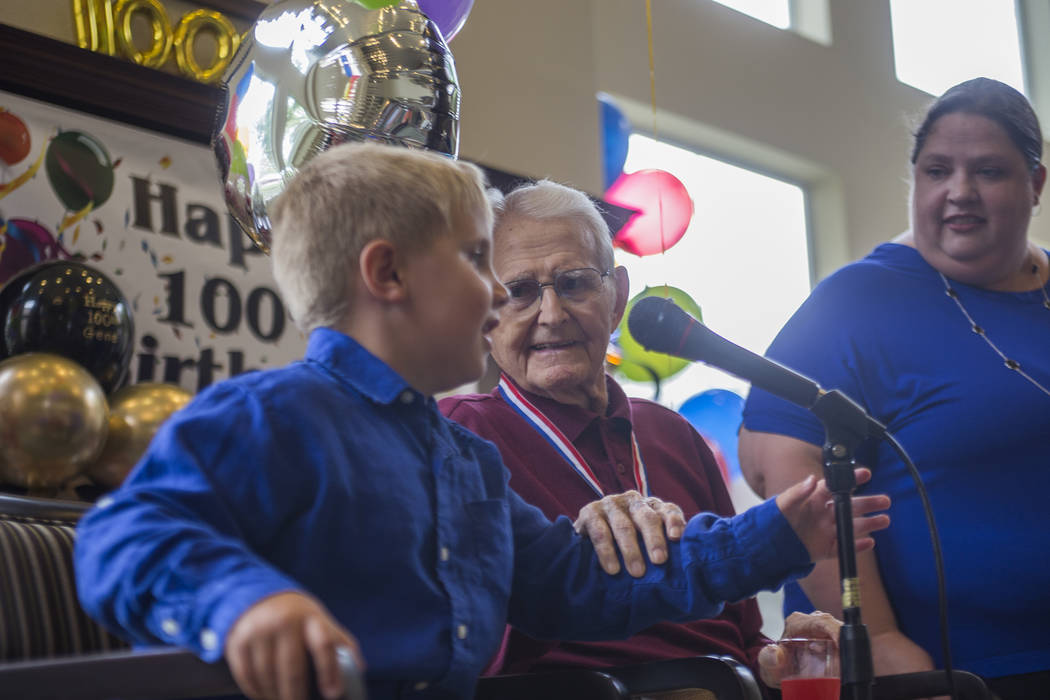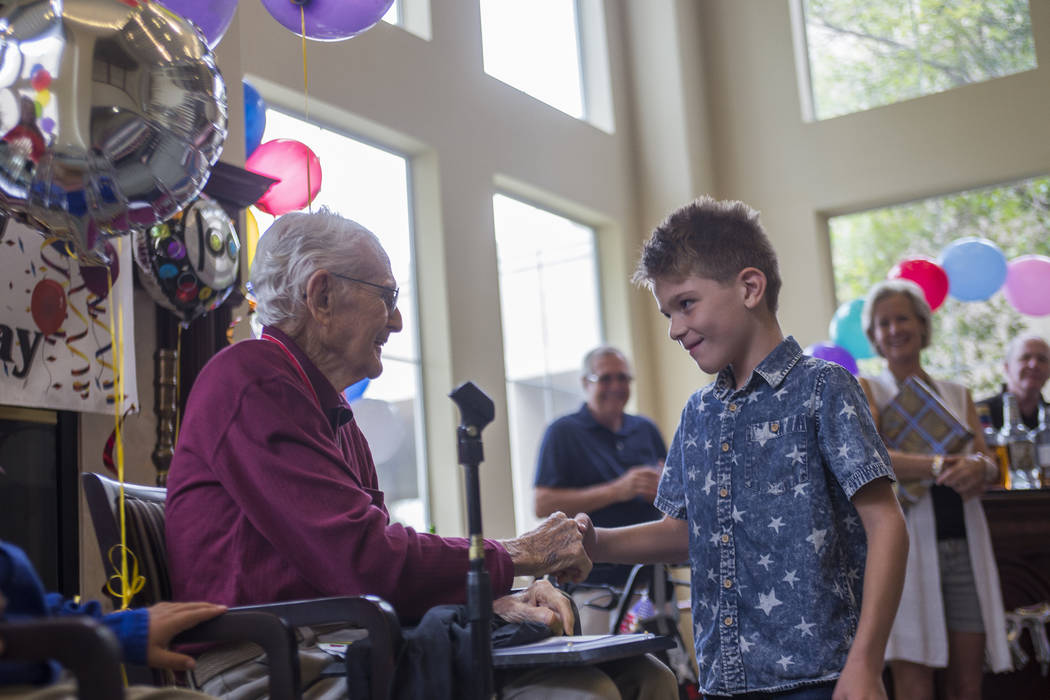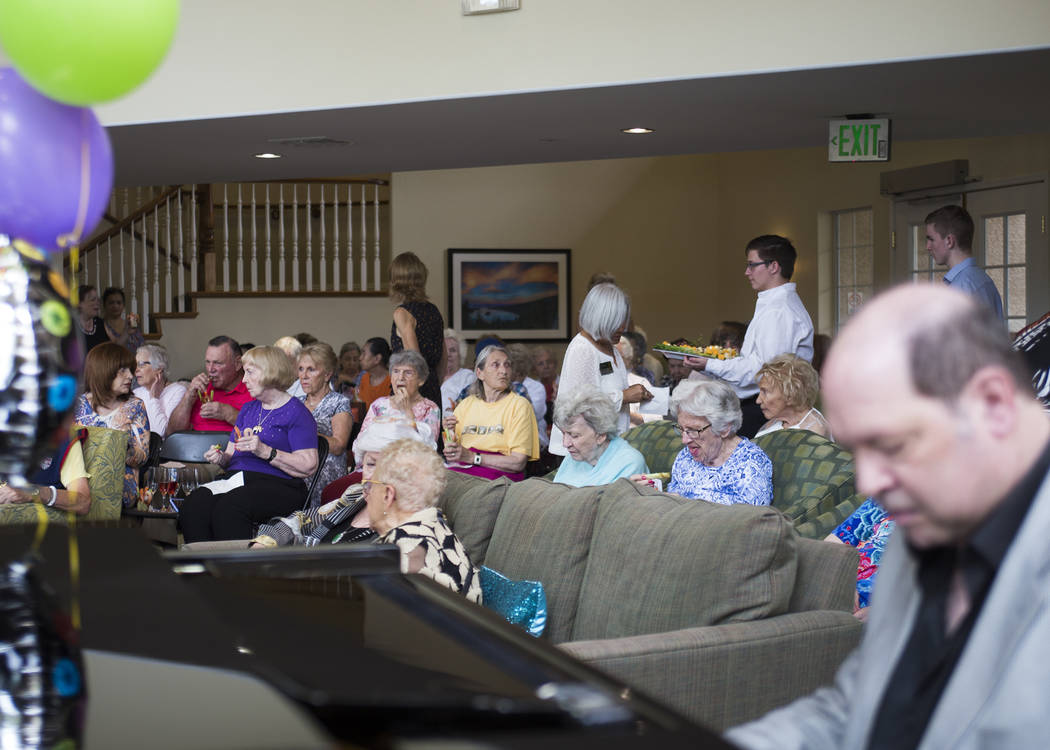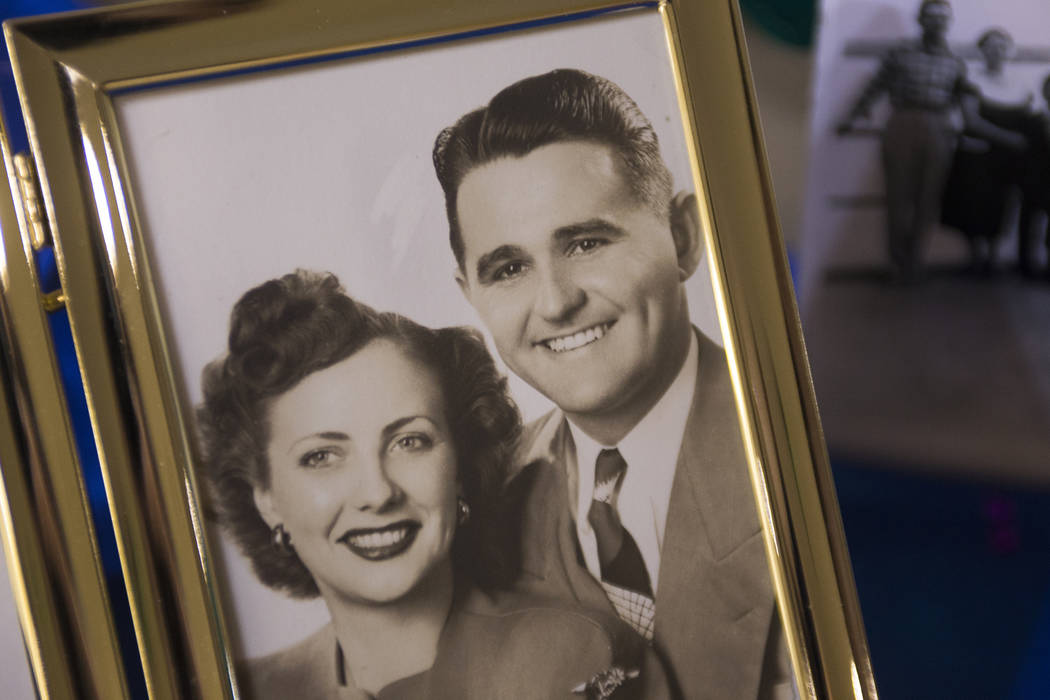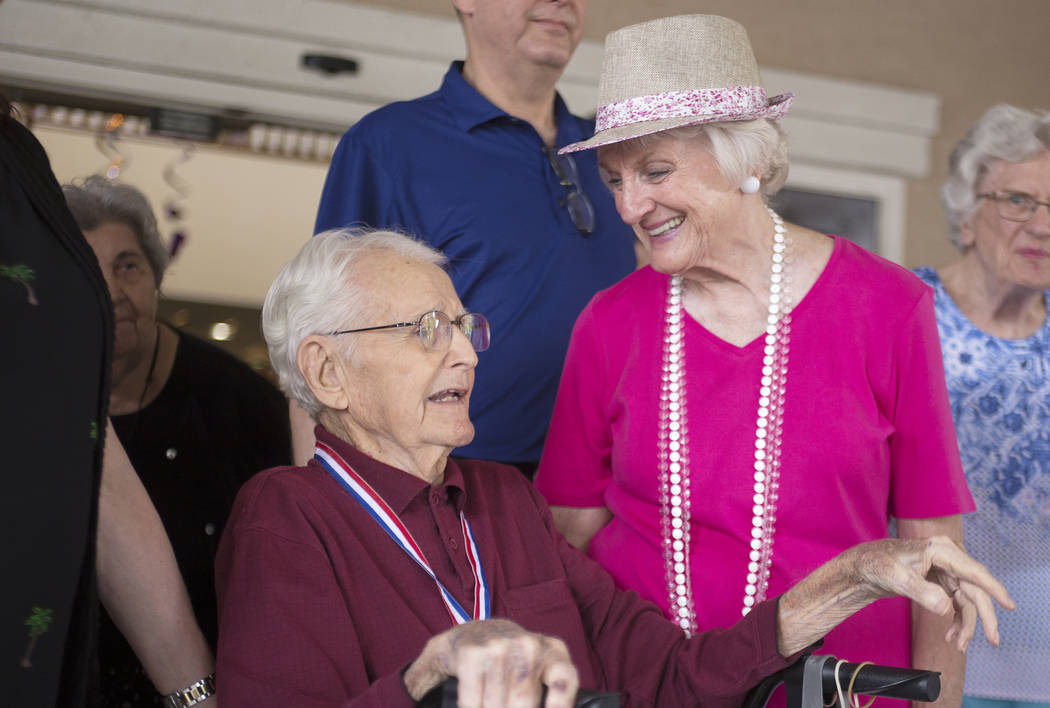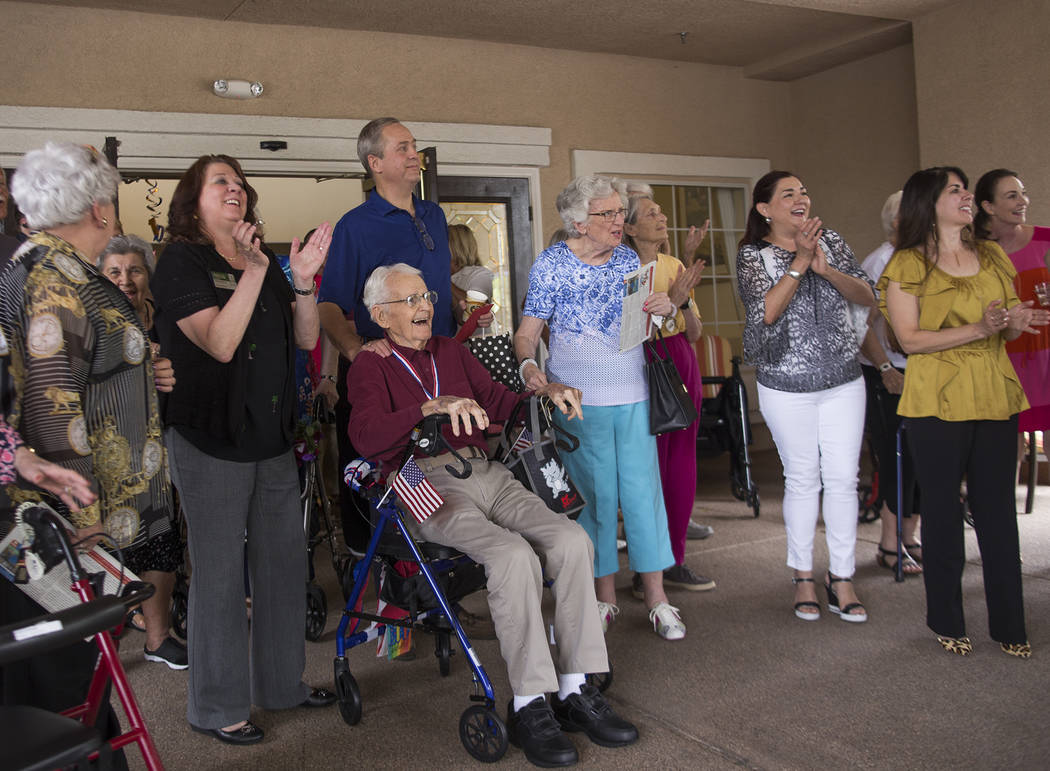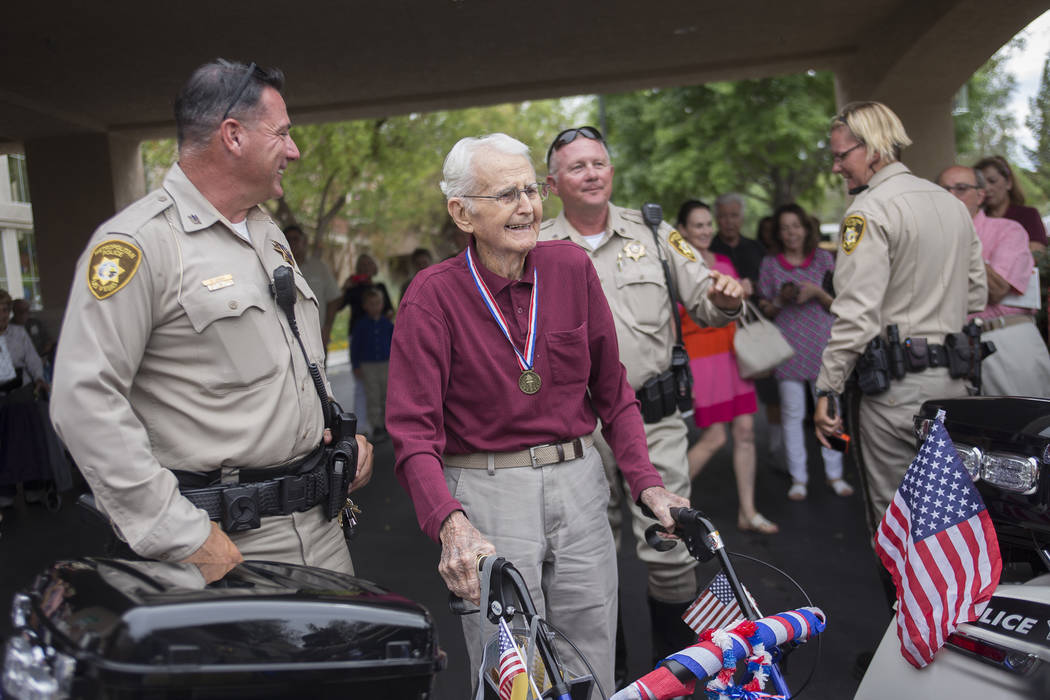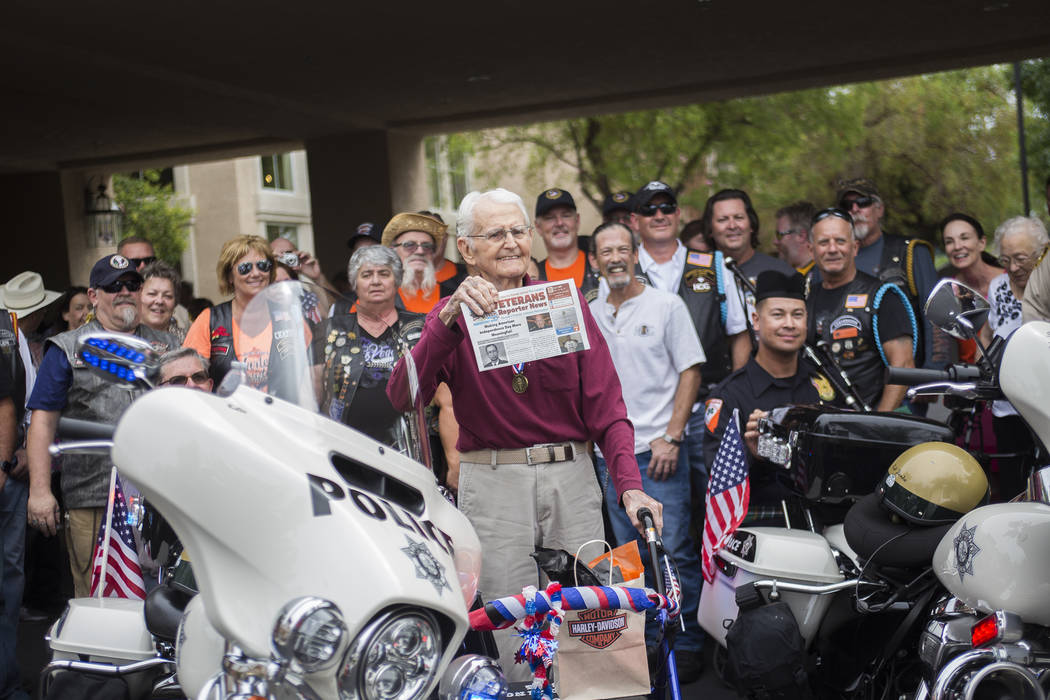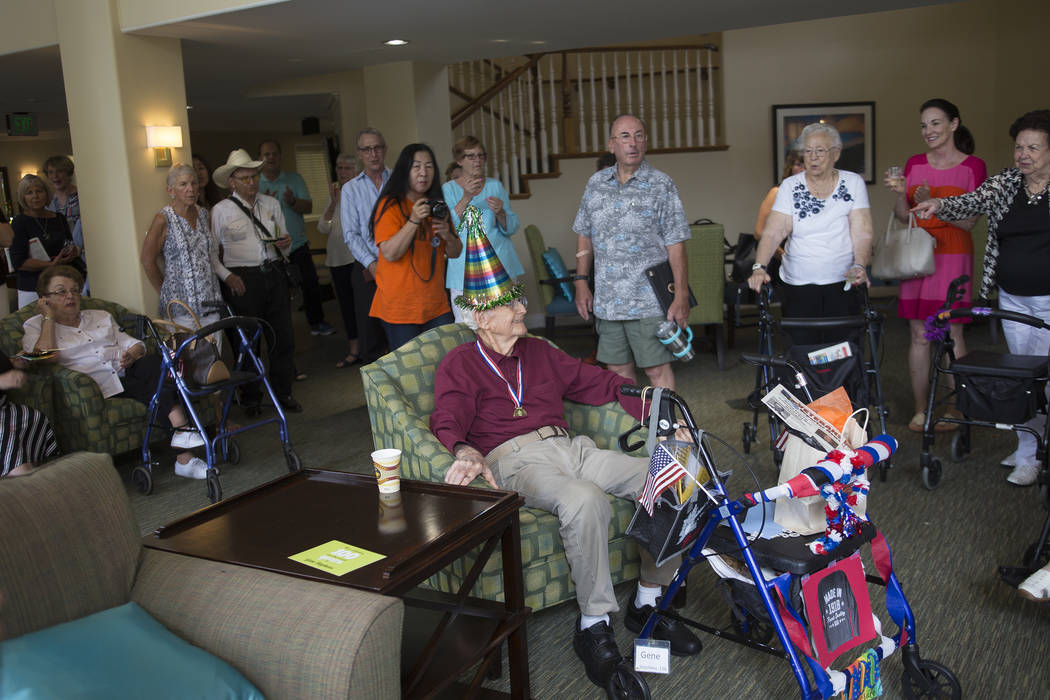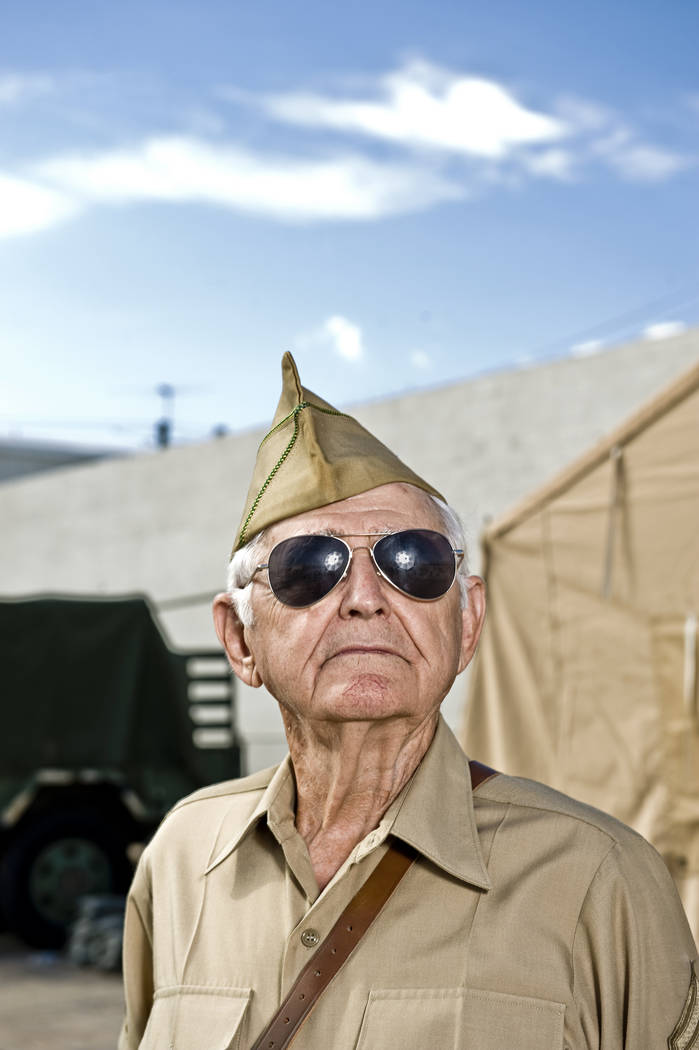 Surrounded by family, friends and a few dozen motorcycle riders, Summerlin resident Gene Stephens beamed during a celebration to mark his 100th year on the afternoon before the big day.
More than 100 people delivered hugs and kisses, presents and hearty congratulations to Stephens on Thursday as he sat in the front lobby of the Atria Seville assisted-living facility.
On Friday, Stephens joins an exclusive club. Just one-half of 1 percent of men reach 100 years of age. But that's not all that sets him apart from the crowd.
He is also the last living original member of the Military Police Corps, a branch of the Army created in 1941.
Stephens, who was raised in Edinburg, Texas, is partial to motorcycles, particularly Harley-Davidsons. He spent time as a motorcycle escort for Gen. Dwight Eisenhower's trips from the Bushy Park camp in London.
By November 1942, Stephens' company was sent to Algeria to direct convoy landings and help prepare Maj. Gen. George S. Patton's troops for the invasion of Sicily.
Stephens also recalled when, in 1943, his team provided an escort for President Franklin D. Roosevelt to travel to the Tehran Conference and meet with Winston Churchill and Joseph Stalin.
Stephens served another 14 months during the war in Rome before he was honorably discharged in October 1945.
A photo of several dozen military police motorcycles in front of the Colosseum sat framed on a nearby table at Thursday's celebration. A younger Stephens sat astride one in the far bottom right corner of the photograph.
An avid golfer until about four years ago, Stephens spent time at Highland Falls Golf Club in Sun City Summerlin. A photograph commemorates the hole-in-one he made at the 14th there a few years back.
Stephens credits his longevity to simply living a "normal life."
"I exercise, I get my sleep and rest," he said.
He also eats three square meals a day, practices tai chi and plays gin rummy, blackjack and poker to keep his mind sharp.
Elle Wilcox learned all about Stephens' card skills when he moved next door to her in Sun City Summerlin 14 years ago.
She discovered quickly after a few game nights that you don't want to play card games with Stephens.
"He's a card shark," Wilcox said, laughing. "We used to play for dimes. He always won. Always."
Roaring good time
After greetings and birthday speeches from his two sons, Craig and Todd, nieces, nephews, in-laws and Lt. Gov. Mark Hutchison, Stephens had a surprise waiting for him outside.
As he made his way to the foyer, bagpipes began to play and the rumble of engine motors grew louder and louder.
A group of motorcycles, led by Metropolitan Police Department officers and followed by members of Southern Nevada Harley Owners Group, roared through, coming to a stop in front of the facility..
After hopping off their motorcycles, riders formed a line and each thanked him individually for his service.
That was the best part of the whole day, Stephens said. "I was just dying to get on one of those. Maybe one year," he said.
As guests began to leave the party, the man born July 13, 1918, invited them to come back next year, and the year after that, too.
"The funny part about it is, I was here a year ago and they said now come back next year," Stephens said. "I didn't even think about it."
He paused.
"I did come back, and I'm still here."
Contact Madelyn Reese at 702-383-0497 or mreese@reviewjournal.com. Follow @MadelynGReese on Twitter.