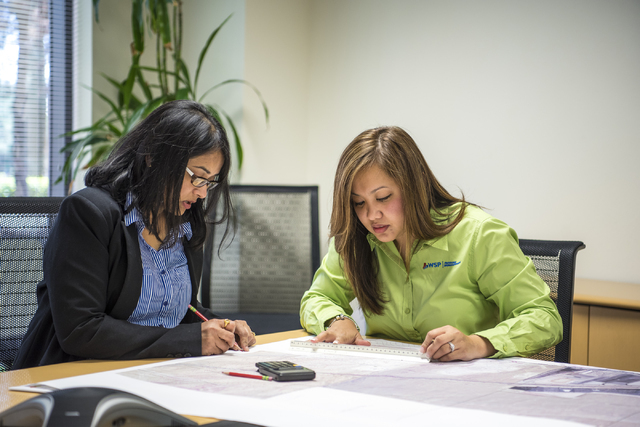 When Kathryn Leonardo was growing up in the Philippines, becoming an award-winning engineer hardly seemed like it was in the cards.
But here she is, and she is in good company.
Both Leonardo and her WSP – Parsons Brinckerhoff colleague, Kamakshi Sistla, won Young Engineer of the Year awards from two separate local branches of national engineering organizations.
Sure, both women deserve the recognition for their contributions to Southern Nevada's infrastructure. Their accomplishments range from assisting in the redesign of the Airport Connector to helping design storm drains.
But it's their contributions to the community of young, aspiring engineers that put them ahead of the rest.
Leonardo, who graduated from UNLV in 2011 with a bachelor's degree in civil and environmental engineering, joined the American Society of Civil Engineers (ASCE) in college to spend more time with her now-husband, Sean Robinson.
But the soft-spoken Filipina's involvement in ASCE blossomed into a rewarding venture of networking and helping young engineers immerse themselves in their careers.
Leonardo, 32, said the uncertainty of moving here from an underdeveloped country at the age of 20 is what drives her to help others find their path in life.
"If I can help someone who doesn't understand what is going on, that makes me proud," she said.
For her efforts, she was awarded the Young Engineer of the Year award by the group in February.
For Leonardo, giving back is key. Last year, she won the same award from the local branch of the National Society of Professional Engineers (NSPE). This year, she nominated her friend Kamakshi Sistla for the award.
And Sistla was recognized at the same event in February, in part for her efforts with science, technology, engineering and mathematics (STEM) outreach.
"She's very passionate about it," Harshal Desai, president of NSPE, said.
Sistla said that passion comes from the opportunities she found in these industries after growing up in rural India. She moved to Las Vegas in 2003 to wrap up a master's program in civil and environmental engineering at UNLV and has been here ever since.
The 35-year-old speaks the way you'd expect an engineer to speak. She normally skips the flowery verbiage and gushy emotions, but a fire ignites when she talks about how STEM has changed her life.
"I wanted to be part of the advocacy where kids are being exposed to these fields at the very start of their lives," she said. "With this kind of background, you can move forward anywhere in the future."
Leonardo and Sistla said they tag-team trips to local schools to spread the STEM gospel and inspire young children to join the pack.
"We do it because we love it," Leonardo said.
With their involvement in local outreach programs, networking efforts, and on-the-job accomplishments, Leonardo and Sistla should not be anomalies in the realm of award-winning engineers. But being part of the 15 percent of women in the engineering field, according to the National Science Foundation, they are.
Both of them give their employer credit for creating a diverse, inclusive, uplifting work environment.
"I have just been lucky with this firm," Sistla said. "Being the mother of two, they have been very supportive of my situation."
And both women believe that their awards are symbolic of something bigger – a work environment where women are empowered and acknowledged for the impressive work they do.
"I do think we made a difference," Leonardo said. "We made an impact on someone else's life by being recognized."
Contact Blake Apgar at bapgar@reviewjournal.com or 702-383-0342. Find @BlakeApgarLVon Twitter.