1 person injured, fire contained on Tahoe paddle wheeler
August 16, 2016 - 4:05 pm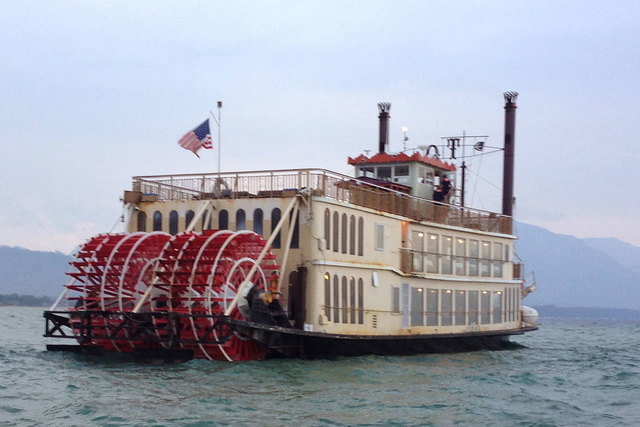 STATELINE — Fire ripped through the upper deck of a docked tourist cruise boat under repair at Lake Tahoe on Tuesday, injuring one worker on board before crews contained the blaze on the popular paddle wheeler.
A contractor working on the 144-foot Tahoe Queen on the lake's south shore at Zephyr Cove suffered smoke inhalation and was treated at the scene, fire officials said.
U.S. Coast Guard inspectors from San Francisco were headed to the lake to investigate the cause of the blaze that broke out near Stateline sometime before 8 a.m.
"When we arrived there was a large body of fire in the Tahoe Queen. It spread to the outside of the vessel," Tahoe Douglas Fire Protection District Fire Marshal Eric Guevin said.
Kate Warner, the district's office manager, said a Coast Guard crew circled the boat with floating booms to capture any debris from the fire. She says there's been no fuel or other leakage into the mountain lake.
The three-level boat with an open deck on top is operated by a motorized paddle wheel. It holds up to 300 passengers when it's running, but tours were halted earlier this summer because of the lake's low water level.