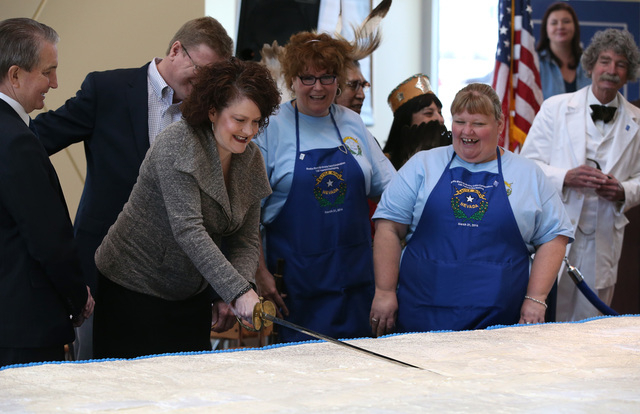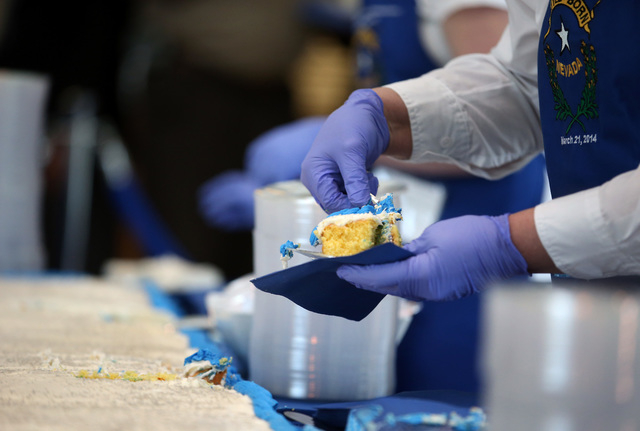 CARSON CITY — First lady Kathleen Sandoval used a sword belonging to Nevada's fifth governor on Friday to slice into a 1,300-pound cake baked to commemorate an important date on the road to statehood nearly 150 years ago.
The event in honor of Nevada's upcoming sesquicentennial resulted in 9,000 pieces of "Battle Born" birthday cake being handed out to those attending the event at Carson-Tahoe Regional Medical Center.
"This is definitely a special moment," Sandoval said after making the first cut into the cake. "It is quite an honor."
The date was picked because it marks the 150th anniversary of when President Abraham Lincoln signed the act that allowed Nevada to become a state. Statehood followed on Oct. 31, 1864. Nevada is in the midst of a sesquicentennial celebration that will culminate on the 150th anniversary of statehood.
Patty Cafferata, a member of the Sesquicentennial Commission, said recently the event was set up to be a re-creation of a similar ceremony held for Nevada's centennial celebration in 1964.
In that celebration, then-first lady Bette Sawyer used the same sword belonging to former Gov. Charles Stevenson to cut the cake, which was baked in the shape of the state. Stevenson was governor from 1887 to 1890.
The cake baked for the 150th event measured 13 feet by 21 feet,
"It's an important day in our history," Cafferata said. "It's nice we could remember it."
Rep. Mark Amodei, R-Nev., who attended the event, said he was at the centennial event 50 years ago as a first-grader although he has no memories of it. Amodei said he does remember participating in the Nevada Day Parade that year in a kids division dressed up in a cowboy outfit.
Also attending was Kay Winters, 93, who worked on the centennial cake event in 1964. Part of the historic Winters family, Winters, of Dayton, was a guest of honor.
"I think it's wonderful," she said. "I'm glad I'm still here."
Contact Capital Bureau reporter Sean Whaley at swhaley@reviewjournal.com or 775-687-3900. Follow him on Twitter @seanw801.

Celebrating the Silver State