14 more Bundy Bunkerville suspects indicted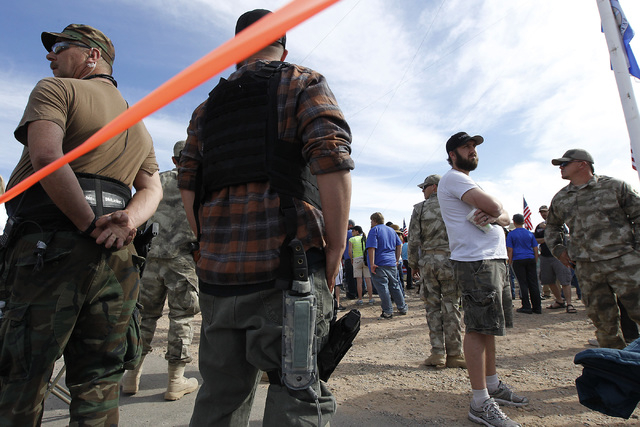 The federal government moved Thursday against the followers of Bunkerville rancher Cliven Bundy, arresting 12 people across six states in connection with an April 2014 armed standoff with law enforcement.
Two additional defendants are in federal custody on other charges. A total of 19 defendants, including Bundy and four of his sons, now have been charged in the Nevada confrontation that caught the eye of the nation.
"Today's actions make clear that we will not tolerate the use of threats or force against federal agents who are doing their jobs," said U.S. Attorney General Loretta E. Lynch. "We will continue to protect public land on behalf of the American people, uphold federal law, and ensure that those who employ violence to express their grievances with the government will be apprehended and held accountable for their crimes."
The defendants were named in a new 63-page federal indictment unsealed Thursday in Las Vegas.
Nevada U.S. Attorney Daniel Bogden said the investigation is continuing. Hundreds of anti-government activists from around the country, many of them armed, participated in the standoff.
The confrontation forced federal officials to abandon the cattle they had rounded up under court order, according to the indictment. The Bundy family has illegally grazed cattle on federal land for more than 20 years.
Nevada FBI chief Laura Bucheit said the arrests "send an irrefutable message" to Americans that law enforcement "remains steadfast" in pursuing people who participate in these kind of violent acts.
In the indictment, the govermnment said the defendants "planned, organized, led and/or participated as gunmen in the assault, all in order to threaten, intimidate and extort the officers into abandoning approximately 400 head of cattle that were in their lawful care and custody."
Among the 14 new defendants facing conspiracy and weapons charges, are Bundy sons David Bundy, 39, of Utah, and Melvin Bundy 41, of Round Mountain, Nev.
Another defendant, Gerald DeLemus, 61, of New Hampshire also was charged.
A former U.S. Marine, DeLemus is accused of being a "mid-level leader" and organizer who recruited armed Bundy followers for the standoff. DeLemus, who was at the ranch the day of the April 12, 2014, showdown with BLM and National Park Service rangers, is the husband of a New Hampshire Republican state representative.
Two Bundy family bodyguards — Brian Cavalier, 44, of Bunkerville, and Blaine Cooper, 36, of Arizona — also were indicted. Both are in federal custody in Portland, Ore., where they face charges in connection with another armed standoff at a wildlife refuge in that state. Both are also alleged to be "mid-level" leaders in the Nevada standoff.
Cliven Bundy, 69, and his sons Ammon, 40, and Ryan, 43, were among those originally indicted by a federal grand jury in Las Vegas on Feb. 17. Also charged were Ryan Payne, 32, of Montana, and Peter Santilli, 50, of Ohio.
They each face 16 felony counts, including extortion, obstruction of justice, conspiracy to impede or injure a federal officer and assault on a federal officer.
All five men arrested before Thursday were described in the original indictment as the main leaders of the "massive armed assault" on federal officers. The Bundys used "deceit and deception" to lure followers across the country to Bundy's call to arms, the indictment alleged.
Cliven Bundy is in federal custody and has been ordered transported to Las Vegas to face the charges. He was arrested in Portland last month on his way to support the wildlife refuge standoff in Eastern Oregon. Ammon and Ryan Bundy are in custody in Portland on charges stemming from the occupation of the refuge.
The new indictment repeats much of the allegations contained in the original charging document.
The other defendants named in the new Las Vegas indictment are: Eric J. Parker, 32, O. Scott Drexler, 44, Steven A. Stewart, 36, and Todd C. Engel, 48, all of Idaho; Richard R. Lovelien, 52, of Oklahoma, and Gregory P. Burleson, 52, Joseph D. O'Shaughnessy, 43, Micah L. McGuire, 31, and Jason D. Woods, 30, all of Arizona.
A Reuters news photo of Parker, of Hailey, Idaho, aiming an assault rifle at federal officials from behind a concrete freeway overpass barrier became an iconic image of the confrontation.
"Our democracy provides lawful ways individuals can respond if they disagree with their government, but if you resort to violence or threats, you will be held accountable under the law," FBI Director James B. Comey said in announcing the indictments Thursday.
Contact Jeff German at jgerman@reviewjournal.com or 702-380-8135. Find him on Twitter: @JGermanRJ