300 rescued when Tahoe paddle-wheeler hits sandbar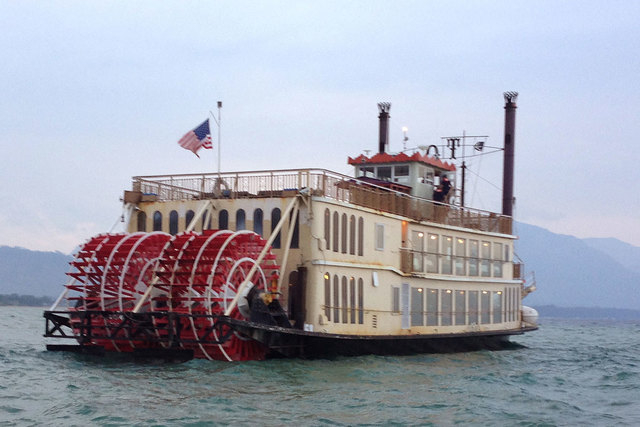 SOUTH LAKE TAHOE, Calif. — Authorities are investigating why a paddle-wheel boat ran aground in Lake Tahoe on Monday afternoon, prompting rescuers to evacuate about 300 people aboard.
Coast Guard officials said no injuries were reported when the Tahoe Queen got stuck on a shoal in the Tahoe Keys area, on the California side of the lake.
Rescuers were called a little after 3:30 p.m. and took passengers and crew members to the Ski Run Marina, where the tours depart, according to Coast Guard spokeswoman Loumania Stewart.
Other agencies that helped in the evacuation included the South Lake Tahoe police and deputies from Douglas and El Dorado counties.
It wasn't immediately clear why the watercraft hit the sandbar, but Lake Tahoe has been tapped by the ongoing drought.
"The lake is really low this year," said Sgt. Pat Brooks of the Douglas County Sheriff's Office, which sent a boat crew to help take 24 people off the Tahoe Queen. "Whether it was a significant factor, I don't know."
Stewart said inspectors are checking the vessel, which was expected to be pulled off the sandbar and to the shore on Tuesday.
The Tahoe Queen is a Mississippi-style paddle wheeler that takes tourists on 2½-hour daytime cruises highlighting the lake's history and sunset cruises that feature dinner and live music.
Messages left for Tahoe Queen managers were not immediately returned Tuesday.