8 biggest earthquakes in Nevada history
Updated June 3, 2020 - 7:17 pm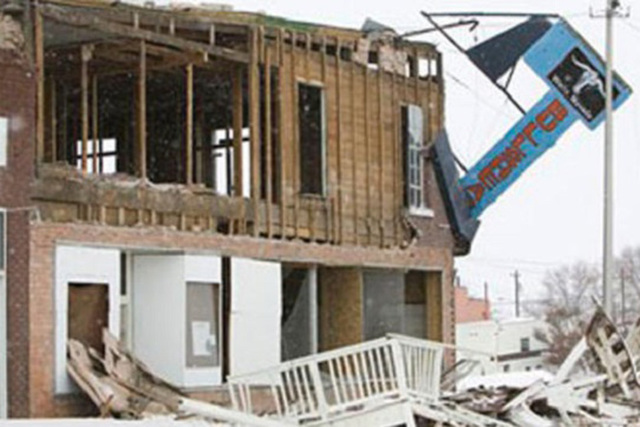 For Nevada, it's not a question of if "the big one" will hit, but when. The state is the third-most seismically active state in the nation, behind California and Alaska. There are active earthquake faults in nearly every part of the state.
In the Las Vegas Valley, even a moderately sized earthquake could cause damage devastating to the economy. Luckily for us, though, the half-dozen or so faults in the valley have been relatively quiet over the past 1,000 years, and none are capable of producing much stronger than a 7.0-magnitude quake.
Areas within 30 miles of Las Vegas have a 12-percent chance of experiencing a magnitude 6.0 earthquake within the next 50 years, according to the Nevada Bureau of Mines and Geology. And most larger earthquakes in Nevada happen in the northern part of the state, anyway.
Even then, only eight earthquakes of magnitude 6.0 or greater have hit the state in the past century:
Pleasant Valley, 1915
A magnitude 7.1 earthquake hit eastern Pleasant Valley, about 40 miles southeast of Winnemucca, on Oct. 2, 1915, at 11:52 p.m. Damage was mostly contained to Battle Mountain, Kennedy, Lovelock, Winnemucca and several ranches in Pleasant Valley. Some adobe houses were damaged or destroyed, water tanks were thrown down and some houses were displaced from their foundations, according to the USGS.
The quake drastically altered the flow of springs and streams throughout northern Nevada and was felt from Oregon to Southern California and from the Pacific coast to beyond Salt Lake City.
Cedar Mountain, 1932
A magnitude 7.2 quake hit a largely uninhabited desert region of western Nevada near Cedar Mountain at 10:10 p.m. on Dec. 20, 1932.
Two cabins were destroyed and ore-treating plants and mines were damaged. Large landslides and rockslides occurred and some stream placement shifted. The earthquake was felt from the Rocky Mountains to the Pacific Ocean and from San Diego to southern Oregon.
Excelsior Mountains, 1934
A magnitude 6.5 quake hit the Excelsior Mountains in western Nevada at 12:16 p.m. on Jan. 30, 1934. Much of the affected area in Mineral County was uninhabited, so damage was minimal. A few chimneys collapsed and two cabins were damaged. A rockslide at the Silver Pike Mine destroyed a pipeline and a pump house.
The quake was felt throughout central Nevada and central California.
Fallon-Stillwater area, 1954
On July 6, 1954, a magnitude 6.6 quake hit the Fallon area, severely damaging older concrete structures and injuring several people at the Naval Auxiliary Air Station, where the quake knocked over some heavy steel lockers.
Canals and drainage systems of the Newlands Reclamation Project near Fallon were severely damaged and paved roads cracked and buckled in several areas, including nearby Lone Tree and Stillwater. Damage was estimated to be a few million dollars. The quake was felt in California, Idaho, Oregon, and Utah.
Stillwater, 1954
Less than two months later, another large earthquake hit the same area. A magnitude 6.8 quake hit Stillwater at 8:51 p.m. on Aug. 23, 1954. The quake damaged the same areas affected earlier that summer, as well as the Lovelock area, where it considerably damaged the Rogers Dam.
Fairview Peak and Dixie Valley quakes, 1954
1954 wasn't a good year for Nevada earthquakes. Two major quakes hit the same area within minutes of each other on Dec. 16, 1954: a magnitude 7.1 at 3:07 p.m. and a magnitude 6.8 at 3:11 p.m. Although the second one was a separate earthquake and not just an aftershock, USGS treats the two as a single event because the damage can't be separated.
Damage from the earthquake was negligible due to the sparse population of the area. Furniture was displaced at Frenchman Station, but there was very little damage to buildings. The quake was felt over much of the western U.S.
Wells, 2008
The most recent major earthquake to hit Nevada was a 6.0 that did $10.5 million in damage when it struck near the Elko County city of Wells at 6:16 a.m. on Feb. 21, 2008. All 700 of the residential structures in the town saw some kind of damage in the quake. Twenty were completely destroyed. Despite the significant damage, no one was seriously injured. In fact, there are no known earthquake-related deaths in Nevada history.
Contact Stephanie Grimes at sgrimes@reviewjournal.com. Find her on Twitter: @stephgrimes