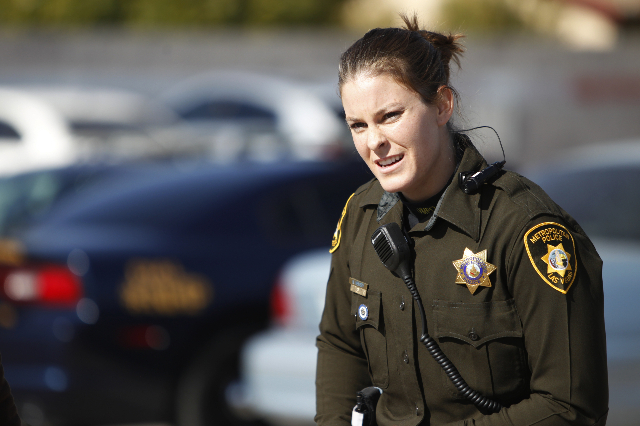 In the midst of a national discussion about police brutality and accountability, the Las Vegas police policy of releasing body camera footage is "heading in the right direction," according to the American Civil Liberties Union.
Chad Marlow, advocacy and policy counsel for the ACLU, said that Metro's policy, which will make most body camera footage readily available to the public, appears to be a balance between transparency and privacy.
"There's a genuine effort to get it right," Marlow said. "A lot of other departments aren't even trying."
Police departments nationwide have been under increased scrutiny following a string of controversial fatal shootings of black men by police officers, prompting several protests and movements calling for all officers to wear body cameras. Like Metro, police departments across the nation are trying to determine what to do with all of the footage from those camera.
Most departments are still working through pilot programs, with just a few officers equipped, Marlow said. Metro'a yearlong test concludes next month, but the department has already decided to require any officer hired after 2013 to wear a camera.
How agencies handle the footage varies greatly.
The Los Angeles Police Department recently said it will not release footage to the public unless required to do so through a criminal or civil court proceeding, according to the Los Angeles Times.
But the Seattle Police Department is posting body cam footage to a dedicated YouTube channel, with some heavily blurred.
Metro has since the first of the year shown footage related to fatal police shootings to the media three to four days after the incident, with the recording cut off right before the actual shooting. The next step involves making that and other footage available to the public.
In all jurisdictions, body cam footage becomes public when offered as evidence in a criminal case in open court.
Metro's new policy, which went into effect last week, treats camera footage as a public record, just like police reports and other documents.
But the footage, like any other police record, isn't necessarily public all the time.
If the video is connected to a felony investigation, Metro won't release it. That will be the case in most nonfatal police shootings, where the person who is shot often faces criminal charges.
Metro also will not release body camera footage when there is an ongoing internal investigation, such as when an excessive force complaint against an officer.
Marlow said he would like to see Metro make public videos where an officer's actions may be in question.
"When there is a use of force by a police officer, the value of the public being able to see what happened exceeds the value of keeping that record private," Marlow said.
Other footage, such as routine traffic stops or noise complaints, will be fair game for the most part.
But Marlow warns that making video of everyday run ins with police, such as traffic stops, readily available to anyone who might request it may not be serving the general public's best interest, especially if those videos show someone in an embarrassing situation.
"Other than people wanting to have a chuckle on YouTube, there's really no benefit to violating someone's privacy." Marlow said. "Citizen privacy should really trump transparency."
While he said improvements can always be made, Marlow lauded Metro's for its "good-faith effort" in trying to balance privacy and transparency.
"It's important that they are doing that. That's very valuable." he said.
Requests to view the footage may be made several ways, including by mail, in person at Metro's headquarters, 400 S. Martin Luther King Blvd., calling 702-828-8947 or online using a form on Metro's website, http://www.lvmpd.com.
Metro says they won't charge for the viewing but will charge $12 per 15 minutes of work for copies of video that requires redaction to protect the privacy of someone in the video.
Contact reporter Colton Lochhead at clochhead@reviewjournal.com or 702-383-4638. Find him on Twitter: @ColtonLochhead