After 51 years, owner of pilot town Cal-Nev-Ari wants to sell
February 27, 2016 - 11:50 am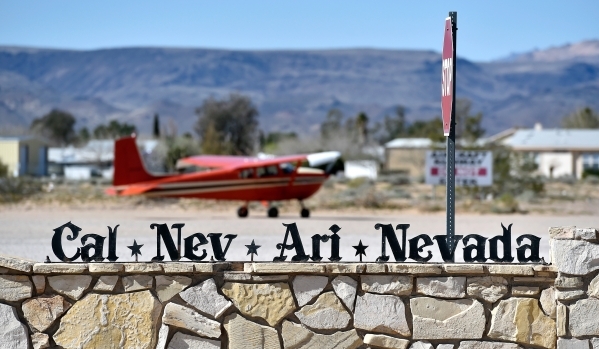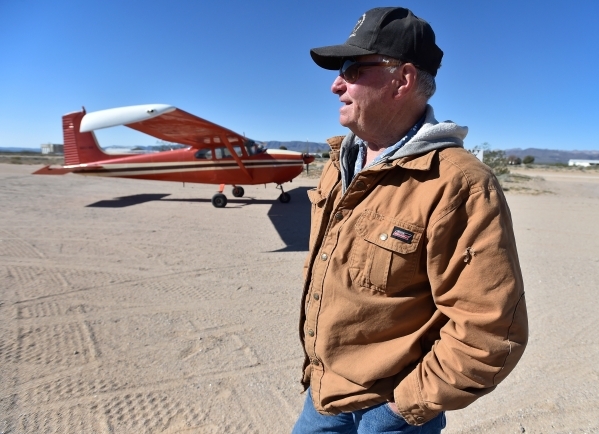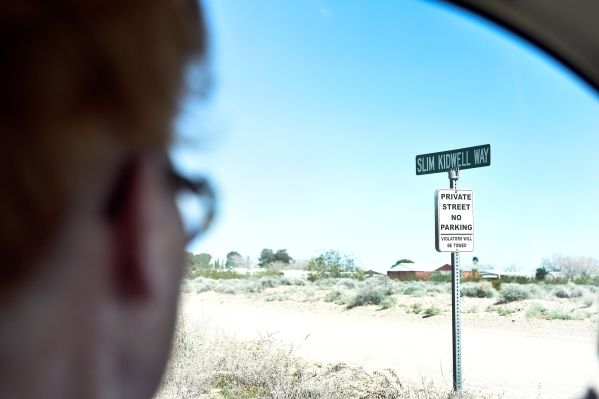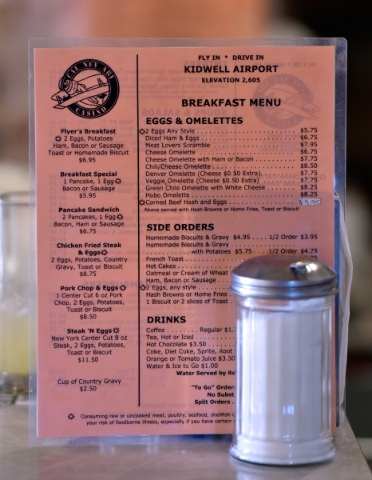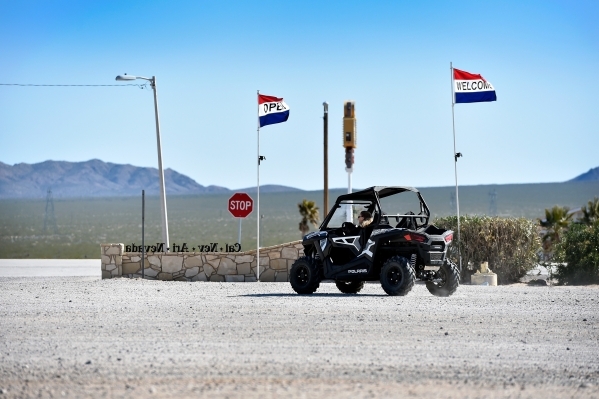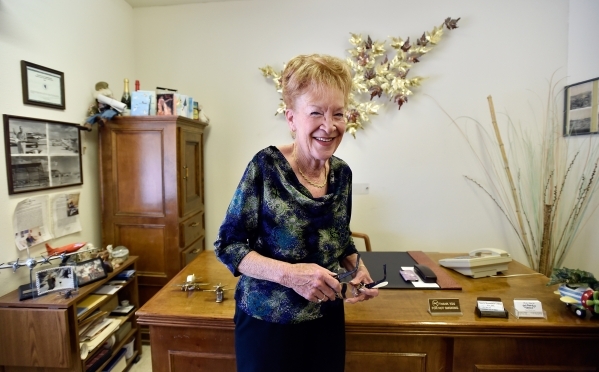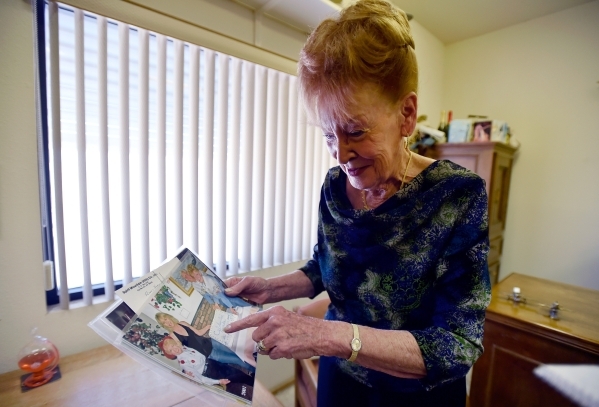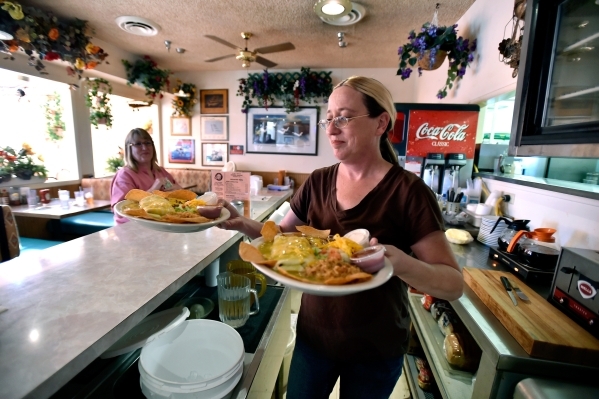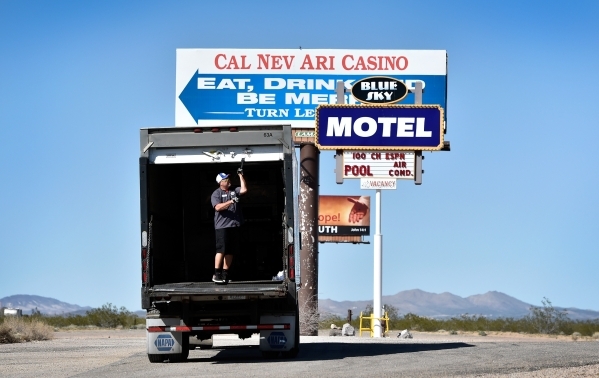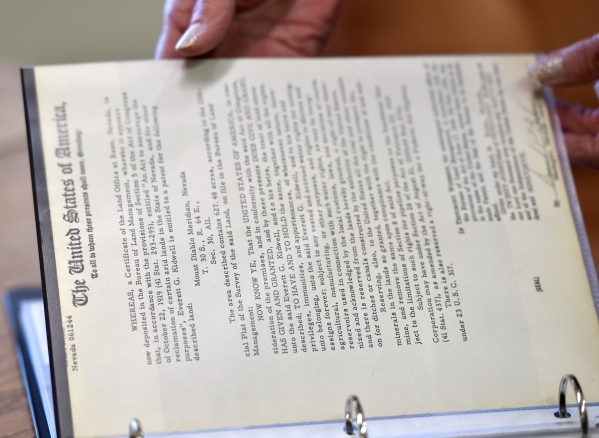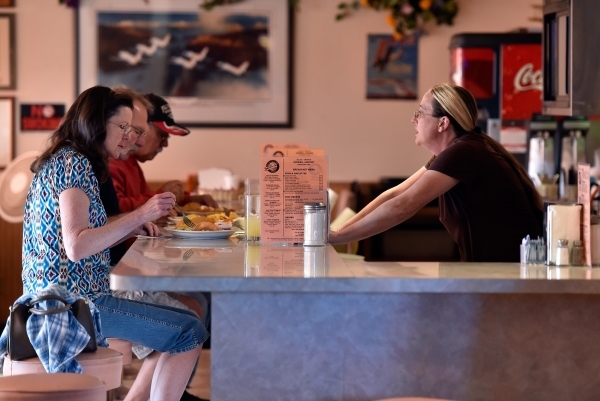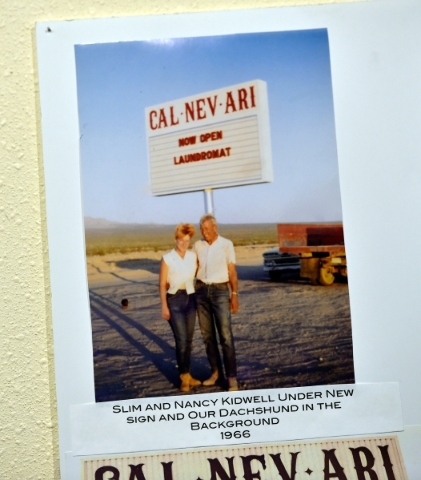 CAL-NEV-ARI — In 1965, Slim and Nancy Kidwell touched down in the desert 70 miles south of Las Vegas to scratch out their dream: a town for pilots like them, complete with backyard hangars, a central airstrip and a fly-in casino.
Now Nancy Kidwell is looking for a way out of what she lovingly describes as "the trap" they built.
"It's time for someone else to do something with it," the 78-year-old said. "Fifty-one years is long enough."
Kidwell is selling the town she helped build from nothing. She'll go on living there, just not as caretaker. Cal-Nev-Ari hit the market about six weeks ago. Asking price: $8 million.
The sale includes just about everything: the dirt airstrip, restaurant, bar, convenience store, post office with ZIP Code, mobile home park, 10-room motel, RV park, and the casino, which has been open since 1968 with a non-restricted gaming license.
The only things not offered are the town's roughly 350 residents, some privately owned homes, the small community center and a volunteer fire station built by Clark County after the original one "burned to the ground," Kidwell said.
This probably sounds familiar. Cal-Nev-Ari has been for sale before.
Back in 2010, Kidwell said she was trying to sell the place for $17 million, but nothing ever came of it. A few years before that, two land-poor developers got into a bidding war for the town, but both offers evaporated when "the bottom fell out" of the housing market, she said.
This time around, Kidwell hired broker Fred Marik of Las Vegas Commercial and Business Sales to help her unload the town.
Marik said the land is the big draw.
Kidwell is selling a full square mile along U.S. Highway 95, and more than 500 empty acres are ready to be developed, he said. The Kidwells already did the hard stuff, building infrastructure and and bringing in utilities. The water system can draw from three wells and is only at about 20 percent of capacity.
"You're basically buying the land and the opportunity to grow something on it," he said.
Based on a few of the inquiries Marik's received so far, prospective buyers see potential for a retirement community, a renewable energy project, a motorsports park, a dude ranch, a survival school, a shooting range or a "marijuana resort," assuming that sort of thing becomes legal some day.
So how come the place is listed for $8 million when the asking price was double that just six years ago?
"Reality," Marik said chuckle.
A nice place to land
Dennis Layman flew into Cal-Nev-Ari Thursday morning for ham and eggs at the restaurant next to the air strip.
"I come out here every two or three weeks. It's a favorite stop," he said.
The 68-year-old businessman from Eagle, Alaska, spends part of his winters in Seligman, Ariz., a straight shot by air about 100 miles east of Cal-Nev-Ari. When the mood strikes, he'll jump into his red 1956 Cessna 182 and fly to Needles or Kingman or Temple Bar for a cheap, no-frills airport meal, burning up $50 worth of fuel in process.
Pilots with small planes do this.
"They call it the hundred-dollar hamburger," Layman said with a laugh. "You just have to forget about the cost."
On a busy weekend, Kidwell said, there might be four or five single-engine aircraft parked along the white picket fence separating the taxiway from the restaurant parking lot.
That's on top of the 15 or so airplanes based at Cal-Nev-Ari.
Dale Schumacher isn't a pilot, but he has lived in the dusty little town since 1993. He moved there for cheap housing while working at a gold mine that used to operate in the area.
He first rented a place from Kidwell and now owns two houses, living in one and sometimes renting the other or using it for storage.
"This is a super nice place to be," said the 66-year-old retiree as he sat on his ATV in front of the restaurant. "You've got the serenity. And you won't find a better tasting glass of water anywhere around."
"Once in a while a dog gets loose," he said of the local crime rate, "and the town will get together to go out and find it."
Schumacher said his monthly bills will probably go up and the quality of life in Cal-Nev-Ari might go down a little if the town sells. But no one blames Kidwell for wanting to slow down a little, he said.
"I can maybe remember two vacations she's taken," he said. "She deserves a rest."
Kidwell said she works at least 10 hours a day, six days a week, looking after the town and her two dozen employees.
She is Cal-Nev-Ari's primary landlord and only employer.
"Everybody in town who works, works for her," Marik said.
Kidwell even handles security.
When a pair of newspaper reporters from the city showed up Thursday morning, she quickly spotted them taking pictures by the town water tank and drove her Lincoln Town Car out to see what they were up to.
"You don't get away with much around here," she said.
Arrivals and departures
Kidwell was in her 20s when she met Slim in Southern California. She was a pilot looking to upgrade her rating. He was a flight instructor, 34 years older than her.
By the time she was 28, she was living with Slim in a travel trailer on an empty patch of cactus and creosote where the spear point of Nevada narrows into California and Arizona.
Two decades earlier the long-abandoned spot was an emergency airfield, part of Gen. George Patton's massive World War II military training complex in the Mojave Desert.
To take ownership, the Kidwells had to prove to the government the land could be put to beneficial use, namely by developing a water source and using it to grow something.
"We hauled our own water from Davis Dam in 55-gallon drums until we had a well. It took about a year," Kidwell said. "If you want a taste of pioneering lifestyle, try living out here without anything in July, August and September."
Their demonstration crop was 20 acres of Arabian barley they fenced themselves with railroad ties and barbed wire. Once it had grown enough to convince the government the land could be farmed, the Kidwells plowed the plants into the ground.
"We didn't have any way to harvest it," Kidwell said, looking at an old aerial photograph of the dense green rectangle. "It was a beautiful crop, I'll say that."
Deed in hand, the couple set to work building their town. First came a mobile home park and a service station. Then came the Cal-Nev-Ari Casino, which they opened with a party on March 16, 1968.
For a time, the couple capitalized on their fly-in casino concept with small-plane junkets out of Phoenix that promised "seven hours of fun." They also sold acre and half-acre plots to people who wanted a home and hangar of their own.
The airstrip was renamed Kidwell Airport when Slim died in 1983.
A decade later, she married a pilot named Ace, Slim's son from a prior relationship.They flew airplanes and ran the town together until his health began to fail. He died in 2011.
Ace and Slim are buried at opposite sides of a tidy fenced plot in the median between the runway and the taxiway. There is a wide space between them to accommodate one last arrival.
"There's plenty of room for me," Kidwell said.
But she has some more living to do first.
Kidwell hasn't owned her own airplane since Ace got sick. She plans to use some of the town sale proceeds to buy something she can fly around in.
"Aviation is really responsible for what's happened in my life," she said. "I met my husband through aviation. Aviation is what brought me here. And aviation is really what kept me here."
She also wants to travel.
"I've never seen Mount Rushmore or Yosemite. I've worked my whole life," she said. "I'd like to see some of the United States before I get too old and decrepit."
And how does she plan to get to those places?
"Oh, I'd fly," Kidwell said, smiling. "Driving takes too long."
— Contact Henry Brean at hbrean@reviewjournal.com or 702-383-0350. Find him on Twitter: @RefriedBrean