Amodei says no plans to run for Senate
November 18, 2014 - 4:00 pm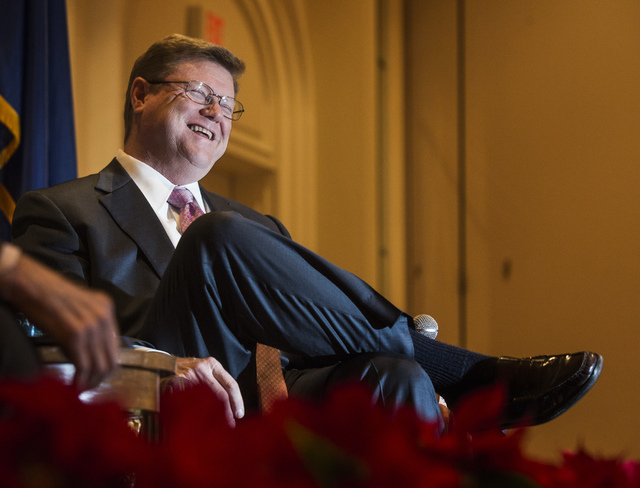 WASHINGTON — Another Nevada Republican took himself out of the running Tuesday for U.S. Senate in 2016.
Rep. Mark Amodei said he does not plan to challenge incumbent Democrat Sen. Harry Reid. Amodei represents the sprawling Northern Nevada 2nd Congressional District whose population is concentrated around Reno and Carson City.
Amodei, who entered the U.S. House through a September 2011 special election, said anyone running against Reid from less populous Northern Nevada should already be forming a campaign, and he had no plans to do so.
"If a guy was going to run against Harry Reid from the north he should be creating an organization in Las Vegas right now, and I'm not," Amodei said.
Amodei, 56, also said he was not sure he wants to make a long-term commitment to public office in the nation's capital.
"Having been (in Congress) for 38 months, the biggest problem with running for the Senate is if you are elected you just promised to stay in Washington, D.C., for six years," he said. "A two-year bite at a time is plenty good for me." House terms are two years.
Southern Nevada Republican Rep. Joe Heck said last week he was not interested in running for Senate. Amodei bowing out means Reid's challenger will not not be someone who splits time between Washington and the state — unless incoming freshman Rep.-elect Cresent Hardy, a Republican former assemblyman who won a House seat on Nov. 4 representing central Nevada, decides to make a jump for higher office right away.
Popular Gov. Brian Sandoval is the first choice of Republicans to run against Reid, 74, who the GOP sees as highly vulnerable following broad Republican victories this fall nationally and in Nevada. Sandoval has not indicated when he would make a decision.
Las Vegas City Councilman Bob Beers already has said he is running. Other Republicans mentioned as possible Senate candidates include Lt. Gov.-elect Mark Hutchison, former Lt. Gov. Brian Krolicki, state Sen. Michael Roberson and state Sen. Greg Brower.
Contact Stephens Washington Bureau Chief Steve Tetreault at stetreault@stephensmedia.com or 202-783-1760. Find him on Twitter: @STetreaultDC.